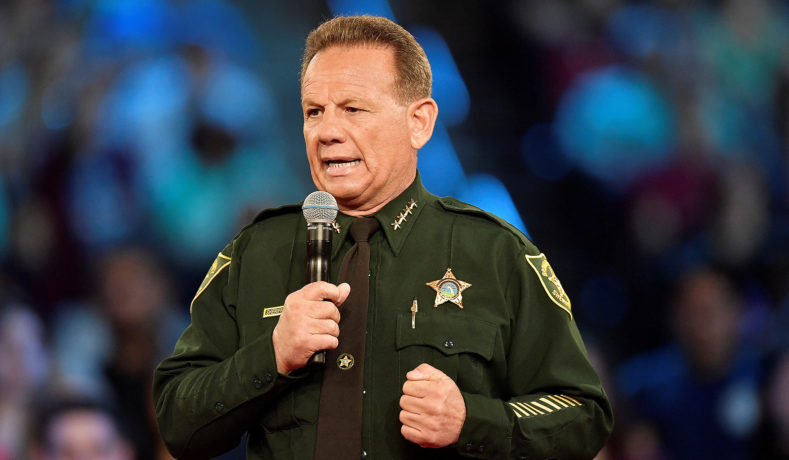 Broward County Sheriff Scott Israel, who was scorned for touting his "amazing leadership" following the Valentine's Day shooting in Parkland, Fla., will face a "vote of no confidence" from the union representing his deputies.
The electronic vote, which will begin Friday night and remain open until April 26, was prompted by Israel's long history of inept leadership; his conduct in the aftermath of the Parkland shooting merely solidified the union's decision, according to Jeff Bell, its president.
"The move follows many instances of suspected malfeasance…and the lack of leadership that has crushed morale throughout the agency," the announcement from the deputies association says.
Union members specifically took issue with Israel's decision to blame Deputy Scott Peterson, who was present during the shooting and remained outside the school, rather than accept any responsibility himself.
Israel "didn't say it's an open investigation. He blamed it all on Peterson," Bell told CBS Miami. "You don't do that to one of your deputies."
"My members are not poster children. They are not squeaky clean. They make mistakes," he added, conceding that Peterson should have entered the building and engaged the shooter. "What we are saying is, they should be punished fairly,"
Israel was defiant in the face of criticism following the shooting, refusing to admit that there was anything he could've done to prevent the tragedy, despite his department's having received numerous warnings that the shooter, 19-year-old Nikolas Cruz, represented a threat.
"Jake, on 16 of those cases (reports about Cruz), our deputies did everything right. Our deputies have done amazing things. We have taken this — in the five years I have been sheriff, we have taken the Broward Sheriff's Office to a new level. I have worked with some of the bravest people I have ever met," Israel told CNN's Jake Tapper in a February 25 interview.
Florida House speaker Richard Corcoran and 73 fellow lawmakers sent a letter to governor Rick Scott asking that he dismiss Israel for "incompetence and neglect of duty."
Send a tip to the news team at NR.