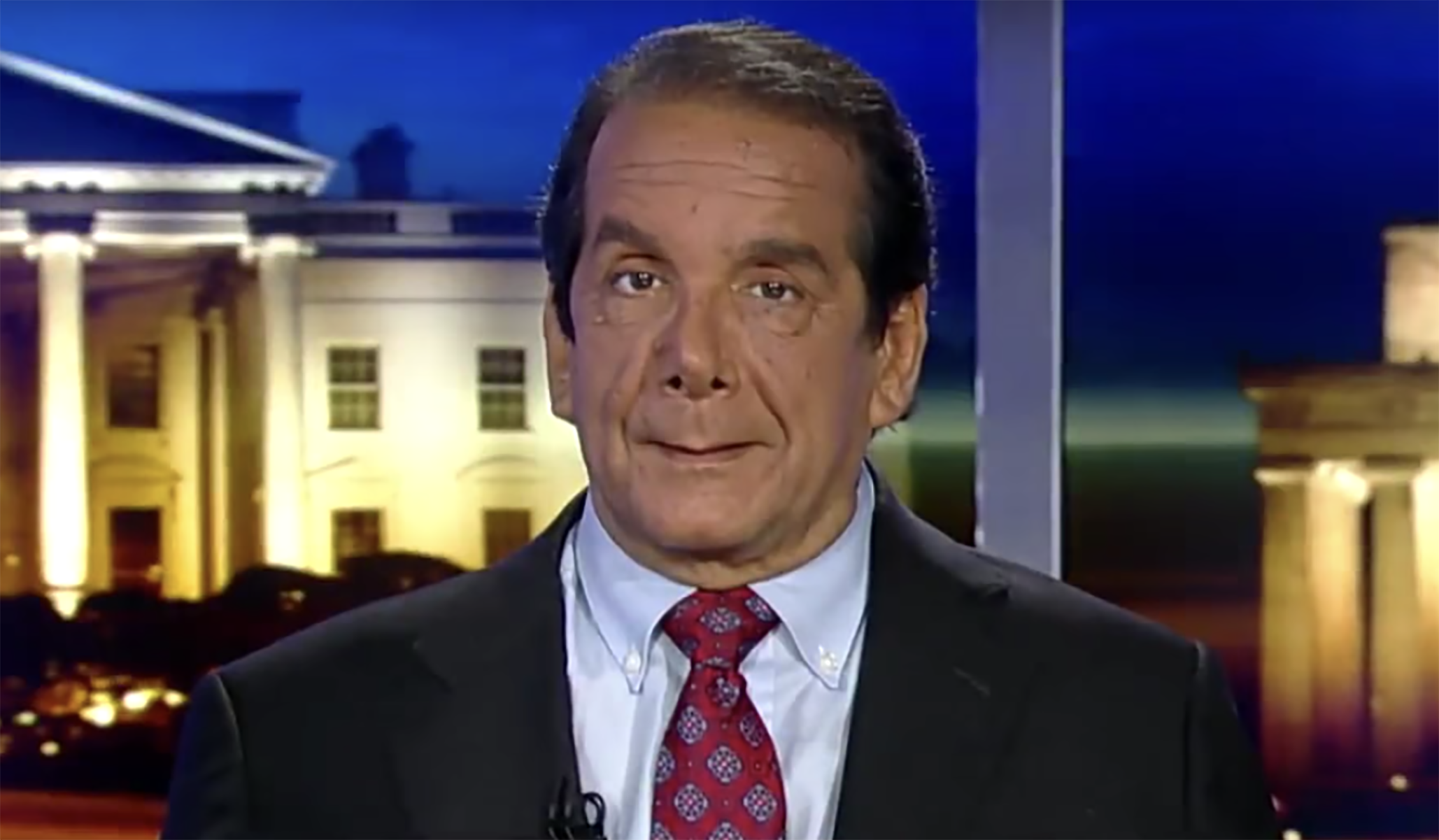 Famed conservative columnist and Fox News commentator Charles Krauthammer announced Friday that his battle with cancer is coming to a close as doctors have informed him he has just weeks to live.
Krauthammer, who has not appeared on Fox News since August, sounded an optimistic note in May, announcing that he was "finally getting back on track" after having surgery to remove a tumor in his abdomen. But he said in Friday's letter that "secondary complications" had reversed his initial progress.
"I have been uncharacteristically silent these past ten months. I had thought that silence would soon be coming to an end, but I'm afraid I must tell you now that fate has decided on a different course for me," the 68-year-old said in a letter read on Fox News. "In August of last year, I underwent surgery to remove a cancerous tumor in my abdomen. That operation was thought to have been a success, but it caused a cascade of secondary complications which I have been fighting in hospital ever since."
"It was a long and hard fight with many setbacks, but I was steadily, if slowly, overcoming each obstacle along the way and gradually making my way back to health," he added. "However, recent tests have revealed that the cancer has returned. There was no sign of it as recently as a month ago, which means it is aggressive and spreading rapidly. My doctors tell me their best estimate is that I have only a few weeks left to live. This is the final verdict. My fight is over."
Krauthammer, who has appeared on Special Report for more than a decade, thanked his loyal viewers and readers for their support.
"I thank my colleagues, my readers, and my viewers, who have made my career possible and given consequence to my life's work," he wrote. "I believe that the pursuit of truth and right ideas through honest debate and rigorous argument is a noble undertaking. I am grateful to have played a small role in the conversations that have helped guide this extraordinary nation's destiny."
"I leave this life with no regrets. It was a wonderful life full and complete with the great loves and great endeavors that make it worth living. I am sad to leave, but I leave with the knowledge that I lived the life that I intended," he concluded.
The Washington Post, where Krauthammer won a Pulitizer Prize for commentary in 1987, published a tribute Friday in response to the news.
"A physician by training, Charles tells all of us, in a statement we publish today, that he accepts their verdict and will depart sadly but without regrets. He also asks us, and his friends at Fox News, not to embarrass him with flowery tributes. With difficulty, we will respect his request," wrote the editorial board of the Post. "We know we speak for many of you when we say that nothing and no one can replace him. Charles wrote for the right reasons. Lord knows — and presidents, from right to left, can attest — he didn't seek invitations to White House dinners or other badges of approval from the powerful. He sought, rather, to provoke us to think, to enlarge our understanding, at times to make us laugh."
Send a tip to the news team at NR.