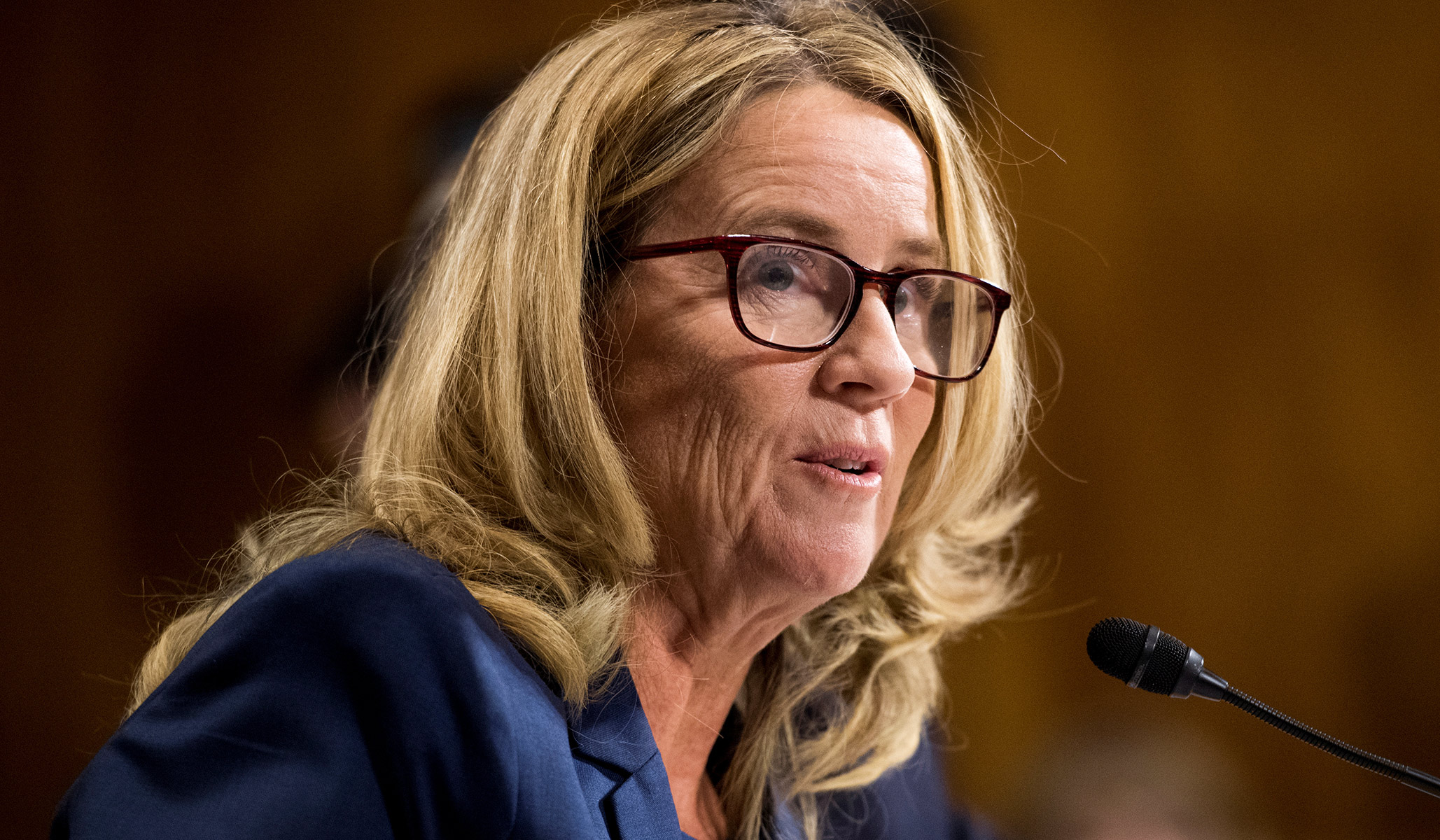 Update Wednesday 1:40pm: 
Monica McLean on Wednesday denied that Ford helped her prepare for a polygraph examination.
"I have NEVER had Christine Blasey Ford, or anybody else, prepare me, or provide any other type of assistance whatsoever in connection with any polygraph exam I have taken at anytime," McLean said in a statement Wednesday.
The ex-boyfriend of one of the women accusing Brett Kavanaugh of sexual misconduct has suggested to the Senate Judiciary Committee that she may have perjured herself on several issues during her testimony.
Christine Blasey Ford testified on Thursday to Congress about her allegation that the Supreme Court nominee sexually assaulted her at a party in the early 1980s when they were both minors in high school. Ford said Kavanaugh trapped her in a room, pinned her to a bed, and covered her mouth while trying to remove her clothing, an incident that she says has caused lasting trauma.
During her testimony, Ford stated under oath that she has never coached anyone on taking a lie detector test. "Never," she replied when prosecutor Rachel Mitchell asked whether she had offered advice to any individual planning to submit to a polygraph examination.
On Monday, the Senate Judiciary Committee said it had received a sworn statement from a man claiming to be Ford's former boyfriend, whose name is redacted from his letter, saying he personally witnessed Ford coaching a friend for a polygraph test.
BREAKING: Fox's @johnrobertsFox obtains letter from Ford ex-boyfriend alleging: dated for 6 yrs, never told of sex assault, Ford coached friend on taking polygraph, flew frequently w/o expressing any fear of flying/tight spaces/limited exits. Doesn't want to b/c "involved". pic.twitter.com/jVeW0qaJD0

— Shannon Bream (@ShannonBream) October 3, 2018
"During some of the time we were dating, Dr. Ford lived with Monica L. McLean, who I understood to be her life-long best friend," the letter read. "During that time, it was my understanding that McLean was interviewing for jobs with the FBI and the US Attorney's Office. I witnessed Dr. Ford help McLean prepare for a potential polygraph exam. Dr. Ford explained in detail what to expect, how polygraphs worked and helped McLean become familiar and less nervous about the exam. Dr. Ford was able to help because of her background in psychology."
"I do not want to become involved in this process or current investigation, but wanted to be truthful about what I know," the man wrote.
Ford and this man supposed dated for six years, and he says Ford never expressed a fear of flying or of closed spaces, traits she told the committee she struggles with. The man also claims that Ford lied about and then admitted to charging a credit card they used to share for about $600 of merchandise.
Committee Chairman Chuck Grassley has written a letter to Ford's lawyers requesting the results of the polygraph test Ford took, as well as other evidence he said has been withheld from the committee.
The former boyfriend's statement "raises specific concerns about the reliability of her polygraph examination results," the Republican senator wrote. "Dr. Ford cited the results of this polygraph examination to support her allegations. It's unfair to rely on the results of a polygraph examination while withholding the materials necessary to assess the accuracy of the results."
Send a tip to the news team at NR.