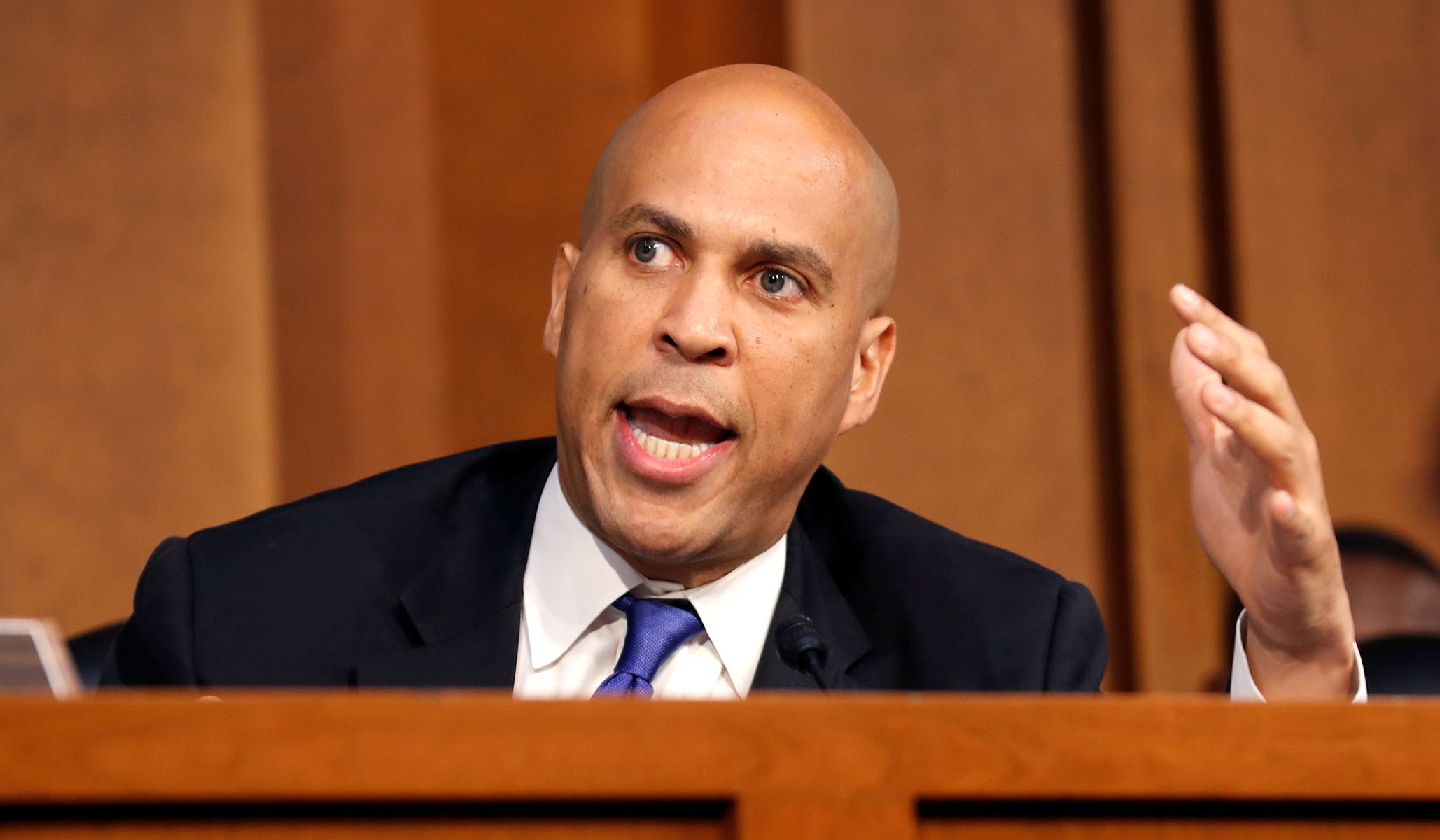 Update 2:35 p.m.: Bill Burck, records representative for the Bush White House, released a statement on Thursday afternoon indicating that his office told Booker on Wednesday night that he had permission to release the previously confidential email.
"We cleared the documents last night shortly after Senator Booker's staff asked us to," Burck said. "We were surprised to learn about Senator Booker's histrionics this morning because we had already told him he could use the documents publicly. In fact, we have said yes to every request made by the Senate Democrats to make documents public."
Update 11:56 a.m.: Booker released a batch of confidential emails on Thursday morning, hours after threatening to do so in defiance of Senate rules. The email pertaining to "racial profiling," which Booker argued should be made available to the public, indicates that Kavanaugh prefers a "race-neutral" approach to law enforcement.
"The people who favor some use of race/natl origin obviously do not need to grapple with the interim question," the Supreme Court nominee wrote to a fellow White House attorney in early 2002. "But the people (such as you and I) who generally favor effective security measures that are race-neutral in fact DO have to grapple — and grapple now — with the interim question of what to do before a truly effective and comprehensive race-neutral system is developed and implemented."
You can read all of the emails released by Booker here. Our original story appears below.
*    *    *
Senator Cory Booker of New Jersey said on Thursday that he plans to "knowingly" violate Senate rules by releasing a confidential email pertaining to "racial profiling" sent by Supreme Court nominee Brett Kavanaugh during his time in the George W. Bush administration.
"I am going to release the email about racial profiling and I understand that the penalty comes with potential ousting from the Senate," Booker said in the opening minutes of the third day of Kavanaugh's confirmation hearing.
The move, which Booker called an act of "civil disobedience," comes one day after he accused Kavanaugh of entertaining the use of "racial profiling" in law enforcement during his time as White House counsel to President Bush.
Senator Mike Lee of Utah interrupted Booker, who was referring to a confidential email provided to the committee by Kavanaugh's former colleague, to suggest it was improper to "cross-examine" the nominee about documents that were not in front of him.
The New Jersey lawmaker disputed Republicans' assertion that the email in question should remain confidential for national-security reasons, calling the document, and attempts to conceal it, a "great illustration of the absurdity of the process."
In response to Booker's threat, Senator John Cornyn of Texas recited the Senate rules governing the release of classified of information, which carries the possible penalty of expulsion from the upper chamber.
"Bring it," Booker replied.
Democratic senators Amy Klobuchar of Minnesota and Dick Durbin of Illinois came to Booker's defense, arguing that his violation of Senate rules was warranted.
"I completely agree with you. I concur with what you are doing. . . . So if there is going to be some retribution against the senator from New Jersey, count me in," Durbin said.
"We support what Senator Booker is doing here," Klobuchar added.
Thursday is the third and final day of Kavanaugh's confirmation hearings. Should Republicans capitalize on their narrow 51–49 Senate majority, he will be sworn in to the Supreme Court in October.
NOW WATCH: 'Kavanaugh Hearings Resume Today'
Send a tip to the news team at NR.