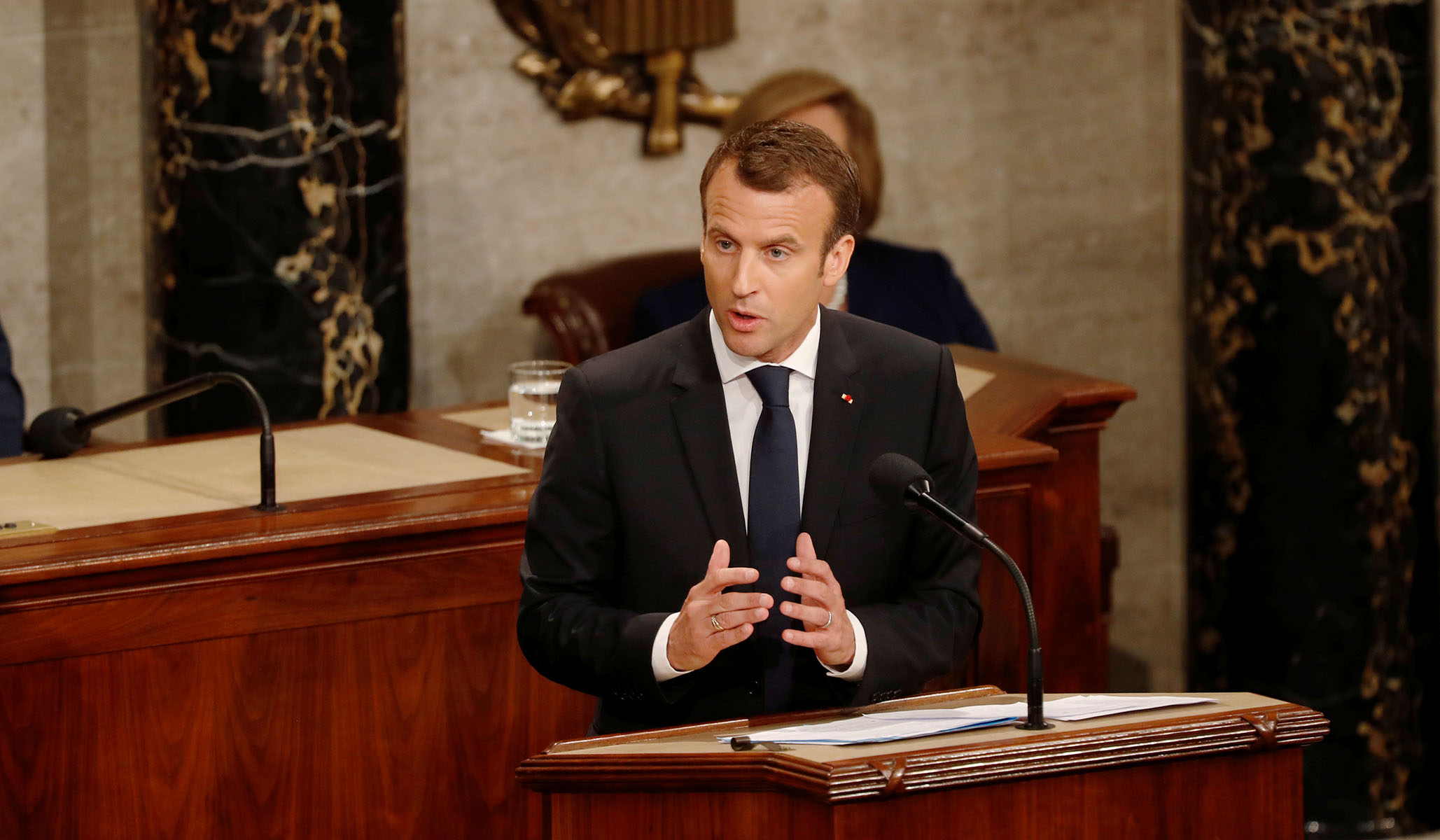 In a speech to Congress Wednesday, French president Emmanuel Macron borrowed one of President Trump's catchphrases, saying we must fight so-called fake news.
"To protect our democracies, we have to fight against the ever-growing virus of fake news, which exposes our people to irrational fear and imaginary risk," Macron said to a standing ovation as he addressed a joint session of Congress on Wednesday.
The French leader was backing up a frequent talking point of Trump's. Fake stories and conspiracy theories were dressed up to look like legitimate news reports and spread over the Internet during the 2016 election cycle and afterward, especially by Russian actors attempting to corrupt the election. The term "fake news" then began to surface in news coverage of the election's aftermath, before it was appropriated by Trump, who often uses it to discredit stories with which he disagrees.
"Without reason, without truce, there's no real democracy," Macron continued. "Because democracy is about true choices and rational decisions. The corruption of information is an attempt to corrode the very spirit of our democracies."
Macron and his wife were the guests of honor at President Trump's first state dinner Tuesday night, as the French president wound down a three-day U.S. visit during which he discussed the the Paris climate accord, the Iran nuclear deal, and other matters with Trump.
The Iran deal in particular has been a source of tension between Trump and European leaders, including Macron. Trump is no fan of the agreement, which he says is bad for the U.S., and he doubled down on his opposition during Macron's visit this week. He has, however, left the door open to continuing sanctions relief past the May 12 deadline for renewing the agreement.
"We're going to see what happens on the twelfth, but if Iran threatens us in any way, they will pay a price like few countries have ever paid," Trump said during a joint press conference with Macron.
Iranian President Hassan Rouhani, for his part, threatened the U.S. with "severe consequences" if America scraps the deal.
Send a tip to the news team at NR.