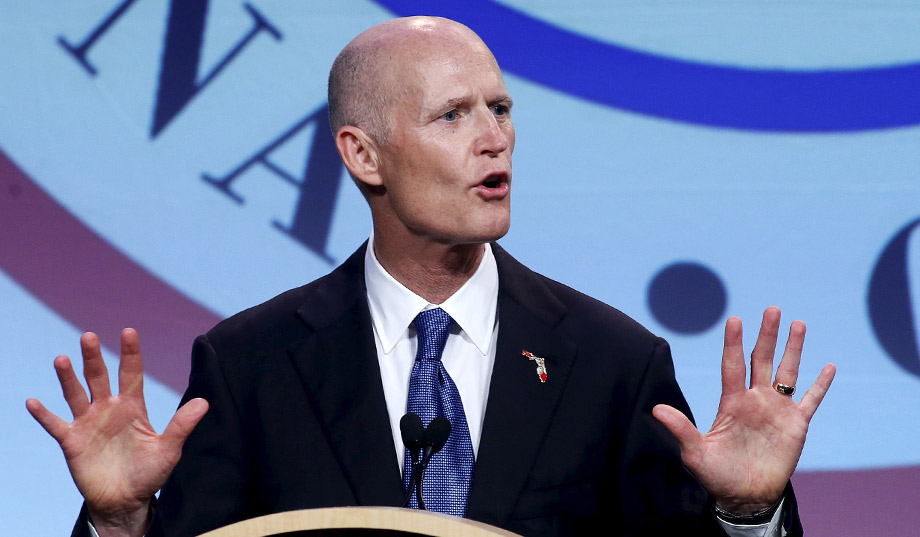 Florida governor Rick Scott will officially announce his challenge to Sen. Bill Nelson (D., Fla.) Monday morning, kicking off what will likely be one of the most closely monitored and expensive races of 2018.
Scott is expected to jump start his campaign by railing against "horribly dysfunctional" Washington and calling for term limits for "career politicians" in a Monday morning announcement speech.
A millionaire health care executive who entered politics in 2010 at the height of the Tea Party movement, Scott remains uniquely positioned to capitalize on his status as a Washington outsider.
The political novice has won two consecutive gubernatorial races by focusing almost solely on job creation, reigning in government spending, and cutting taxes. He faces a three term Senator in Nelson, who has already shown a willingness to inject the controversy surrounding President Donald Trump into the state-wide race.
In addition to damaging Scott by association with Trump, Democrats have already taken aim at his lack of political experience.
Senate Majority PAC released a digital ad Sunday that accuses Scott of spending his private career protecting the interests of the rich and continuing that trend once in office.
Scott's approval ratings are on the rise as the former hardliner has recently moderated his position on immigration and gun control. He's also demonstrated great fundraising capacity since taking office in 2010, bringing in significant donations while also spending tens of millions of his personal wealth on his races.
Nelson has raised $10 million since the beginning of the year but he is not expected to keep pace with Scott and a Republican Party that's poised to spend big to unseat Florida's only state level Democrat.
Send a tip to the news team at NR.