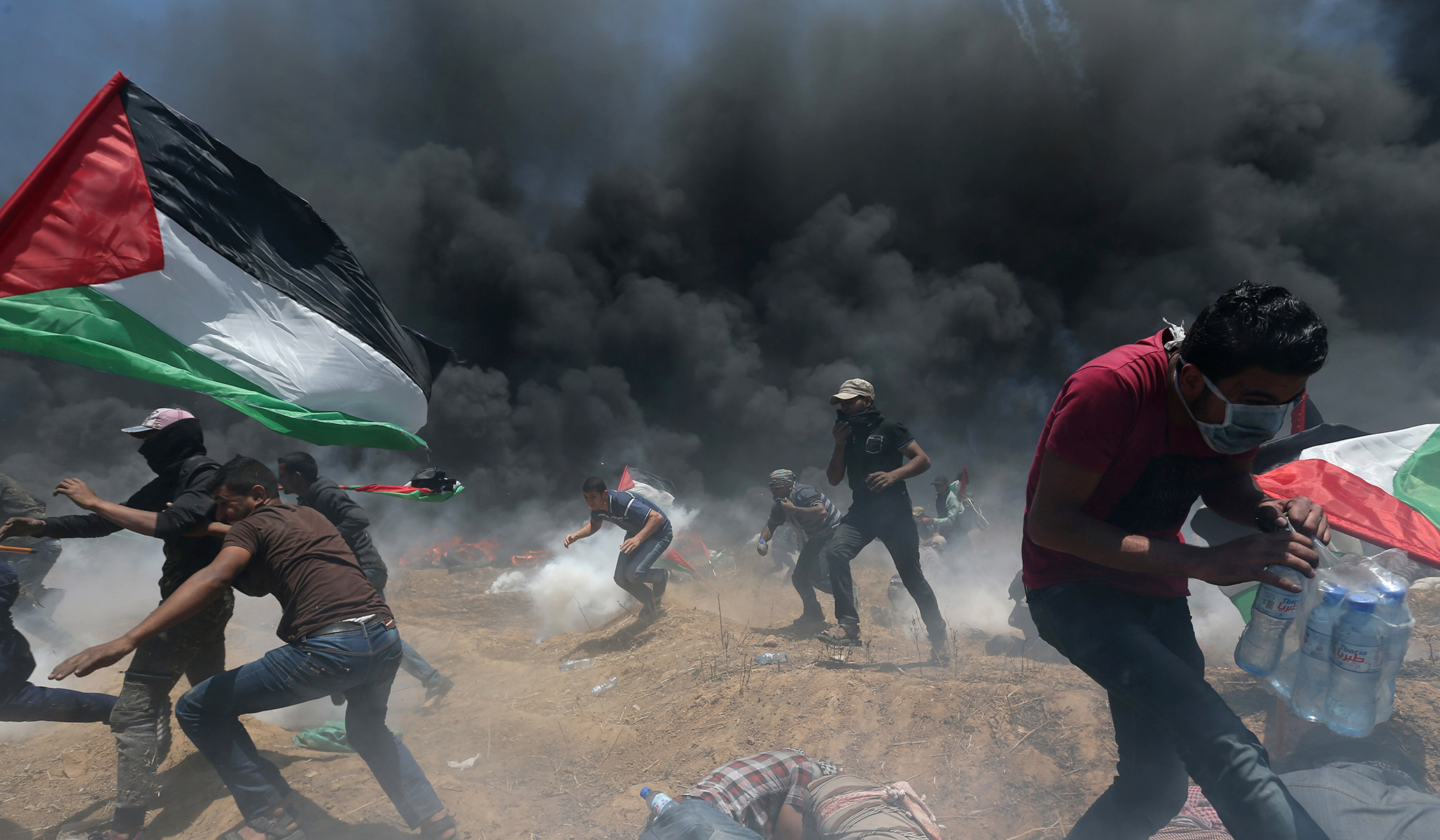 Updated 12:18pm:
Protests along the Gaza border continue to rage ahead of the ceremony to open the U.S. embassy in Jerusalem.
At least 52 Palestinians were killed Monday, including a 14-year-old boy, according to the Palestinian Ministry of Health, the most in a single day since the 2014 war.
Palestinians, who want Jerusalem as a future capital, were enraged at the Trump administration's decision to move the U.S. embassy from Tel Aviv to Jerusalem.
Tens of thousands of demonstrators joined in the "Great March of Return," protests which began on March 30. They hurled rocks from huge slingshots at Israeli forces and set fires, and three armed militants tried to plant explosives near the border.
President Trump recognized the contested city of Jerusalem as the capital of Israel in December. Prime Minister Benjamin Netanyahu will be joined by the president's daughter and son-in-law, Ivanka Trump and Jared Kushner, who are Jewish, for the ceremony on Monday.
"What a moving day for the people of Israel and the State of Israel," Netanyahu said on Twitter. "President Trump is making history. We are deeply grateful for his bold decision to recognize Jerusalem as Israel's capital."
Trump called it "a great day for Israel."
Big week next week when the American Embassy in Israel will be moved to Jerusalem. Congratulations to all!

— Donald J. Trump (@realDonaldTrump) May 11, 2018
Close to 2400 have been wounded, many by Israeli fire, since the protests began. No Israelis are reported dead.
Deadly clashes erupt at Gaza-Israel border protests ahead of the opening of the new U.S. Embassy in Jerusalem.

At least 18 people have been killed. https://t.co/KyOiWxtENq pic.twitter.com/MIVbnjEEbR

— ABC News (@ABC) May 14, 2018
Some of the Palestinian protesters called those who died "martyrs."
"The IDF (Israel Defense Forces) will act forcefully against any terrorist activity and will operate to prevent attacks against Israelis," the forces said in a statement.
Palestinian Authority Prime Minister Rami Hamdallah called the U.S.'s move "blatant violations of international law".
Most countries fear moving their embassies to Jerusalem would escalate tensions in the Middle East, but several, including Guatemala and Paraguay, are following America's lead and opening theirs in the city.
Palestinians were particularly insulted that the U.S. chose the 70th anniversary of Israel's independence as the date for the embassy's opening. They remember that period as when hundreds of thousands of them were uprooted or fled Israel after the 1948 war.
NOW WATCH: 'Jared Kushner Speaks At US Embassy Opening In Jerusalem'
Send a tip to the news team at NR.