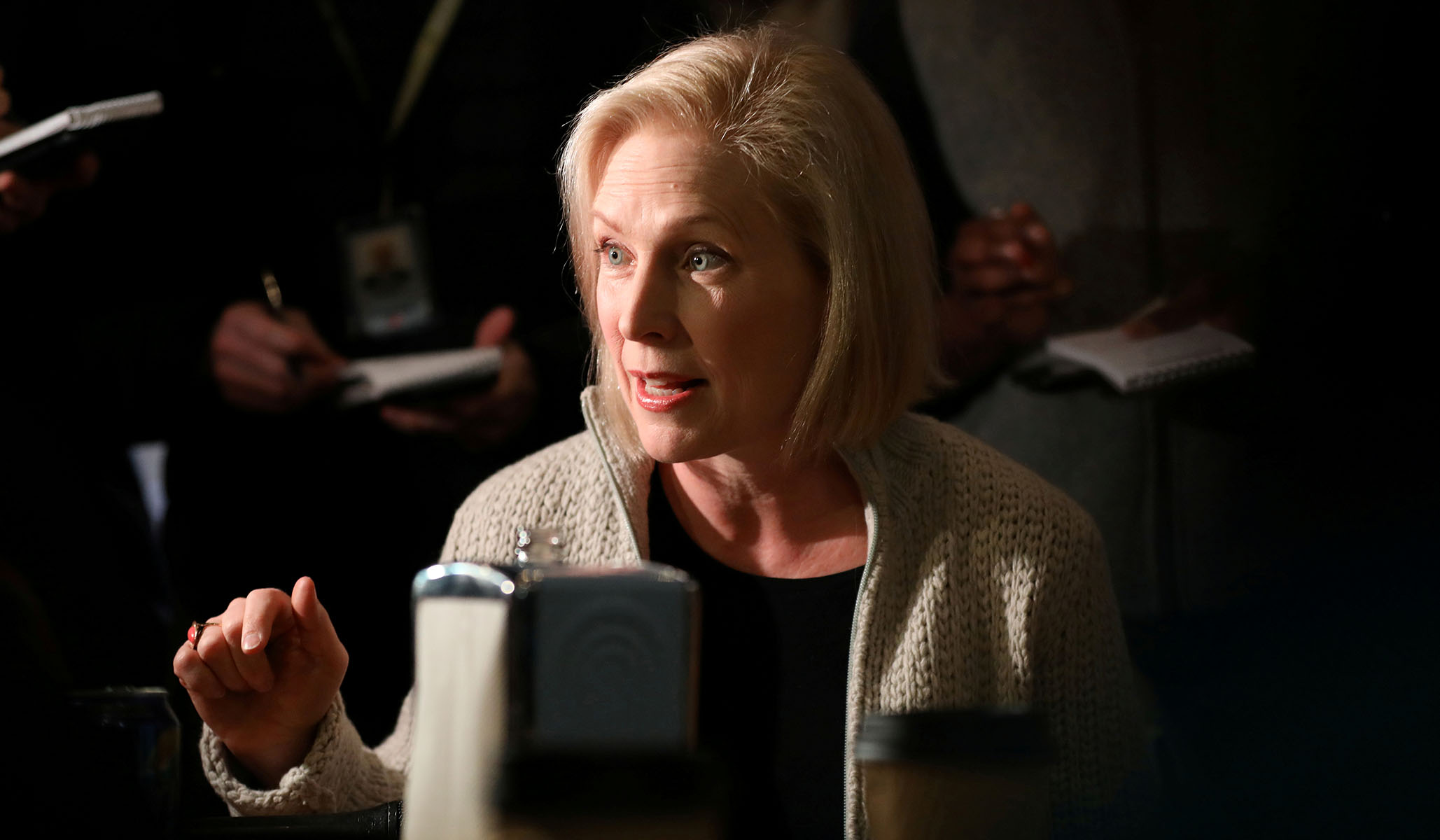 Senator Kirsten Gillibrand (D., N.Y.) on Monday defended an upcoming exclusive 2020 presidential campaign fundraiser, which will be hosted by a top pharmaceutical executive she calls a "dear friend," while decrying the nefarious influence of money in politics.
Fox News host Chris Wallace pressed Gillibrand Monday evening on whether decision to hold a fundraiser in March with tickets ranging from $1,000 to $2,700 per plate is consistent with her calls for reducing the political influence of the wealthy.
"Is Warren right that access to candidates is for sale?" Wallace asked, referencing Senator Elizabeth Warren's (D., Mass.) pledge not to provide more access to high-dollar donors.
"No, but I think you do need to get money out of politics," Gillibrand responded. "The most important thing we have to do is upend the way our democracy functions. Today, the wealthiest, most powerful lobbyists and special interest groups get to write bills in the dead of night … So when you write a bill in Medicare part D, and say, 'Medicare, they can't buy in bulk and get the cheapest prices for drugs.' That's just a sweetheart deal for the drug companies so that they …"
"This is a drug executive who's holding this meeting," Wallace responded.
Gillibrand went on to describe the Pfizer executive who is hosting the event as a "dear friend," who believes strongly in her advocacy for women and the LGBTQ community. The executive in question, Sally Susman, serves as Pfizer's executive vice president and chief corporate affairs officer, according to CNBC. Susman is considered a major Democratic donor and bundled between $200,000 and $500,000 for President Barack Obama in 2012, according to OpenSecrets.
Soon after announcing her presidential run, Gillibrand touted the importance of small donors and swore her campaign would be run "for and by people."
My team just let me know some exciting news: Before this big night is over, we've gotten grassroots donations to our exploratory committee from all 50 states! This campaign is going to be run for and by people, not corporate PACs—that's how we live by our values. Thank you!

— Kirsten Gillibrand (@SenGillibrand) January 16, 2019
Send a tip to the news team at NR.
Something to Consider
If you valued reading this article, please consider joining our fight by donating to our Fall Webathon. Your contribution makes it possible for us to continue our mission of speaking truth and defending conservative principles.
If you valued reading this article, please consider joining our fight by donating to our
Fall Webathon
.