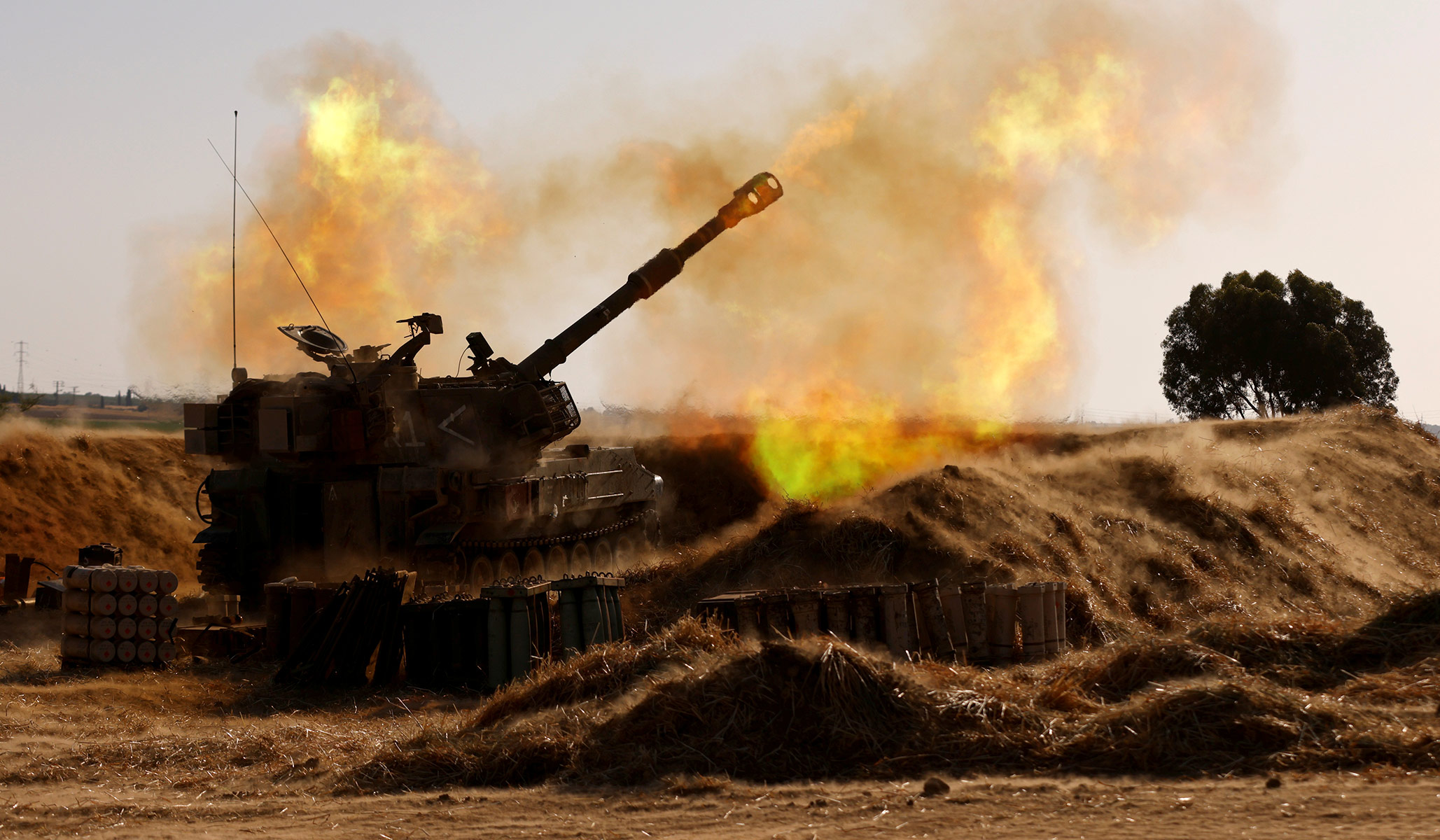 The Israeli Defense Forces (IDF) massed at least three brigades of ground troops on the Gaza border Thursday evening before launching a series of withering artillery and aerial bombardment attacks aimed at the tunnels which Hamas fighters use for shelter.
The IDF sparked confusion Thursday evening when its official Twitter account seemed to announce a full-scale invasion of Gaza.
"IDF air and ground troops are currently attacking in the Gaza Strip," the Israeli military announced.
But an IDF spokesman reversed the announcement hours later, telling reporters, "There are currently no IDF ground troops inside the Gaza Strip."
The news of an Israeli assault comes after Hamas, the Palestinian militant group occupying the Gaza Strip, fired thousands of rockets into Israel. Hamas's decision to attack Israel followed unrest which erupted recently in Jerusalem between Arabs and Jews. The outbreak of violence in the region has fallen during the Islamic holy month of Ramadan.
Hamas, which the U.S. State Department classifies as a terrorist organization, explicitly lists the destruction of Israel as a chief objective in its founding charter.
Hamas' military branch, the al-Qassam Brigades, boasted that it launched 137 rockets at the southern Israeli cities of Ashkelon and Ashdod within just five minutes on Tuesday.  "We've still got more up our sleeves," the militia posted online.
In response to the rocket attacks, Israel has deployed strategic strikes against targets in the Gaza Strip, killing numerous senior Hamas militants, including top commander Bassem Issa. Israel has promised to continue retaliatory airstrikes in the Gaza Strip, which borders Israel, until there is a ceasefire of "total, long-term quiet."
The Iron Dome missile-defense system has intercepted hundreds of rockets targeting major Israeli cities and towns, such as Tel Aviv, in the past 72 hours. Air raid sirens have sounded day and night, warning Israeli citizens to immediately take cover in bomb shelters in case the missile defense system fails to stop a rocket's entry. So far, civilian casualties, including women and children, have been reported on both sides of the ongoing conflict.
Israel and Hamas have fought three wars since the Islamic militant group won the 2006 Palestinian legislative elections and seized control of the Gaza Strip and the West Bank. The unrest that began in Jerusalem has inspired similar protest in the West Bank. Hamas has called for Palestinians within Israel to take up arms and wage a full-scale intifada, or uprising, to reclaim the territory.
Editor's Note: This article has been updated to reflect the IDF's "clarification" regarding the position of ground forces. Troops had not yet pushed into Gaza as of Friday morning and were continuing to mass outside the Gaza strip.
Send a tip to the news team at NR.