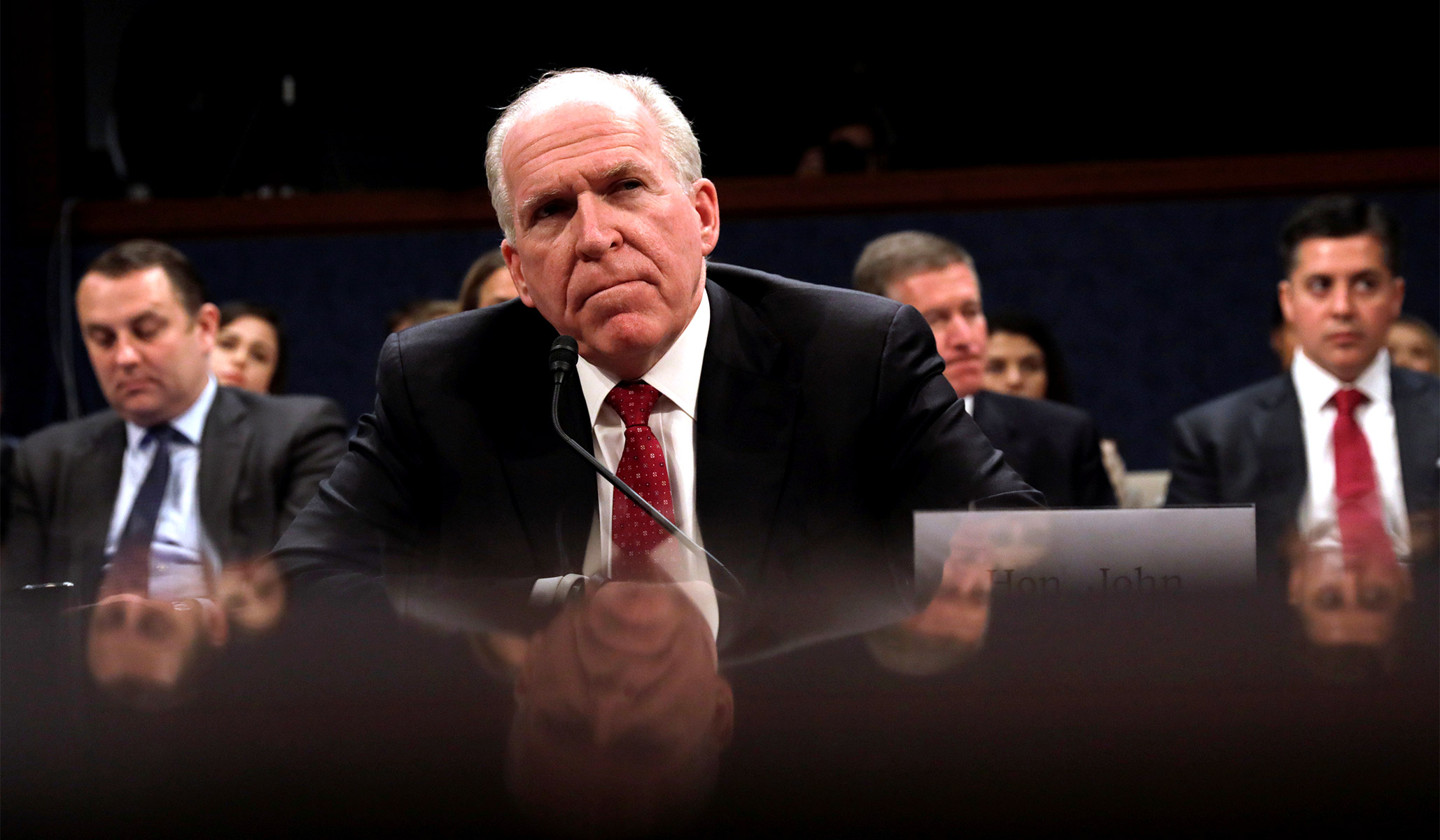 In the flurry of his recent television appearances and outspoken criticism of President Trump, former CIA director John Brennan's milder take on the Russia investigation in his congressional testimony last year has been all but forgotten.
Brennan penned an op-ed for the New York Times on Thursday stating, "Mr. Trump's claims of no collusion are, in a word, hogwash."
A day earlier, Trump had revoked Brennan's security clearance, accusing the former intelligence chief of "erratic conduct and behavior" and telling reporters that he "never respected him."
"Mr. Brennan has recently leveraged his status as a former high-ranking official with access to highly-sensitive information to make a series of unfounded and outrageous statements, wild outbursts on the internet and television about this administration," the White House's statement on the president's decision read.
Brennan responded with defiance, writing in Thursday's op-ed that, "the only questions that remain are whether the collusion that took place constituted criminally liable conspiracy, whether obstruction of justice occurred to cover up any collusion or conspiracy, and how many members of 'Trump Incorporated' attempted to defraud the government by laundering and concealing the movement of money into their pockets."
This was a much stronger statement than the one he gave to the House Intelligence Committee on May 23 of last year, when he balked at using the word "collusion" to describe the relationship between the Trump campaign and Russia.
Despite prodding from Republicans on the committee to deny any collusion occurred, Brennan refused to state definitively whether the evidence he had seen amounted to collusion or not.
"Did evidence exist of collusion, coordination, conspiracy, between the Trump campaign and Russian state actors at the time you learned of 2016 efforts?" Republican committee member Trey Gowdy of South Carolina asked Brennan at the time.
"I don't know whether or not such collusion — and that's your term, such collusion existed," Brennan responded. "But I know that there was a sufficient basis of information and intelligence that required further investigation by the bureau to determine whether or not U.S. persons were actively conspiring, colluding with Russian officials."
Brennan said that "contacts and interactions" between Trump campaign associates and Russian operatives prompted further probing of the matter by the intelligence community.
Fired FBI director James Comey had previously testified before the committee on March 20 and revealed that the FBI was investigating "the nature of any links between individuals associated with the Trump campaign and the Russian government and whether there was any coordination between the campaign and Russia's efforts."
"There was a basis for investigating, meaning there were facts to support an investigation" Comey told PBS in April. "To say there was no evidence just wasn't the case."
IN THE NEWS: 'Trump Revokes Former CIA Director's Security Clearance'
Send a tip to the news team at NR.