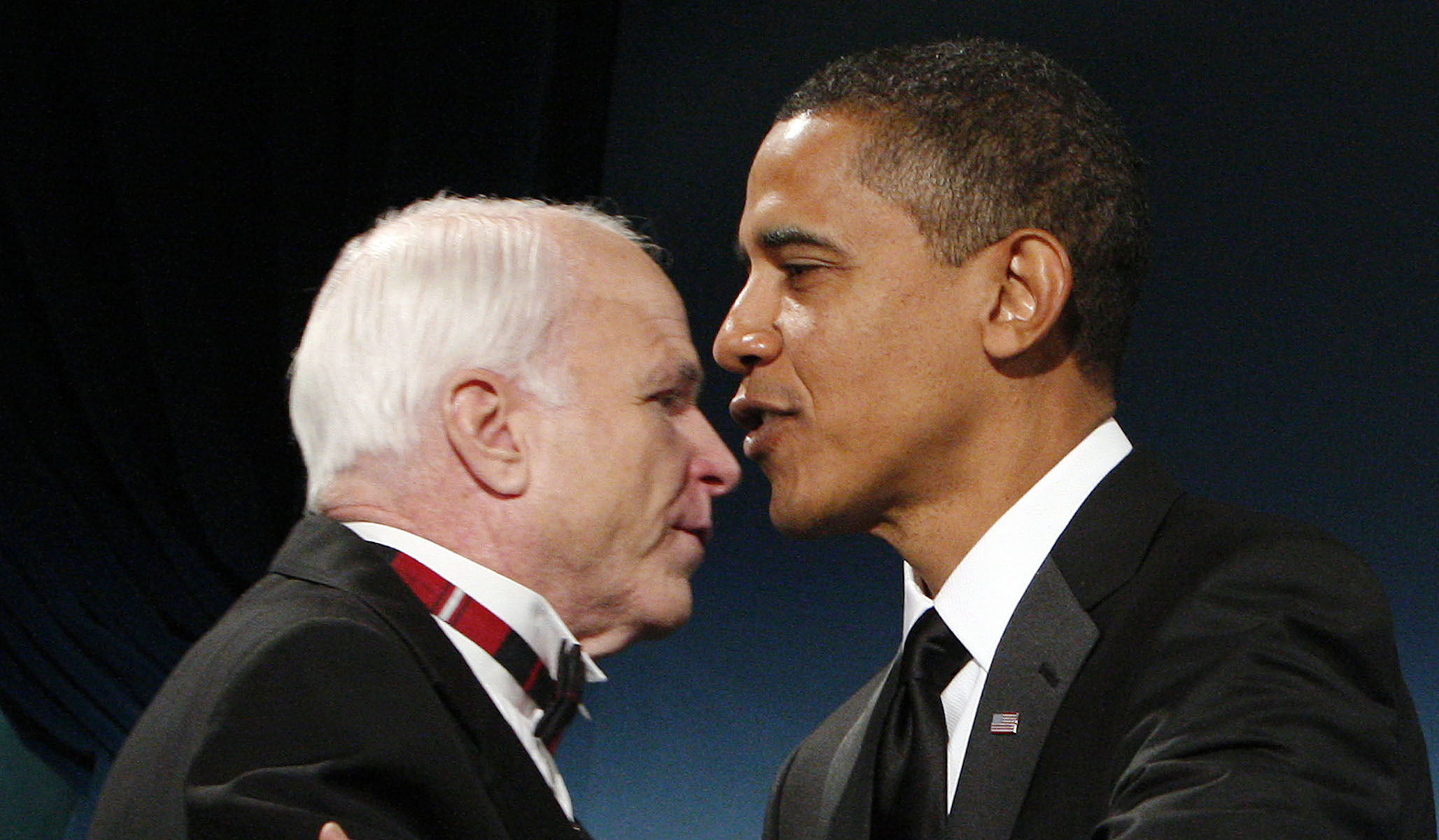 President Barack Obama called Senator John McCain (R., Ariz.) last year to thank him for casting the decisive vote against legislation that would have effectively repealed Obamacare, according to an excerpt of McCain's forthcoming memoir obtained by NBC.
In McCain's memoir, The Restless Wave: Good Times, Just Causes, Great Fights, and Other Appreciations, which he coauthored with longtime aide Mark Salter, he describes receiving a call from Obama in July after crushing Republican hopes of dismantling the former president's signature domestic achievement.
Obama called to say thank you and added that he was "counting on me to be an outspoken and independent voice for the causes I believed in as I had been during his presidency," McCain wrote of the call.
McCain, 81 and suffering from stage-four brain cancer, found himself last summer at the center of the GOP's efforts to make good on countless campaign promises to repeal and replace what many conservatives described as a fiscally disastrous health-care law.
The Vietnam War veteran and former prisoner of war frequently bemoaned the disregard for procedure and the rank partisanship that he believed characterized Republican Obamacare-repeal efforts. He ultimately cast the decisive vote against the repeal bill, ensuring the continued survival of Obamacare.
McCain described in the memoir being unmoved by a call from President Trump before casting his dramatic against the legislation.
"I listened quietly as he asked me to reconsider. I don't remember exactly how I responded, but it was a polite rebuff," he wrote.
After killing Republican hopes in July, McCain doubled down in September by voting against the Graham–Cassidy bill, which would have dismantled key aspects of Obamacare, and represented Republicans' last real hope to do away with the program before the midterms.
"We should not be content to pass health-care legislation on a party-line basis, as Democrats did when they rammed Obamacare through Congress in 2009. If we do so, our success could be as short-lived as theirs when the political winds shift, as they regularly do," McCain said in a statement issued after voting against Graham–Cassidy. "The issue is too important, and too many lives are at risk, for us to leave the American people guessing from one election to the next whether and how they will acquire health insurance. A bill of this impact requires a bipartisan approach."
Send a tip to the news team at NR.