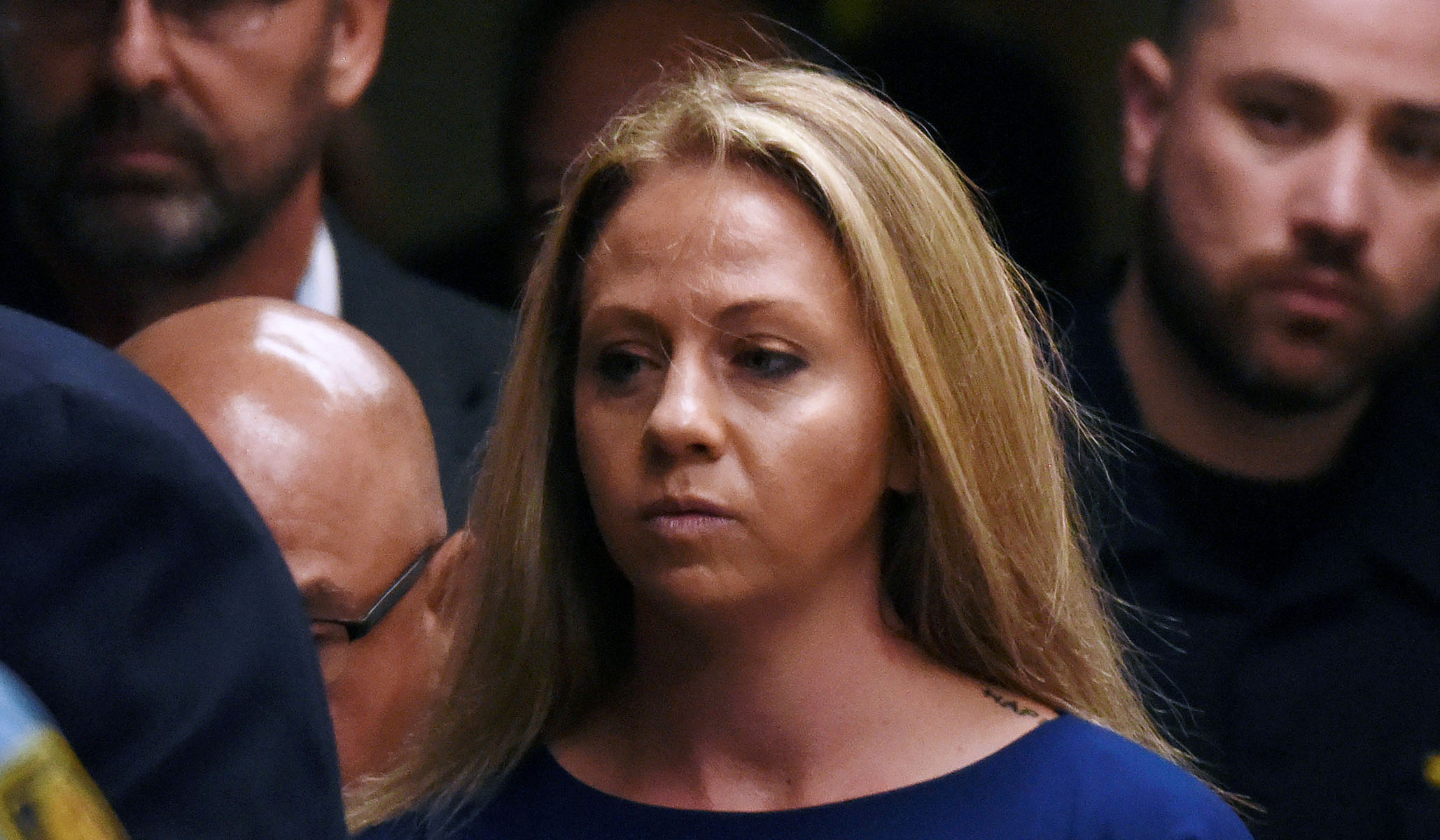 Former Dallas police officer Amber Guyger was found guilty of murder on Tuesday, The Dallas Morning News first reported.
BREAKING: Amber Guyger is found guilty of murder in the death of Botham Jean https://t.co/AeS16Wz396

— Cassandra Jaramillo 🌟 (@cassandrajar) October 1, 2019
The victim, Botham Jean, was killed in his own apartment by Guyger on Sept. 6, 2018. Jean's family responded with "cheers and tears," per reporter Cassandra Jaramillo.
Update 4:00 p.m.: While the facts of the case were largely uncontested, the verdict came down to a disputed interpretation of the so-called "Castle Doctrine," which allows for the use of deadly force when one is threatened in one's own home.
Late in the evening on Sept. 6, an off-duty Guyger, who was returning home after a long shift, mistakenly entered Jean's fourth-floor apartment, which was directly above her own. Finding the door unlocked, she shot the 26-year-old accountant, who was eating a bowl of ice cream, because she assumed he was an intruder.
Guyger was initially arrested on a manslaughter charge, which after review from the district attorney's office, was upgraded to a murder charge. She first spoke publicly on the incident when she took the stand as the first witness for defense last Friday.
"I was scared whoever was inside of my apartment was going to kill me, and I'm sorry," Guyger said as she cried, her voice shaking. "I have to live with that every single day." Her defense centered around her making a tragic but honest mistake, and Judge Tammy Kemp allowed the jurors to potentially apply the "Castle Ground."
The lead investigator on the case, Texas Ranger David Armstrong, testified that in interviewing 297 of the 349 residents at the South Side Flats apartment complex where Guyger and Jean lived, 46 had accidentally ended up on the wrong floor and put their key in the door. Of those 46, 38 were from the third and fourth floors.
Prosecutors argued that Guyger acted rashly in her use of deadly force by not calling for backup, and that she missed several signs she was on the wrong floor because she was distracted by sexually explicit messages from a fellow police officer with whom she was having an extramarital affair.
After the verdict was announced, attorneys for the Jean family held an impromptu press conference to praise the decision. Attorney Ben Crump said 26-year-old Jean was a "near perfect" person, and that "it shouldn't take all of [Jean's credentials] for unarmed black and brown people in America to get justice."
"This verdict is for Trayvon Martin," he said, "it's for Michael Brown, it's for Sandra Bland, it's for Tamir Rice, it's for Eric Garner, it's for Antwon Rose, it's for Jemel Roberson, for EJ Bradford, for Stephon Clark, for Jeffrey Dennis, Genevieve Dawes, for Pamela Turner."
Jean's mother rejoiced as cheers broke out outside the courtroom when the verdict was announced soon after 10:30 a.m. "God is good. Trust him," she said.
Guyger remained standing until the jury left after announcing the decision. Then, she fell into her chair.
The sentencing phase of the trial began Tuesday afternoon.
Send a tip to the news team at NR.