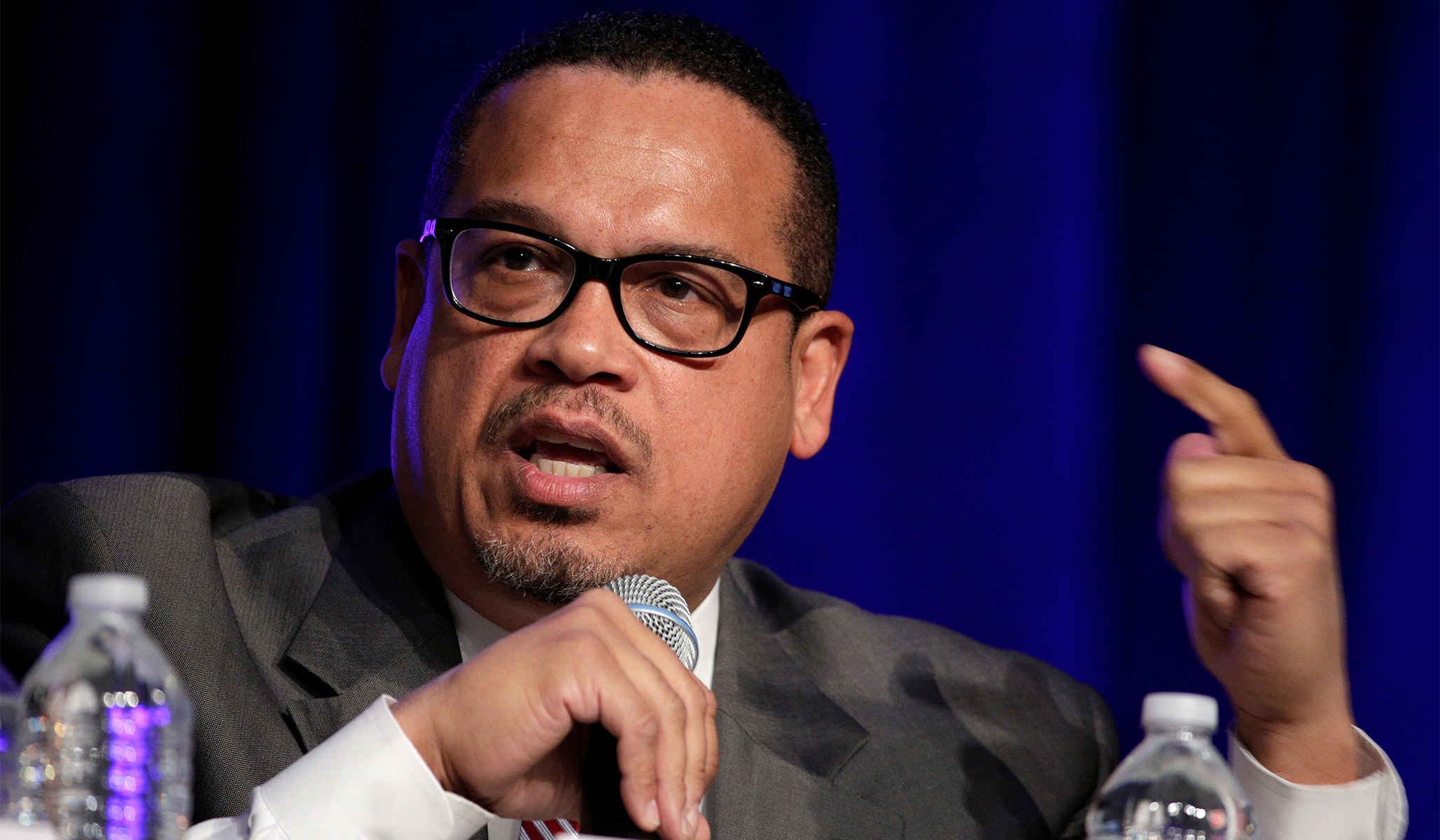 Democratic congressman Keith Ellison has become the latest high-profile man to deny accusations of abuse by one of the women in his life.
A man claiming to be the son of Ellison's former girlfriend, a prominent environmental activist, has accused the Minnesota representative of physically and psychologically abusing his mother during their relationship of a few years.
Austin Aslim Monahan, who says he is the son of Sierra Club activist Karen Monahan, went public with the allegations in a Facebook post Saturday.
"My brother and I watched our mom come out of pure hell after getting out of her relationship with Keith Ellison," Monahan wrote. "We watched her so called political friends stand by say or do nothing."
Monahan said he was using his mother's computer and happened upon more than 100 texts between Ellison and his mother as well as a video of the congressman dragging her off his bed and screaming obscenities at her.
"We were ready to go public but our mom begged us not to and she along with others convinced us it wasn't in our moms [sic] best interest," he added.
Ellison, who is hoping to become Minnesota's first Muslim attorney general after deciding not to run for reelection to Congress, has denied the accusations.
"Karen and I were in a long-term relationship which ended in 2016, and I still care deeply for her well-being," the Democratic National Committee deputy chairman said Sunday in a statement from his campaign spokesman. "This video does not exist because I never behaved in this way, and any characterization otherwise is false."
Karen Monahan on Sunday confirmed the accusations and shared several texts allegedly between her and Ellison. She also asked people to leave her children out of their comments.
What my son said is true. Every statement he made was true.@keithellison, you know you did that to me. I have given every opportunity to get help and heal. Even now, u r willing to say my son is lying and have me continue to leak more text and info just so others will believe him

— Karen Monahan (@KarenMonahan01) August 12, 2018
"I am so proud of my son for his courage. But this situation impacted me. If you have anything to say, please say it me and leave him out of it," she wrote on Twitter.
"The relationship changed my personality and so much over time," she appears to tell Ellison in one text.
2nd
April 2018 pic.twitter.com/sNSvccEUON

— Karen Monahan (@KarenMonahan01) August 12, 2018
Ellison shared a picture of the mother and son on Twitter in 2016.
One of Minnesota's own EJ superstars, Karen Francis Monahan and her son, Austin, on her birthday! pic.twitter.com/qS4mSGl3lW

— Keith Ellison (@keithellison) April 11, 2016
Monahan spoke about her experience of sexual abuse to television host Ahmed Tharwat last year, but did not say that her abuser was with Ellison.
Send a tip to the news team at NR.