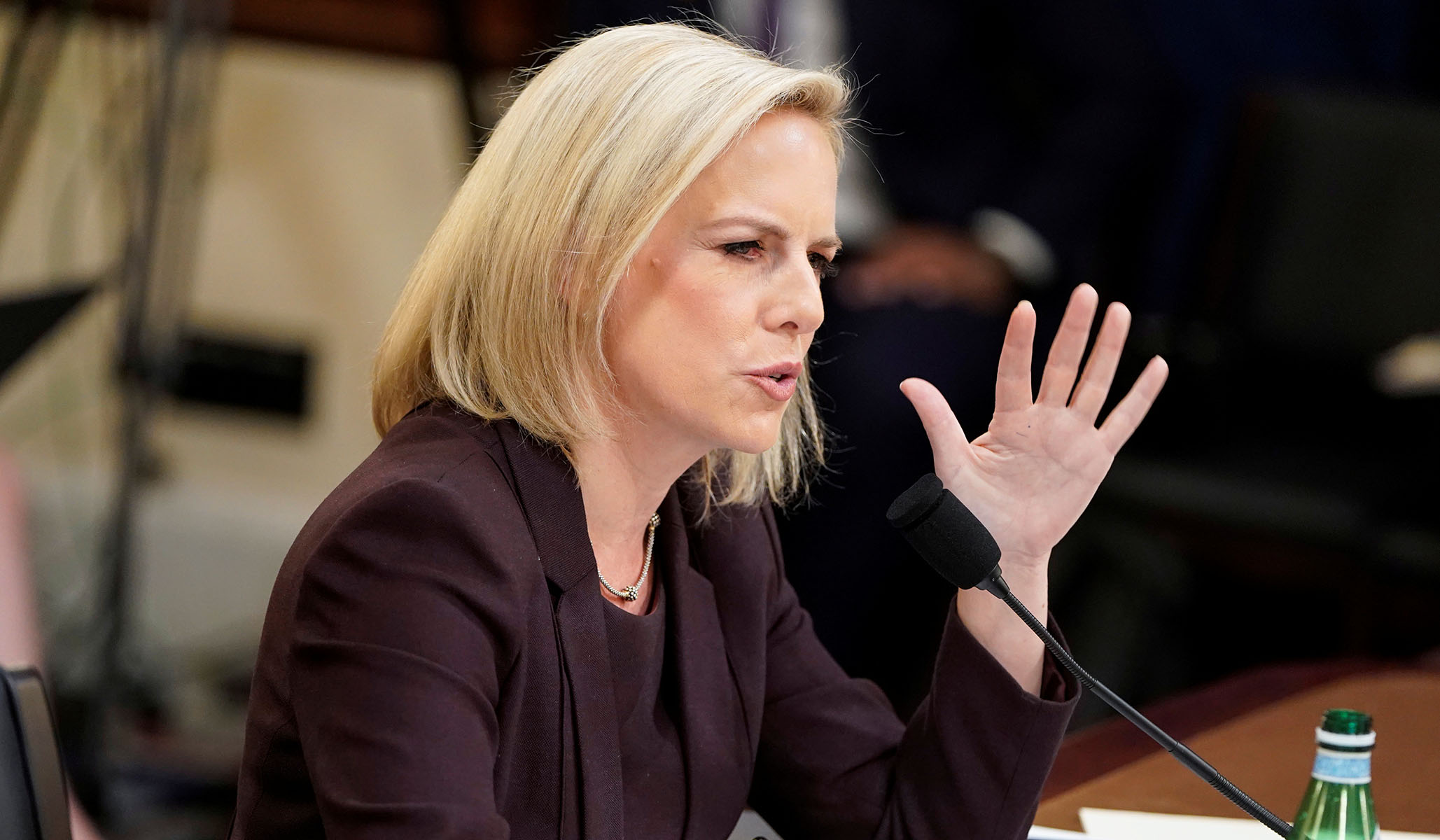 Secretary of Homeland Security Kirstjen Nielsen on Wednesday warned lawmakers that the recent surge in illegal immigration at the southern border could overwhelm U.S. Customs and Border Patrol (CBP) agents if they are not provided additional resources.
"In February, we saw a 30 percent jump over the previous month, with agents apprehending or encountering nearly 75,000 aliens," Nielsen told the House Committee on Homeland Security. "This is an 80 percent increase over the same time last year. And I can report today that CBP is forecasting the problem will get even worse this spring as the weather warms up."
"We want to strengthen legal immigration and welcome more individuals through a merit-based system that enhances our economic vitality and the vibrancy of our diverse nation. We also will continue to uphold our humanitarian ideals," she said. "But illegal immigration is simply spiraling out of control and threatening public safety and national security."
Nielsen's testimony came just hours after the Trump administration released a report that details a significant rise in the number of illegal immigrants being apprehended at the southern border. Since the beginning of the fiscal year, CPB has apprehended 268,000 such immigrants at the border, an average of nearly 2,000 per day and the highest rate since 2007.
In addition to raising alarms about the general increase in attempted border crossings, Nielsen told lawmakers that an surge in unaccompanied children and family units arriving at the border poses its own unique problem, as the Department of Homeland Security (DHS) lacks the resources to detain families together for long periods of time while they await their asylum hearings.
"Over 60 percent of the current flow are family units and unaccompanied alien children, and 60 percent are non-Mexican," she said, likely referencing the provision in U.S. immigration law that requires that asylum-seekers native to non-contiguous countries must be allowed to remain in the U.S. while their asylum applications are adjudicated.
According to the data released Wednesday, the number of family units arriving at the border has increased 338 percent since the previous fiscal year while the number of unaccompanied minors rose by 58 percent.
Nielsen spoke as Congress is preparing to pass legislation to block President Trump's declaration of a national emergency, which was designed to re-appropriate $5.7 billion in additional border-security funding for the construction of Trump's long-promised border wall. She warned lawmakers that if additional resources are not allocated, U.S. national security will be thoroughly compromised.
"Our capacity is already severely strained, but these increases will overwhelm the system entirely," Nielsen said. "This is not a 'manufactured' crisis. This is truly an emergency."
Send a tip to the news team at NR.