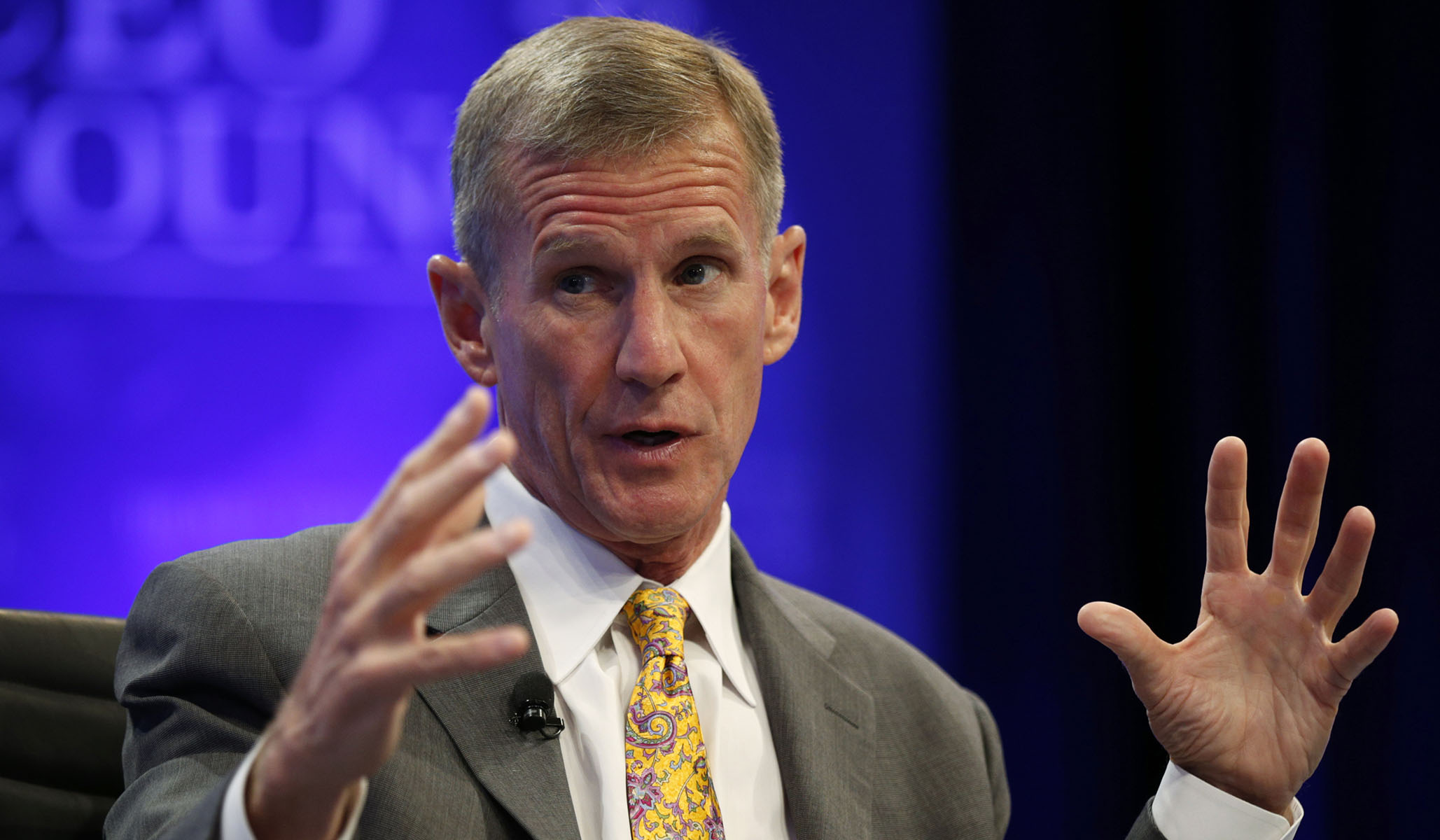 Stanley McChrystal, the former commander of NATO forces in Afghanistan, admitted during a recent speaking appearance that he had recently advised Secretary of State Mike Pompeo to "muddle along" in Afghanistan due to a lack of viable strategic alternatives.
While delivering a lecture on military history in New York City on November 26, McChrystal, a retired four-star general, openly admitted that U.S. forces must remain in Afghanistan despite a lack of any strategic vision because to withdraw would cause massive disruption.
"I met with Secretary Pompeo this morning and he asked me the same question, and I said, 'I don't know.' I wish I did. . . . If we pull out and people like al-Qaeda go back, it's unacceptable for any political administration in the U.S. It would just be disastrous, and it would be a pain for us," McChrystal responded when asked by an audience member about the future of U.S. forces in Afghanistan, according to a recording obtained by Task and Purpose.
"If we put more troops in there and we fight forever, that's not a good outcome either. I'm not sure what [is] the right answer. My best suggestion is to keep a limited number of forces there and just kind of muddle along and see what we can do," he added.
U.S. troops have remained in Afghanistan for 17 years. 2,372 soldiers had been killed there during that time as of July. Most recently, Sergeant Leandro Jasso, a 25-year-old Army ranger, was killed while fighting in Nimruz Province in southwestern Afghanistan last week. Jasso was the tenth U.S. soldier killed in Afghanistan this year.
"It's fair for Americans to ask, 'Why am I doing this? Why am I putting my sons and daughters in harm's way?' And the answer is, there's a certain cost to doing things in the world, being engaged," McChrystal said of the continued loss of American life. "That's not as satisfying. That's not an applause line kind of answer, but that's what I think, the only thing I could recommend."
Despite the constant U.S. troop presence, Afghanistan overtook Iraq as the country with the most deaths from terrorist attacks in 2017, according to the Institute for Economics & Peace's latest Global Terrorism Index report, which was released Wednesday.
President Trump, who is reportedly considering a complete withdrawal of troops from Afghanistan ahead of the 2020 presidential elections, dispatched a diplomatic envoy to the country last week to negotiate a possible cease fire with Taliban leaders.
Send a tip to the news team at NR.