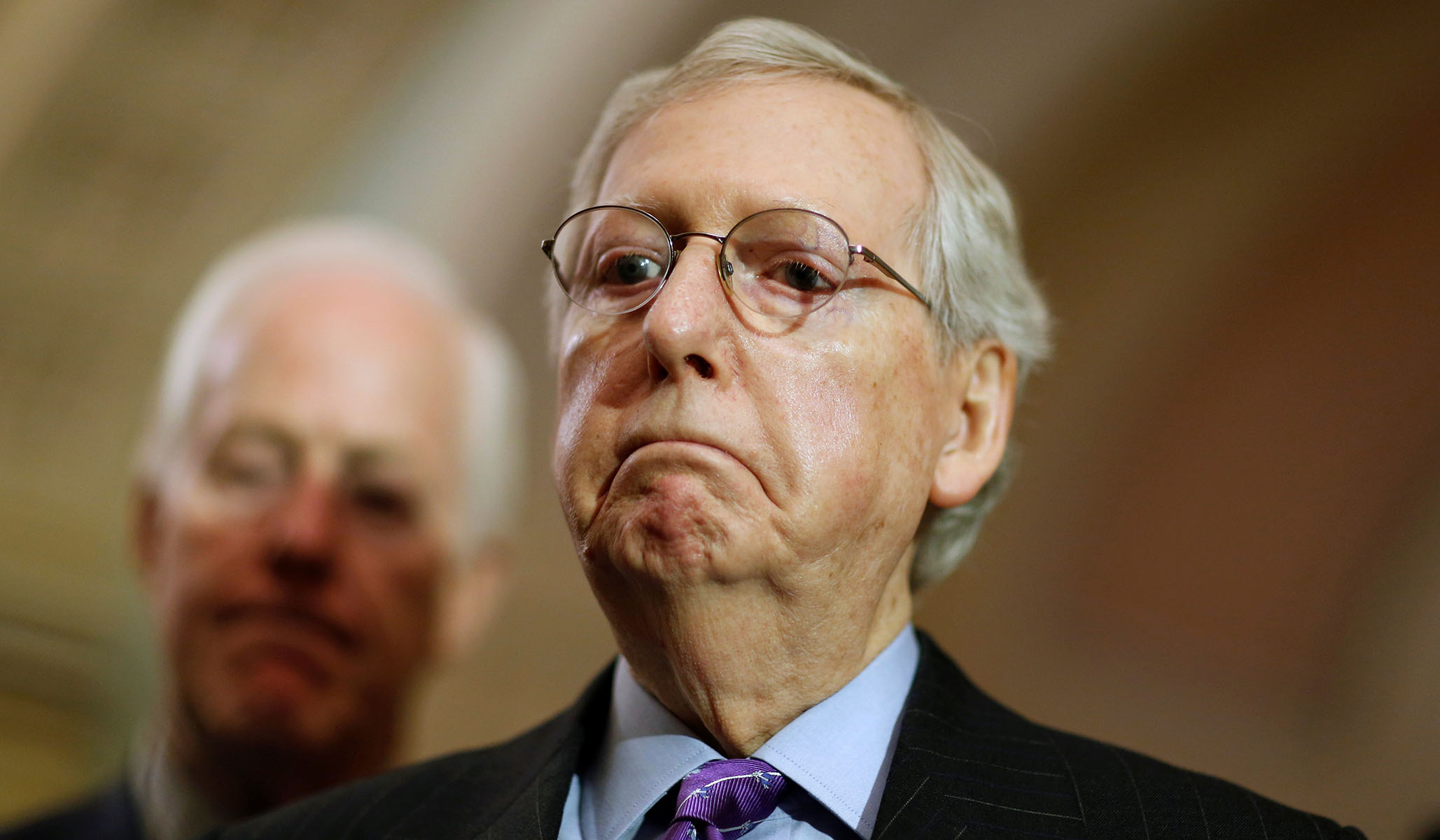 Senate majority leader Mitch McConnell has taken his hardest line yet in the face of what he called Democratic "obstruction" of Trump-administration nominees to the judicial and executive branches.
McConnell on Thursday announced that the Senate will stay in session for as long as it takes to approve twelve of Trump's judicial nominees, as well as four executive-branch picks.
"No more obstruction, no more delays. It's time to confirm them all," McConnell said. "The Senate will continue to work right through August until every single one of them is confirmed."
McConnell plans to explode Democratic filibusters on every one of the next 16 nominees, and has scheduled votes on them for this week.
Democrats' own amending of the filibuster rule in 2013 has prevented them from stopping these votes. Former Senate majority leader Harry Reid spearheaded the effort to cancel the filibuster option for most nominations by presidents. Instead of the 60-vote supermajority previously required to confirm administration nominees, the razor-thin Republican majority can confirm them with zero Democratic votes.
So far, 110 Trump nominees have had to deal with a filibuster threat from Democrats, McConnell wrote on Twitter.
Historic Obstruction. @POTUS's nominees have already been subjected to more than four times as many cloture votes as the nominees of his six most recent predecessors combined in their first two years. pic.twitter.com/vIiQfg9vlB

— Leader McConnell (@senatemajldr) August 23, 2018
Still, the Senate has managed to confirm 26 circuit-court judges and 26 district-court picks, as well as Supreme Court justice Neil Gorsuch.
McConnell organized Senate votes on the twelve judicial nominees as well as nominees for assistant attorney general, assistant security of the treasury, assistant secretary of health and human services, and vice chairman of the Board of Governors of the Federal Reserve System.
Trump's nominee for director of the Consumer Financial Protection Bureau, Kathy Kraninger, advanced to a Senate vote on Thursday after the Senate Banking Committee approved her 13–12 along party lines.
IN THE NEWS: 'Trump Says Mueller Team 'Are Looking to Impact' Midterm Elections'
[jwplayer 2SgWFPTh-wKJ9CRQU]
Send a tip to the news team at NR.