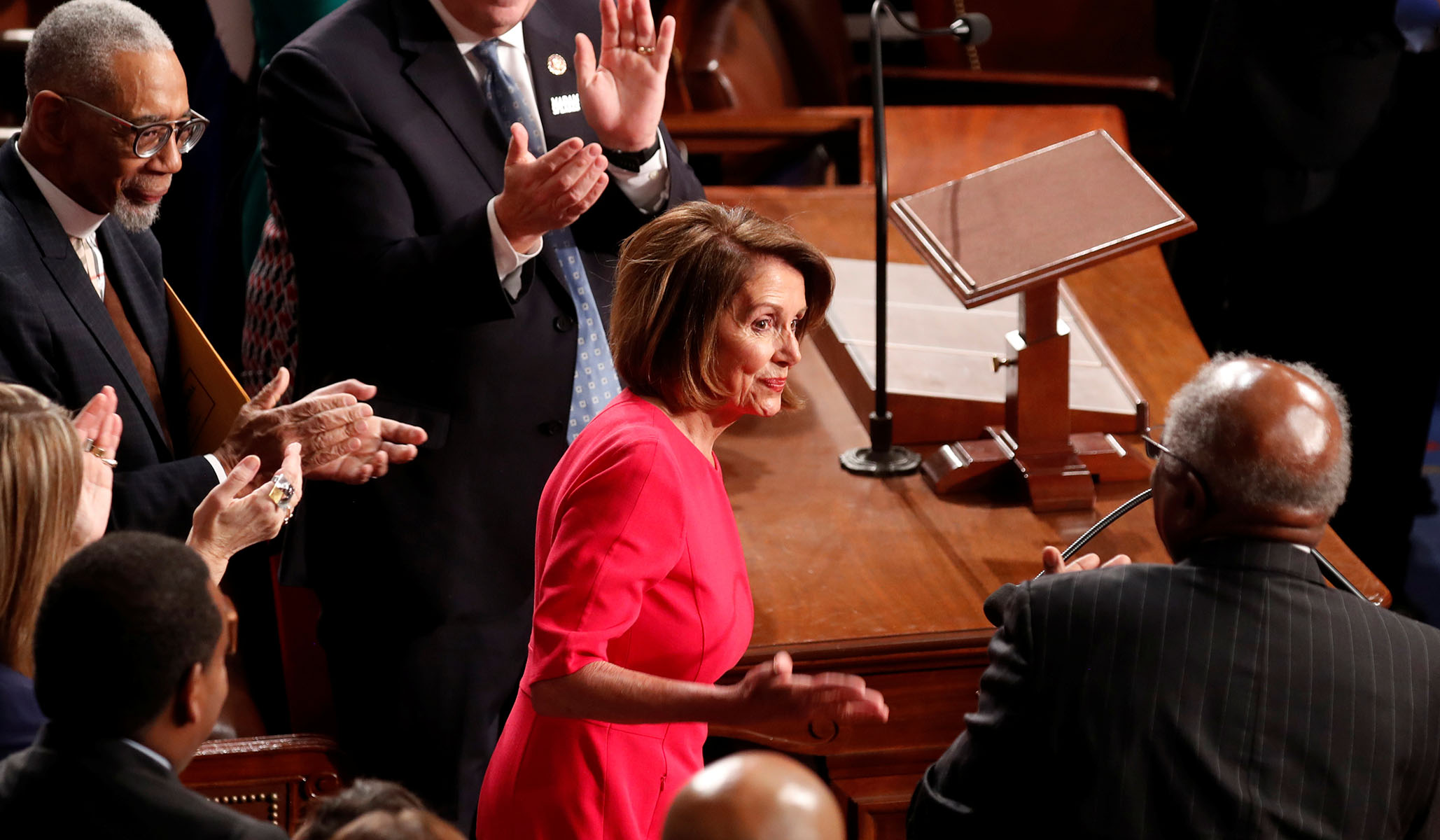 Representative Nancy Pelosi (D., Calif.) was elected Thursday to lead the newly minted Democratic majority in the 116th Congress as speaker of the House.
Pelosi, who previously served as the first female speaker from 2007 to 2011, reclaimed the gavel following weeks of uncertainty brought about by progressive rebels within her caucus who announced their support only after she conceded to their demand that she limit her second speakership to no more than four years.
The new 235-member Democratic majority is expected to wield its subpoena power in furtherance of multiple investigations into President Trump and his various business dealings.
Pelosi herself has proven hesitant to explicitly endorse the call, embraced by the more strident members of her caucus, to impeach Trump at the first opportunity, opting instead to counsel restraint until the release of Special Counsel Robert Muller's report and the conclusion of the various congressional investigations that will be launched in the coming days.
Asked Wednesday night, on the eve of her ascension to the speakership, whether she would respect existing Department of Justice guidelines which suggest sitting presidents cannot be indicted, Pelosi suggested that Trump could be indicted while in office under certain unspecified circumstances.
"I think that is an open discussion," Pelosi told NBC's Savannah Guthrie. "I think that's an open discussion in terms of the law."
While Pelosi managed to secure the support of most incoming freshman Democrats, she faces a delicate balancing act as she attempts to appeal to a group of blue-dog moderates, who are eager to compromise with the Republican minority, without alienating newly elected progressive firebrands like Representative Alexandria Ocasio-Cortez (D., N.Y.).
Pelosi begins her tenure amid an ongoing 13-day government shutdown precipitated by a partisan impasse over funding for increased border-security measures, including a wall on the southern border for which Trump has demanded $5 billion. The House is expected to vote on a pair of spending bills designed to end the shutdown — both of which lack the requisite support to pass the Senate — as its first act of the new Congress.
Representative Kevin McCarthy (R., Calif.) was elected to lead the new Republican minority in the House.
Send a tip to the news team at NR.