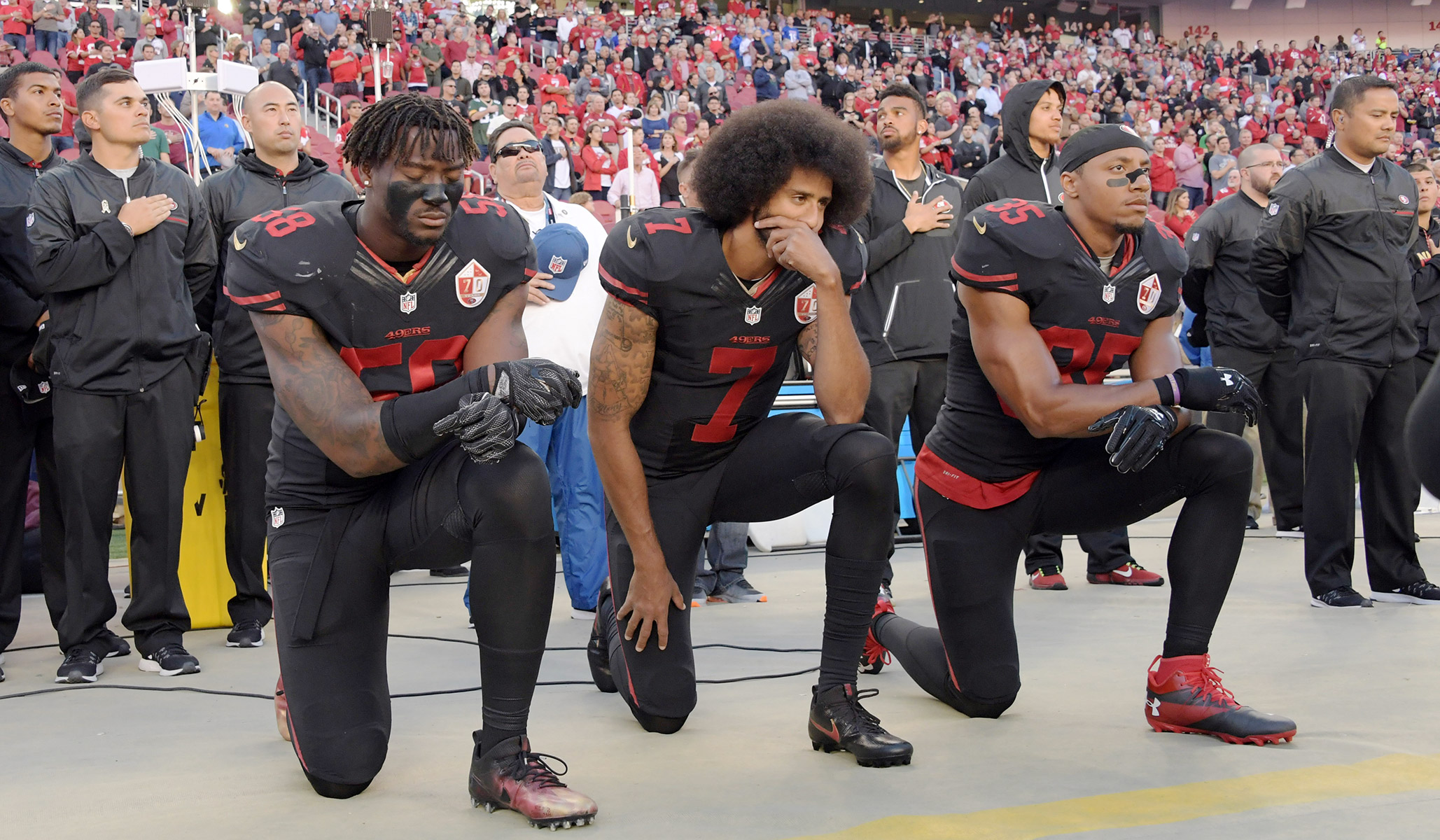 Update 12:43p.m.: NFL owners agreed Wednesday to a new policy governing player's behavior during the pre-game national anthem ceremony. Commissioner Roger Goodell announced that the owners voted to fine teams if their players are on the field or sideline during the national anthem but refuse to stand. Players will be allowed to remain in the locker room if they so choose.
"This season, all league and team personnel shall stand and show respect for the flag and the anthem," Goodell said in a statement. "Personnel who choose not to stand for the anthem may stay in the locker room until after the anthem has been performed."
NFL owners met Tuesday to review potential strategies to address player protests during the national anthem, and are considering imposing a 15-yard penalty on players who refuse to stand during the song, ESPN reported Tuesday.
The deliberations, which are expected to conclude Wednesday evening, have featured a range of potential options for dealing with the public-relations crisis created by the recent surge in on-field political protests.
The possibilities include: allowing each team to determine its own policy, clearing the field of all players during the national anthem, instructing players who don't want to stand to remain in the locker room, and contractually obligating players to stand.
The current policy, which may remain in place if no other consensus is reached, says that players "should" stand but does not mandate or coerce the behavior through any penalty system.
The trend of players' refusing to stand during the National Anthem emerged as a cultural flashpoint last season after President Trump publicly chastised a number of African-American players who kneeled to protest racial inequality, and demanded that they be fired. Vice President Mike Pence left an Indianapolis Colts game prematurely in October after several San Francisco 49ers kneeled for the national anthem.
Owners are reportedly divided over how best to contain the fallout from the public controversy. Dallas Cowboys owner Jerry Jones, who threatened to bench any player who kneeled last season, told ESPN that there's not enough support among owners to require players to stand.
"It's not that easy," Jones said. "We've got a lot of things that we're trying to balance. We have the interest in every constituency that's involved here, and the issues that are involved, and we recognize that with our visibility and the interest itself, it's taken a life of its own."
"I'm not trying to diminish issues of our rights here," he added. "But the No. 1 thing here is our fans. And I know our fans want us to zero in on the game, zero in on football. They want to come to the game and get away from a lot of the other issues that are out there."
NOW WATCH: 'NFL to Issue Punishments for National Anthem Kneeling'
Send a tip to the news team at NR.