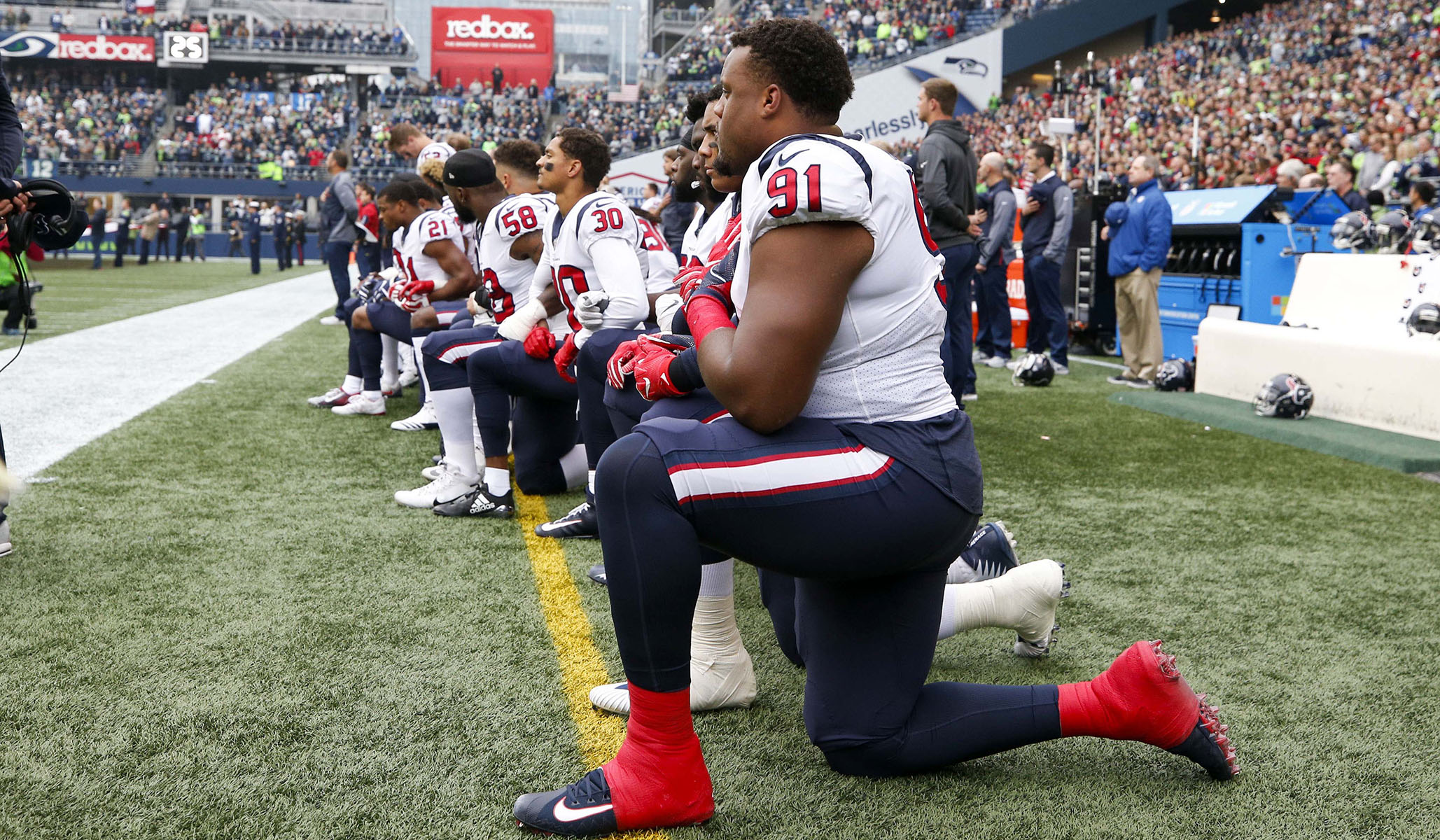 The NFL will not fine teams whose players kneel during the pregame national anthem ceremony this season despite passing a policy to do just that in May, ESPN reported Sunday.
Citing ongoing discussions between the NFL and the players' union, league sources told ESPN that the new policy will not be implemented until next season at the earliest. League owners voted in May to impose a fine on any team whose players kneel during the national anthem while allowing players to remain in the locker room during the ceremony if they so choose.
"This season, all league and team personnel shall stand and show respect for the flag and the anthem," Commissioner Roger Goodell said in a statement announcing the new policy. "Personnel who choose not to stand for the anthem may stay in the locker room until after the anthem has been performed." At the time, union representatives criticized the owners for failing to consult them in devising the new policy and argued that the players' right to free expression should not be infringed.
The controversy over player protests took on added import this week after Nike announced Colin Kaepernick, who sparked the movement by kneeling during the national anthem in 2016, had been signed as the face of their 30-year anniversary "Just Do It" ad campaign.
President Trump, who elevated the issue through his frequent public criticisms of protesting players, suggested the league is suffering from low ratings due to the protests.
Wow, NFL first game ratings are way down over an already really bad last year comparison. Viewership declined 13%, the lowest in over a decade. If the players stood proudly for our Flag and Anthem, and it is all shown on broadcast, maybe ratings could come back? Otherwise worse!

— Donald J. Trump (@realDonaldTrump) September 9, 2018
Ratings for Thursday's season opener featuring the Atlanta Falcons and Philadelphia Eagles were down 13 percent from last year's season opener. But, as ESPN notes, the decline may have been due to inclement weather, which delayed the game's kickoff by 30 minutes.
IN THE NEWS: '[WATCH] Giuliani Says Mueller Hardening Stance On Trump'
Send a tip to the news team at NR.