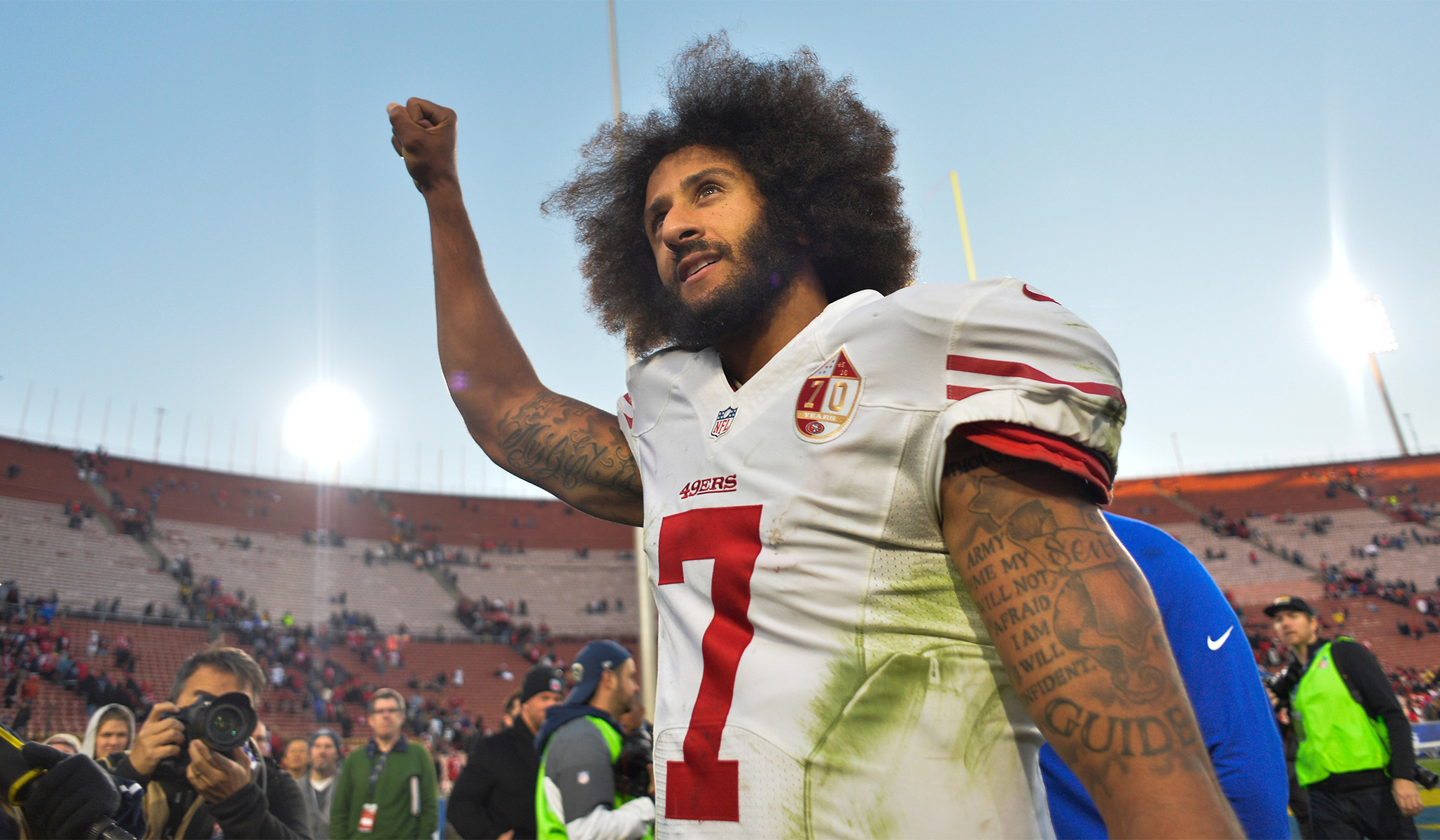 Shares of Nike stock fell by 3 percent on Tuesday during the first full day of trading after the athletic-apparel company announced that former NFL quarterback Colin Kaepernick will serve as the face of its 30-year anniversary "Just Do It" ad campaign.
Kaepernick, who has emerged in recent years as the face of the on-field NFL protest movement, announced his participation in Nike's latest ad campaign in a tweet on Monday.
Believe in something, even if it means sacrificing everything. #JustDoIt pic.twitter.com/SRWkMIDdaO

— Colin Kaepernick (@Kaepernick7) September 3, 2018

In addition to the widely criticized ad campaign, Nike also announced a new line of Kaepernick-branded apparel that will include a pair of shoes and a T-shirt. While it remains unclear exactly how much the former quarterback will receive for his participation in the campaign, the dollar amount is said to rival what other top NFL players receive for similar campaigns. Some reports suggest he may be receiving millions for the ad campaign.
The former San Francisco 49ers quarterback became the subject of widespread criticism in 2016 when he began kneeling during the pre-game national-anthem ceremony to protest racial discrimination in policing. Since the conclusion of the 2016 season, Kaepernick has remained an unsigned free agent — an unwelcome career development that many analysts have blamed on his politically charged reputation.
Kaepernick filed a grievance with the NFL in October of last year, alleging that NFL owners colluded to ensure that he is not signed to any team, in an effort to avoid negative publicity. An arbitrator in the case issued a ruling on Thursday allowing the case to advance against the owners' challenge.
The on-field protest movement that Kaepernick helped to launch suffered a blow in May when team owners established new rules requiring that teams be fined if any of their players kneel during the pre-game national anthem.
Nike's new ad campaign immediately sparked criticism on social media, as Nike customers took to destroying their products under the label #NikeBoycott.
Our Soundman just cut the Nike swoosh off his socks. Former marine. Get ready @Nike multiply that by the millions. pic.twitter.com/h8kj6RXe7j

— John Rich (@johnrich) September 3, 2018
First the @NFL forces me to choose between my favorite sport and my country. I chose country. Then @Nike forces me to choose between my favorite shoes and my country. Since when did the American Flag and the National Anthem become offensive? pic.twitter.com/4CVQdTHUH4

— Sean Clancy (@sclancy79) September 3, 2018
In a note to clients obtained by MarketWatch, Oppenheimer investment analyst Brian Nagel argued that the drop in stock price represents a short-term price that will be succeeded by longterm gains.
"No doubt, [Nike's] decision to feature Kaepernick prominently in its latest marking effort will spur significant debate among those in athletic circles and more broadly," Nagel wrote. "Our initial take: We commend Nike for its willingness to partake in a more edgy, risky advertising campaign while refreshing its 30-year old 'Just Do it' campaign."
Adidas, an athletic-apparel company similar to Nike, suffered a 2 percent drop in share price during Tuesday trading, leading some analysts to suggest that Nike's woes were related to overall market trends and largely unrelated to the Kaepernick ad campaign.
Send a tip to the news team at NR.