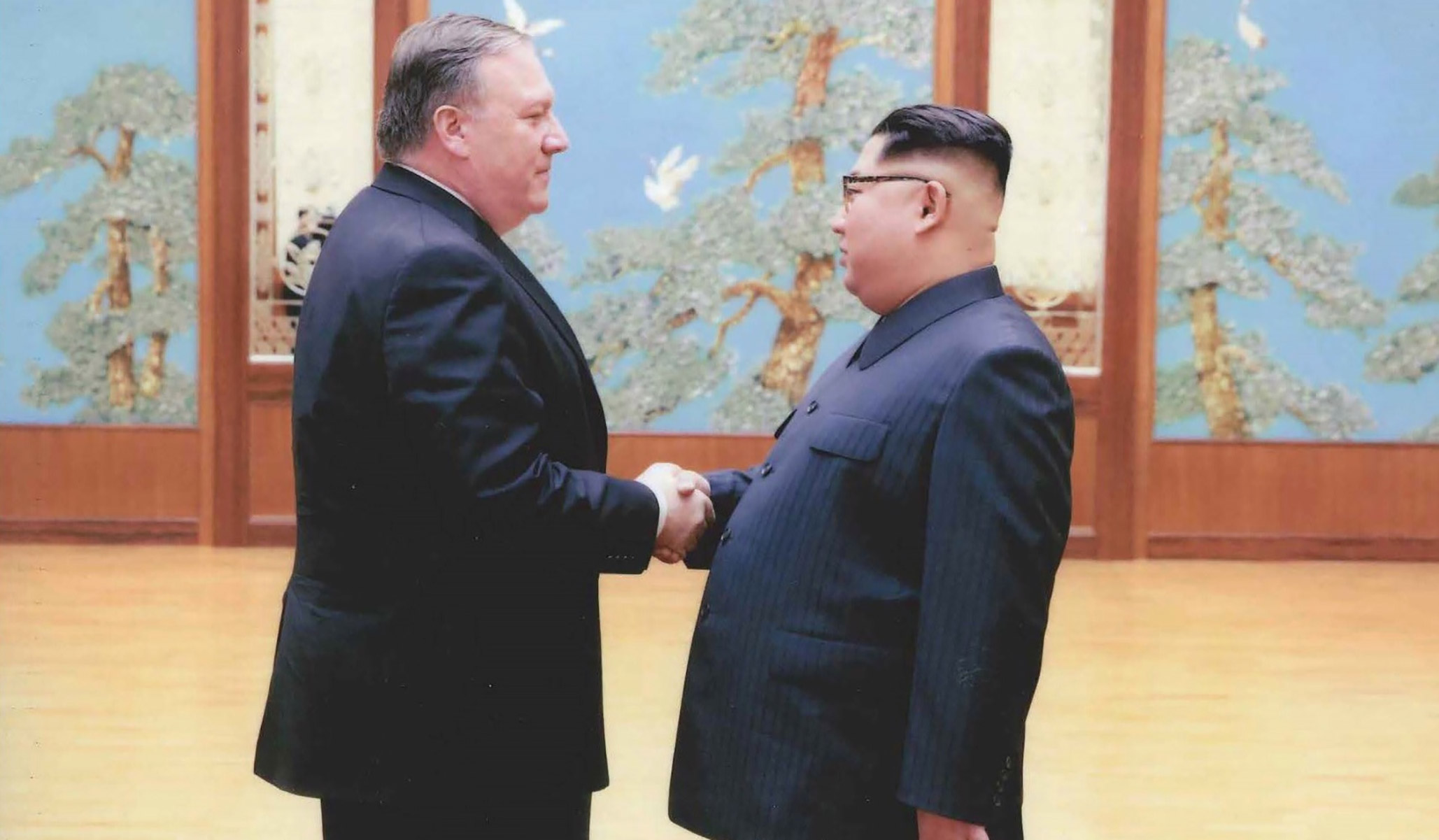 President Trump said on Twitter Wednesday that North Korea has released the three Americans who have been held there for over a year.
I am pleased to inform you that Secretary of State Mike Pompeo is in the air and on his way back from North Korea with the 3 wonderful gentlemen that everyone is looking so forward to meeting. They seem to be in good health. Also, good meeting with Kim Jong Un. Date & Place set.

— Donald J. Trump (@realDonaldTrump) May 9, 2018
Secretary Pompeo and his "guests" will be landing at Andrews Air Force Base at 2:00 A.M. in the morning. I will be there to greet them. Very exciting!

— Donald J. Trump (@realDonaldTrump) May 9, 2018
The prisoners, who "seem to be in good health," will return home with Secretary of State Mike Pompeo and be greeted by Trump.
The move is a sign of potential goodwill for the upcoming summit between North Korean leader Kim Jong-un and President Trump, the first meeting of a sitting president and a North Korean head.
Pompeo's second visit to North Korea after his secret trip over Easter weekend continued preparations for the historic event.
During his Wednesday trip, the recently-confirmed secretary of state told the dictatorship its people will be rewarded if the country gives up its nuclear weapons.
"For decades, we have been adversaries," Pompeo told senior North Korean officials in Pyongyang Wednesday.
"Now we are hopeful that we can work together to resolve this conflict, take away threats to the world and make your country have all the opportunities your people so richly deserve," Pompeo said.
"There are many challenges along the way. But you have been a great partner in working to make sure our two leaders will have a summit that is successful," America's top diplomat continued.
"Everything is going well in Pyongyang now," the senior official responsible for South Korean relations, Kim Yong Chol, told Pompeo after welcoming him into the country Wednesday morning.
North Korea's efforts are now focused on "the economic progress of our country," the senior diplomat told Pompeo.
"I hope the United States also will be happy with our success. I have high expectations the U.S. will play a very big role in establishing peace on the Korean Peninsula," he said.
"This is not a result of sanctions that have been imposed from outside," Yong Chol stressed, referring to tough sanctions recently imposed on the country by the White House.
The United Nations sanctioned textiles, coal, iron, seafood, and some crude oil among other products in an effort to slash income sources for the North's nuclear weapons program.
However, North Korea warned the U.S. on Sunday about spreading the idea that the sanctions catalyzed North Korea's possible denuclearization. Such talk is a "dangerous attempt to ruin" the progress toward peace and could set the countries "back to square one,"a spokesperson for the Ministry of Foreign Affairs said.
Leaders of China, Japan and South Korea met in Tokyo on Wednesday to strengthen their alliance as North Korea gets closer to calling off its nuclear weapons program.
South Korean president Moon Jae-in stressed the need for all the countries to be on the same page as they work towards denuclearizing the North.
"The countries' support and cooperation is absolutely needed in our journey toward peace on the Korean Peninsula and in northeast Asia," Moon said.
Send a tip to the news team at NR.