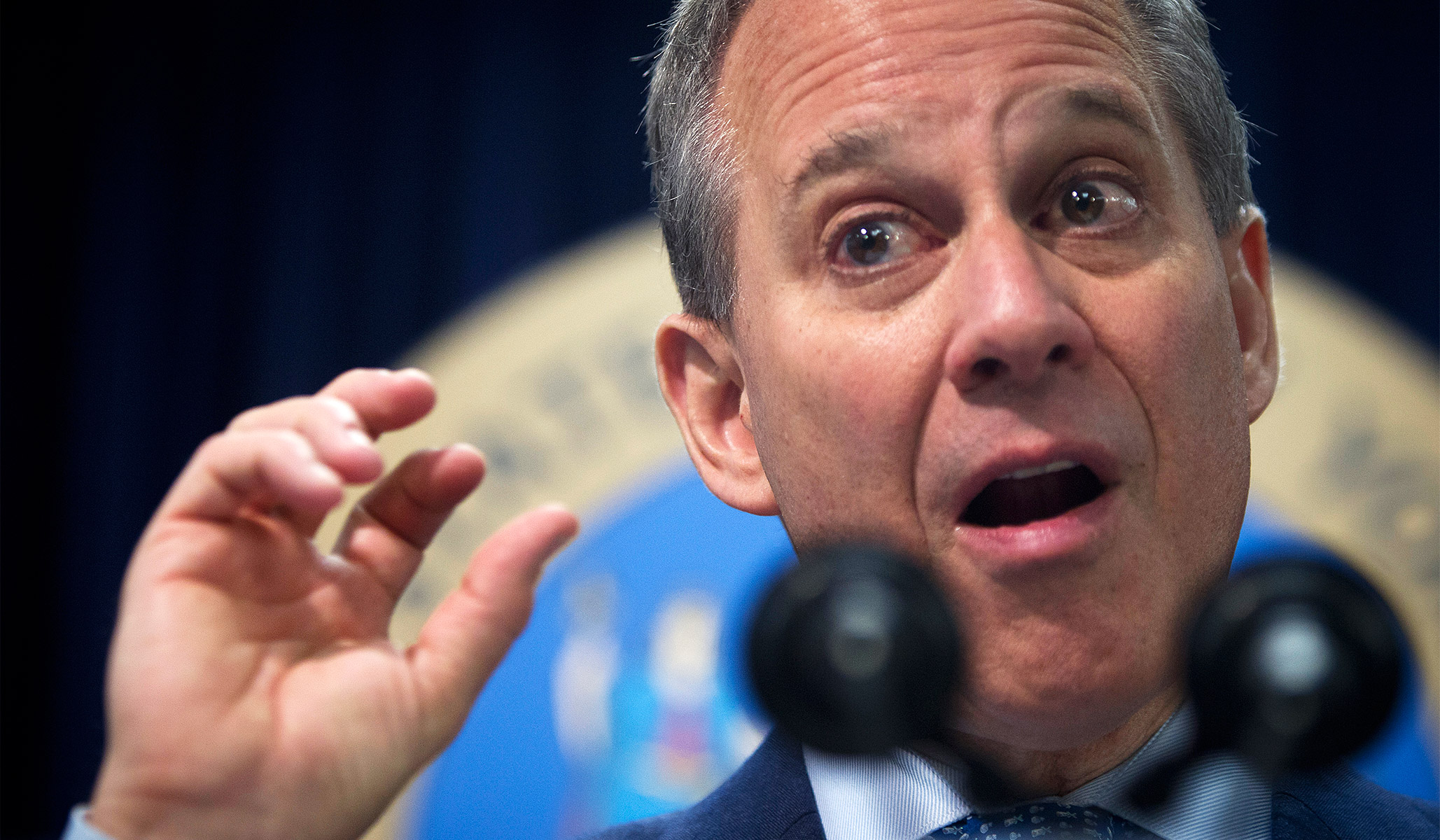 New York Attorney General Eric Schneiderman might support gun control in public, but his ex-girlfriend claims he called activists "losers" in private.
Manning Barish joined three other women to accuse Schneiderman of mental and physical abuse in an explosive report by the New Yorker Monday night.
During their on-and-off relationship before they split up for good in 2015, Schneiderman mocked his girlfriend's political activism. When she told him she planned to attend a gun control event, he called the protesters, which included Sandy Hook Elementary School parents, "losers," Barish recalls.
"Go ahead, if it makes you feel better to do your little political things," he told her.
In his public life, however, the Democrat has touted his support for gun control activists, especially since the Valentine's Day Parkland school shooting.
He took a shot at the National Rifle Association in a March 14 tweet and posted a video of himself hosting a discussion forum with students from Manhattan's Bard High School Early College.
The @NRA thinks it can wait out these protests and keep on profiting from business as usual. But it's never faced opponents like the students I met at Bard High School Early College today. pic.twitter.com/j5PYwE95wR

— Eric Schneiderman (@AGSchneiderman) March 14, 2018

Schneiderman cracked down on two major gun show operators, who agreed to tighten their security above and beyond state law.
The state's top lawman in 2013 also spearheaded New York's gun buyback program, which has collected close to 1,700 firearms.
"These buybacks mean less guns in our homes and on our streets – part of our broader efforts to keep New Yorkers safe from gun violence," Schneiderman said.
Barish also revealed that the New York attorney general beat her and forced her to repeat degrading statements about herself. Schneiderman mocked his ex-girlfriend when she worked and told her she was not a "real single mother" because she had childcare help. He criticized her appearance and pressured her to keep up with his heavy alcohol consumption.
Schneiderman resigned his 8-year post as New York attorney general on Monday evening, just hours after the New Yorker story broke.
Send a tip to the news team at NR.