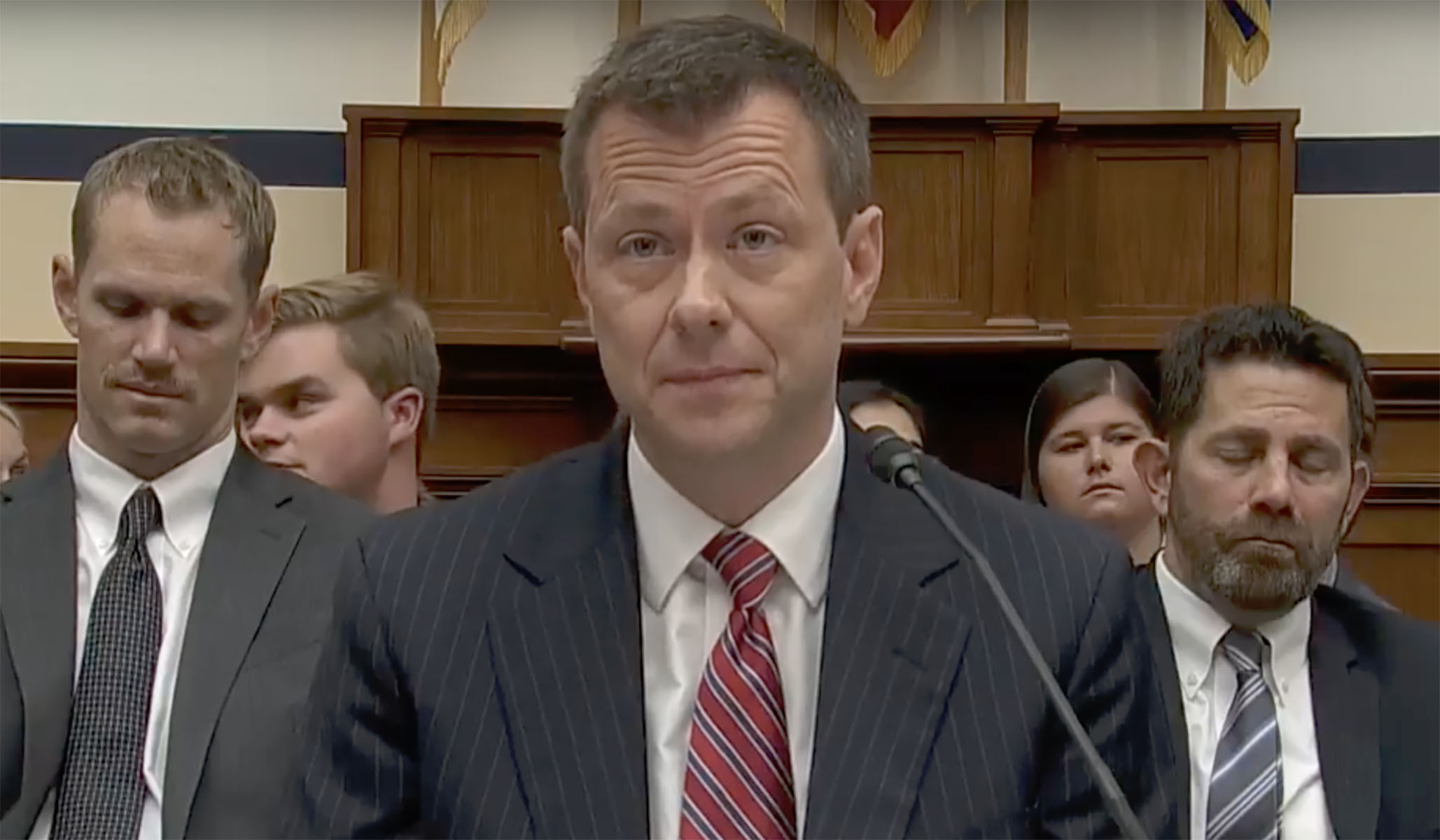 During his congressional testimony Thursday, anti-Trump FBI agent Peter Strzok denied that political bias affected his professional conduct and said that the opinions he expressed in the text messages that resulted in his firing were sent "out of deep patriotism."
"Like many people, I had and expressed personal political opinions during an extraordinary presidential election," said Strzok, who was dismissed from special counsel Robert Mueller's team after the inspector general's office discovered text messages that were harshly critical of then-candidate Trump.
"My opinions were expressed out of deep patriotism," Strzok added.
When asked specifically about his explosive text message vowing to "stop" Trump's election, released by the inspector general last month, Strzok said he could not recall sending it.
"Any suggestion that me, the FBI, would taken any action improperly impact the electoral process I take great offense and disagreement about what it was or wasn't," said Strzok. "At no time, in any text, did those personal beliefs enter into the realm of any action I took."
Rep. Trey Gowdy (R., S.C.), the House Oversight Committee chairman who has led the GOP in probing allegations of bias within the FBI, castigated Strzok for demonstrating "textbook bias" while serving on Mueller's team investigating Russian interference in the election.
House Judiciary Committee chairman Bob Goodlatte (R., Va.) joined Gowdy in attacking Strzok, reading off numerous text messages Strzok sent to his mistress, FBI attorney Lisa Page.
"To my colleagues on the other side of the aisle, please replace President Trump's name with your own name in a small sample of things Mr. Strzok has said," Goodlatte said. "Envision how you would feel if you found out that the chief agent investigating you as a Member of Congress was making these comments: 'F Trump,' 'Trump is a disaster,' 'Just went to a southern Virginia Walmart. I could SMELL the Trump support' — or, perhaps most alarmingly and revealingly, 'We'll stop it' — referring directly to Mr. Trump's candidacy for President."
Send a tip to the news team at NR.