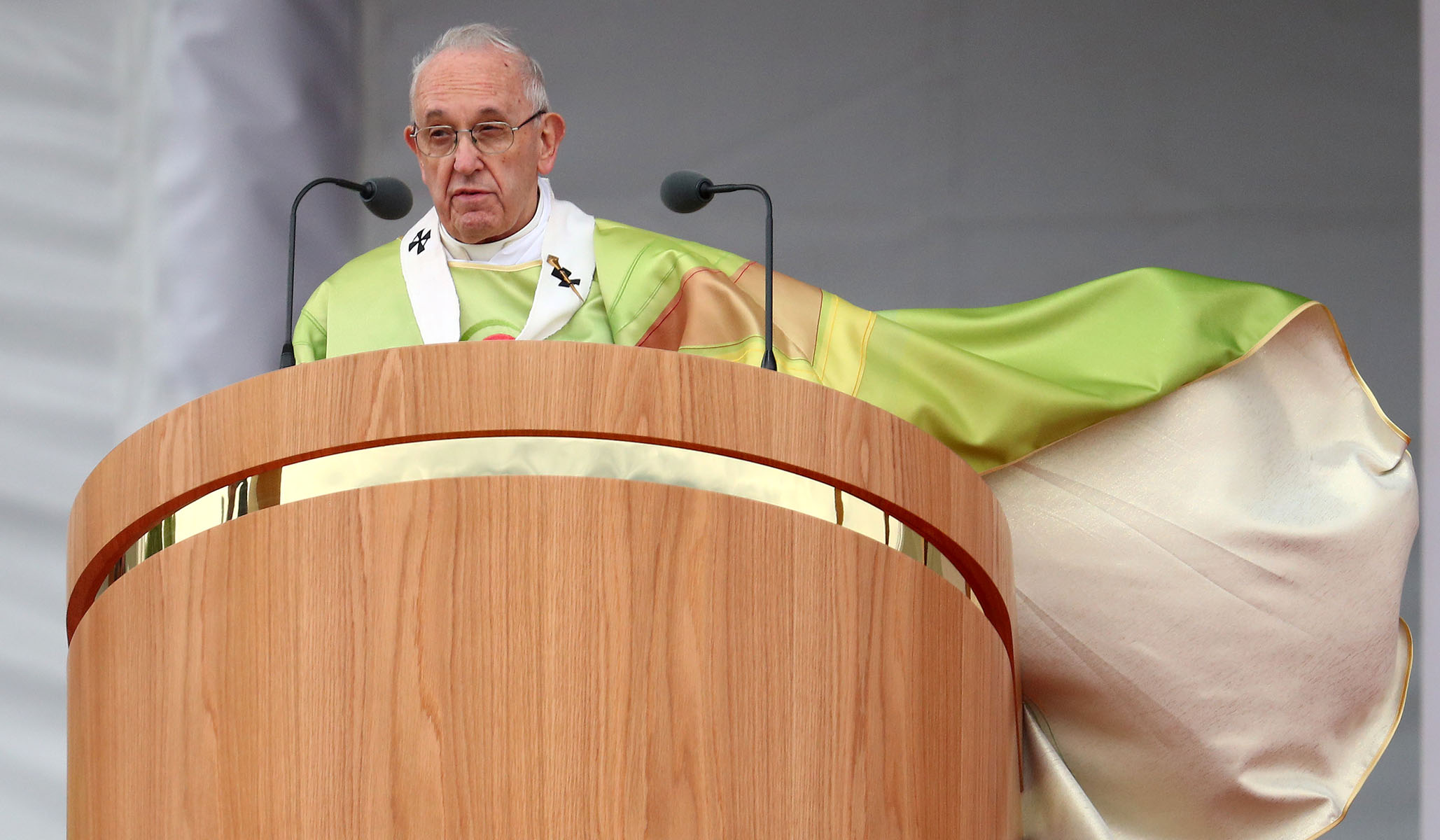 Pope Francis refused to comment on Sunday night when asked whether he was aware of, and concealed, the numerous allegations of sexual misconduct brought against Cardinal Theodore McCarrick, and whether he continued to elevate the recently disgraced McCarrick within the church hierarchy.
In an eleven-page report released on Saturday, Archbishop Carlo Maria Viganò, the former Vatican ambassador to the U.S., claimed that Francis had been made aware that McCarrick was a "serial predator" and worked to "rehabilitate" him rather than remove him from his high-profile, senior position.
"I will not say a single word about this," Francis responded when asked about the report on his return flight from an official visit to Ireland. He urged Catholics to determine veracity of the document for themselves, adding that it "speaks for itself."
Viganò, a conservative who has criticized Francis's social teachings, claims he informed the pope in 2013 of the numerous allegations of sexual abuse of minors levied against McCarrick throughout his career.
"I don't know if you know Cardinal McCarrick, but if you ask the Congregation for Bishops there is a dossier this thick about him. He corrupted generations of seminarians and priests and Pope Benedict ordered him to withdraw to a life of prayer and penance," Viganò wrote of his conversation with Francis.
Viganò further claimed that, after succeeding Pope Benedict, Francis "rehabilitated" McCarrick and elevated him to a trusted adviser. After initially concealing the allegations, of which high-ranking church officials were allegedly made aware in 2000, Francis asked McCarrick for his resignation this year.
A New York Times report indicating that McCarrick sexually pursued numerous seminarians, coupled with an internal investigation by the Church that found he molested a 16-year-old altar boy during his time at the Archdiocese of New York, led to his resignation last month.
In Viganò's telling, the increasing acceptance of homosexual behavior within the Church contributed to an atmosphere permissive of sexual abuse.
"The homosexual networks present in the Church must be eradicated," he wrote, adding that such networks "strangle innocent victims and priestly vocations, and are strangling the entire Church."
Viganò and Francis engaged in a public confrontation over homosexuality in 2015, when Viganò scheduled a meeting between the Pope and Kim Davis, the Kentucky county clerk who refused to provide marriage licenses to same-sex couples. Shortly after that meeting, the Vatican press office released a statement claiming the pope was unaware of Davis's notoriety and that his decision to meet her should not be construed as an endorsement of her actions.
NOW WATCH: 'Pope Francis Vows to End Cover-Ups'
Send a tip to the news team at NR.