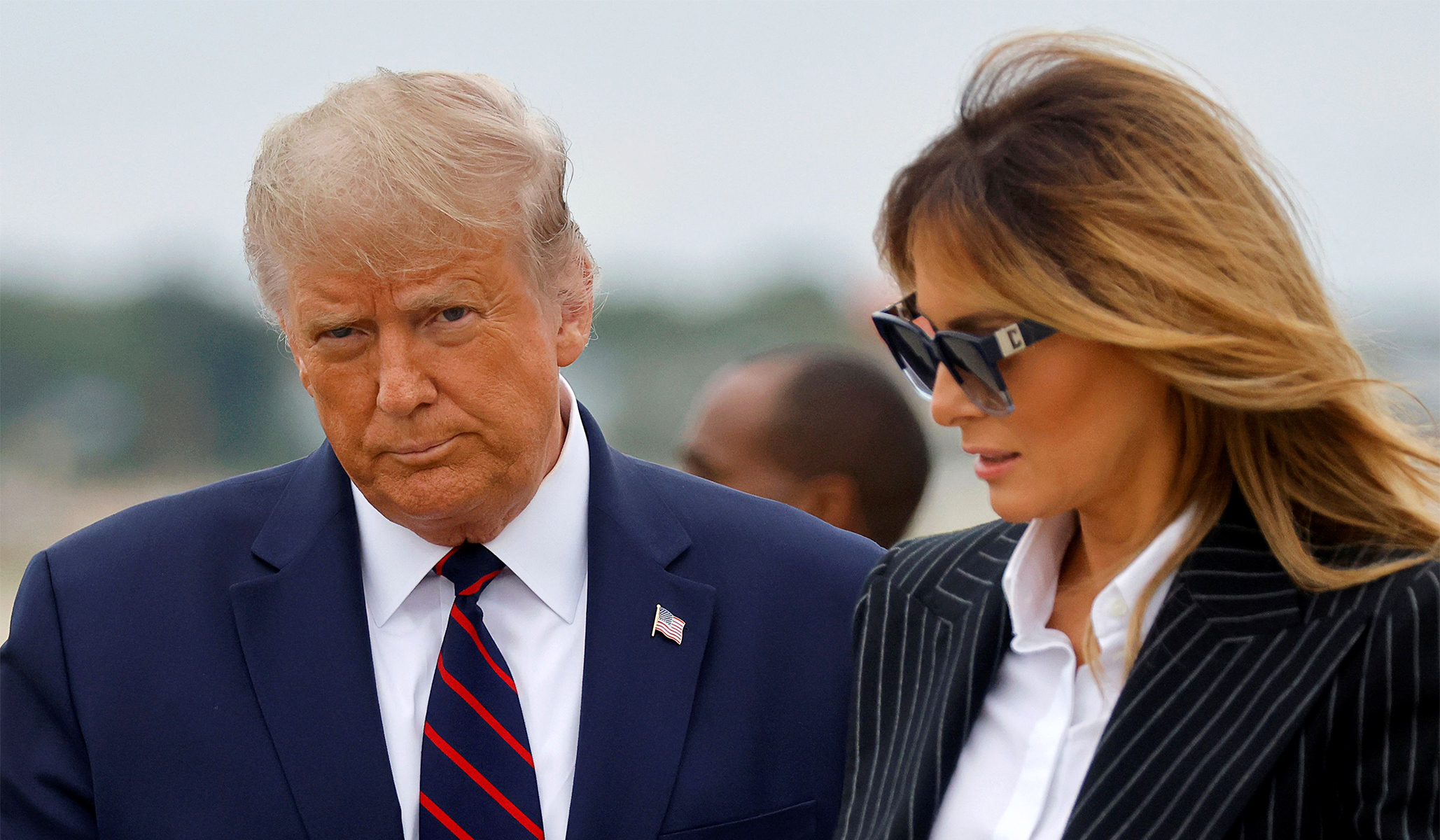 President Trump revealed early Friday morning that he and First Lady Melania have tested positive for coronavirus.
Trump's diagnosis comes with just over a month remaining before the presidential election. The president is currently experiencing mild, cold-like symptoms of coronavirus, the New York Times reported.
"Tonight, [the First Lady] and I tested positive for COVID-19. We will begin our quarantine and recovery process immediately. We will get through this TOGETHER!" Trump wrote on Twitter.
White House physician Sean Conley said on Friday that the two were "well at this time" and that his medical team would "maintain a vigilant watch." Conley added that Trump would "continue carrying out his duties without disruption while recovering."
"It is no surprise that people get the infection, even with precautions," White House coronavirus adviser Scott Atlas told Fox News. "I anticipate a complete and full and rapid recovery back to normal after his necessary confinement period," adding that "there is zero reason to panic."
The president and first lady were tested after learning that senior aide Hope Hicks had contracted coronavirus. Hicks flew with Trump on Air Force One to a Wednesday campaign rally in Duluth, Minn., and she began exhibiting symptoms at about the time of the rally, a person familiar with the matter told the Times. Hicks tested negative for coronavirus on Wednesday morning, which allowed her to board Air Force One, according to CBS News.
Republican National Committee chairwoman Ronna McDaniel reportedly tested positive for coronavirus on Wednesday. However, McDaniel last met with the president a week ago and has remained in Michigan since that time.
Joe Biden will also be tested for coronavirus following the news, according to reports. Trump and Biden faced off at the first presidential debate on Tuesday, however neither Trump nor Hicks had tested positive for coronavirus at that time.
"Jill and I send our thoughts to President Trump and First Lady Melania Trump for a swift recovery," Biden wrote on Twitter. "We will continue to pray for the health and safety of the president and his family."
Vice President Mike Pence and his wife Karen tested negative for the disease on Friday following the president's diagnosis.
"Karen and I send our love and prayers to our dear friends President [Trump] and [First Lady] Melania Trump," Pence wrote on Twitter. "We join millions across America praying for their full and swift recovery. God bless you President Trump & our wonderful First Lady Melania."
As of mid-morning on Friday, senior adviser Jared Kushner, the president's daughter Ivanka Trump, and Secretary of State Mike Pompeo have tested negative. Pompeo told reporters that the Trump administration is "trying to make sure we get some additional contact tracing on folks that have been to the White House." Judge Amy Coney Barrett, the president's nominee to the Supreme Court, has also tested negative.
Administration officials are regularly tested for coronavirus, however it is unclear exactly when Trump contracted the illness. The president has interacted with dozens of individuals over the past several days, including at a campaign fundraising event in New Jersey on Thursday.
Send a tip to the news team at NR.