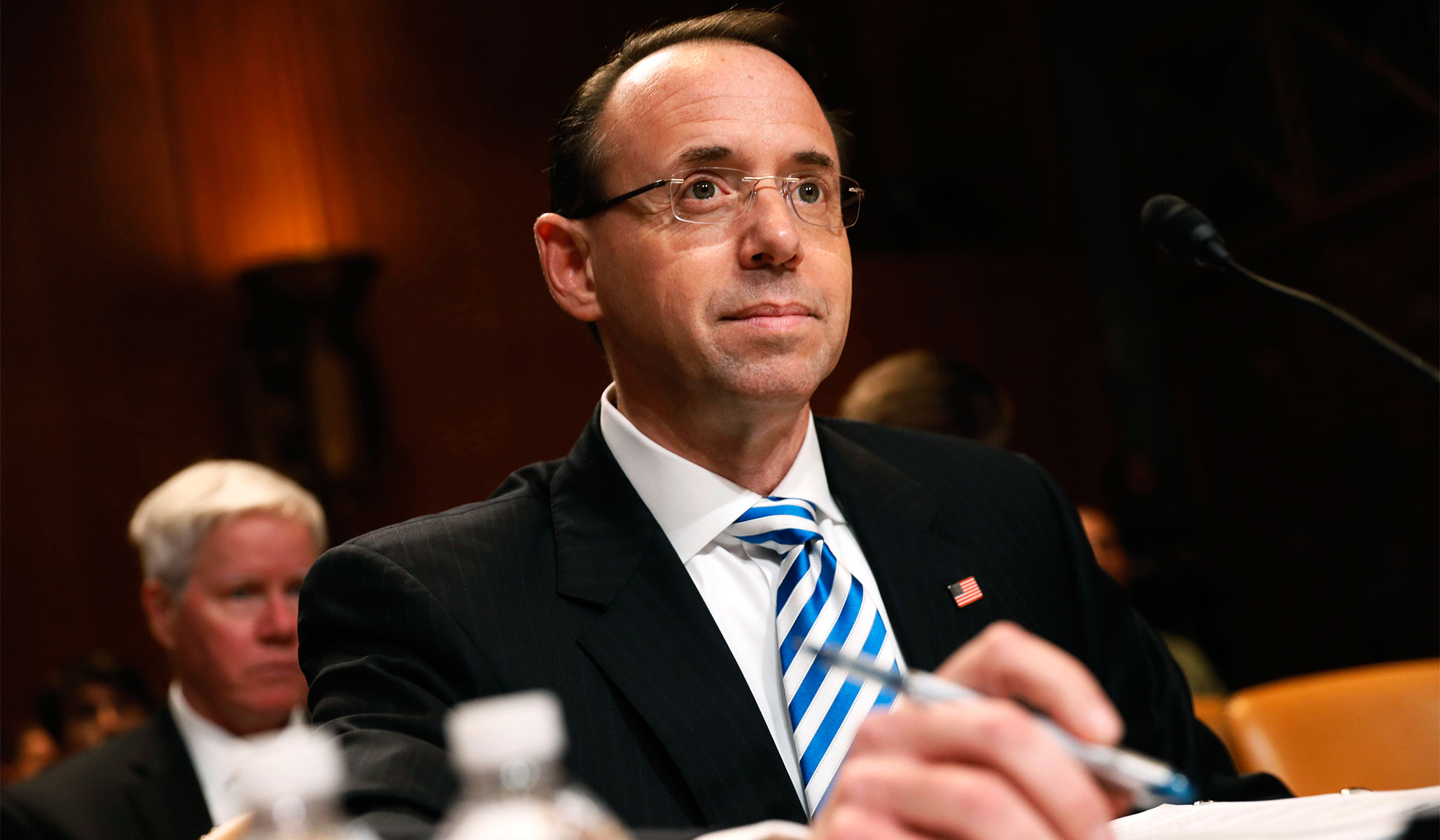 Update 1:41p.m.: Soon after Axios reported that Rosenstein had offered his resignation, White House press secretary Sarah Sanders announced that no final decisions will be made regarding his future employment until he meets with the president on Thursday.
Statement on Deputy Attorney General Rod Rosenstein: pic.twitter.com/yBgAydv9oR

— Kayleigh McEnany (@PressSec) September 24, 2018
Deputy Attorney General Rod Rosenstein has told White House chief of staff John Kelly that he is resigning in anticipation of being fired by President Trump, Axios first reported Monday.
Rosenstein reportedly expected to be fired over the Friday New York Times report indicating that he discussed secretly recording Trump in an effort to have the president impeached.
Rosenstein suggested personally wearing a wire to document the chaos inside the Trump administration in the days following former FBI director James Comey's firing, according to the Times report, which Rosenstein has cast as a politically motivated smear.
During a meeting with senior Department of Justice and FBI officials, Rosenstein is also said to have advocated invoking the 25th Amendment, which would declare the president unfit for office and commence impeachment proceedings. The meeting reportedly took place as Rosenstein was becoming concerned about his role in authoring a memo that criticized Comey's handling of the Hillary Clinton email investigation, which Trump used to justify the FBI director's firing.
"The New York Times's story is inaccurate and factually incorrect," Rosenstein said in a statement in response to the Times report. "I will not further comment on a story based on anonymous sources who are obviously biased against the department and are advancing their own personal agenda. But let me be clear about this: Based on my personal dealings with the president, there is no basis to invoke the 25th Amendment."
Subsequent reporting indicated Rosenstein made the remark about recording the president in jest, but the Times has disputed that characterization.
Rosenstein has overseen Special Counsel Robert Mueller's investigation into Russian meddling in the 2016 election since it began due to Attorney General Jeff Sessions's decision to recuse himself from all matters related to the election. Trump has repeatedly maligned Rosenstein and Sessions for allowing the investigation to continue unimpeded and various reports have indicated he planned to fire one or both of them after the midterm elections.
Send a tip to the news team at NR.