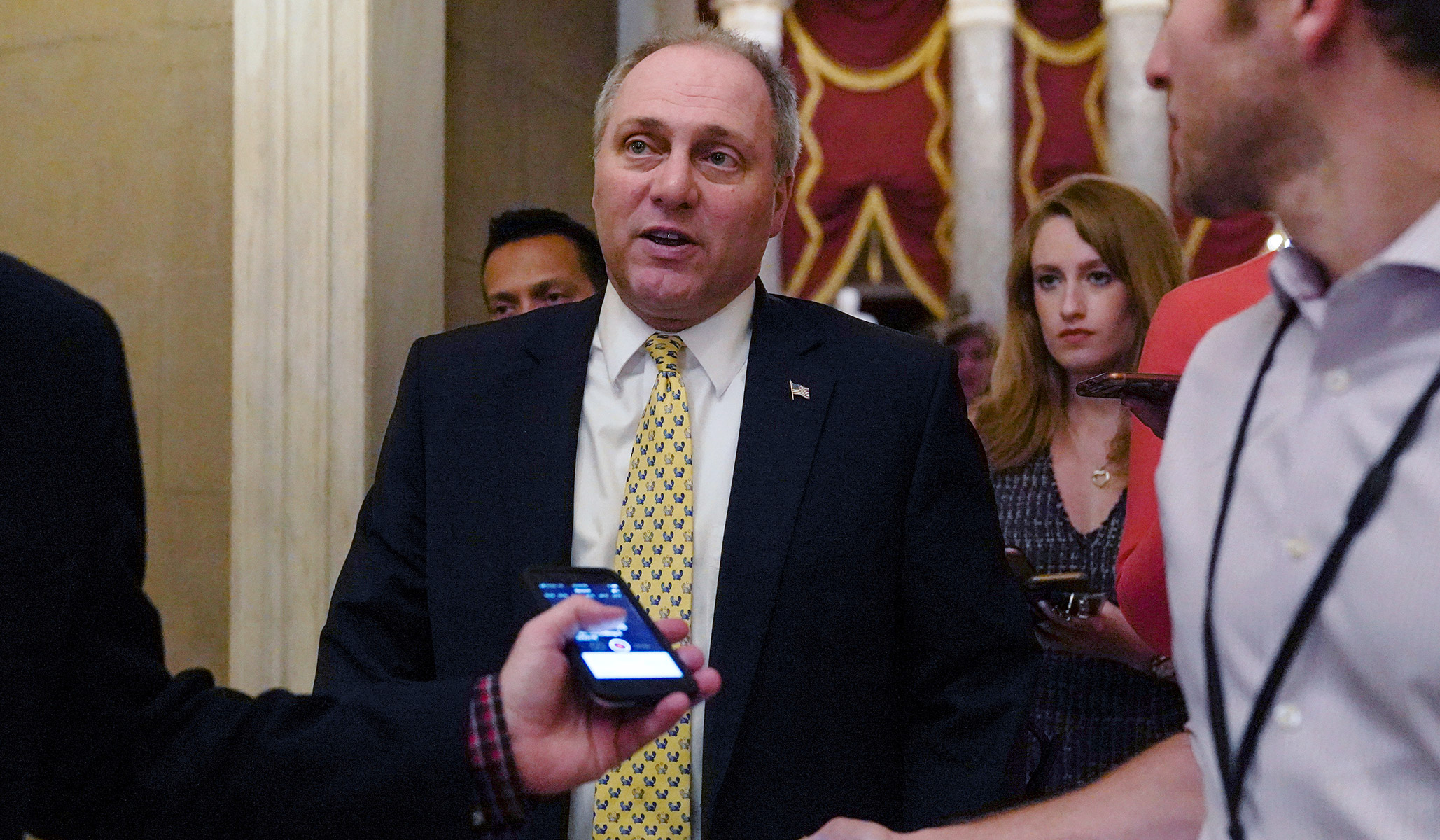 Representative Steve Scalise (R., La.) said Thursday that he supports his colleagues' efforts to impeach Deputy Attorney General Rod Rosenstein should Rosenstein continue to ignore congressional requests for classified Department of Justice documents.
"It's more about leverage to let the Justice Department know we're serious about getting the final information they haven't sent us," Scalise told the Washington Post, referencing an impeachment resolution introduced Wednesday by eleven House Republicans. "This is another tool to get Justice to comply with our subpoenas and our demands for documents that the American people deserve to get. They need to start complying. Obviously they have given us a number of things but they've still held back some of the documents we need to get as part of our oversight."
GOP representatives Mark Meadows of North Carolina and Jim Jordan of Ohio have led the effort to coerce greater transparency on the part of Rosenstein and his DOJ colleagues. The conservative lawmakers have attacked Rosenstein for months over his reluctance to turn over classified documents related to the investigation into alleged bias within the FBI.
DOJ officials have maintained that they are complying with the two House committee subpoenas as quickly as possible, but are constrained by a lack of manpower and resources.
Asked Thursday whether he would support impeaching Rosenstein, Speaker Paul Ryan said explicitly that he does not believe Rosenstein's lack of responsiveness to congressional subpoenas warrants impeachment.
"I don't think we should be cavalier with this process or this term," Ryan told Politico, referring to potential impeachment. "I don't think this rises to the level of high crimes and misdemeanors."
While the impeachment effort enjoys broad support among the conservative House Freedom Caucus, a number of more centrist rank-and-file Republicans have joined Ryan in casting the effort as premature.
"Reckless publicity stunt," Representative Carlos Curbelo (R., Fla.) tweeted Wednesday night. "No different from Dems who filed articles of impeachment against the President some months ago. What a sad, pathetic game of 'how low can you go?'"
Scalise, however, believes the DOJ has been given sufficient time to provide the documents and any reluctance to turn them over amounts to "stonewalling."
"They need to be transparent to the American people," he said. "We've given them a lot of time, and it's time for them to take this serious, to turn over the remaining documents and stop stonewalling and stop trying to hide the facts from the American people."
Send a tip to the news team at NR.