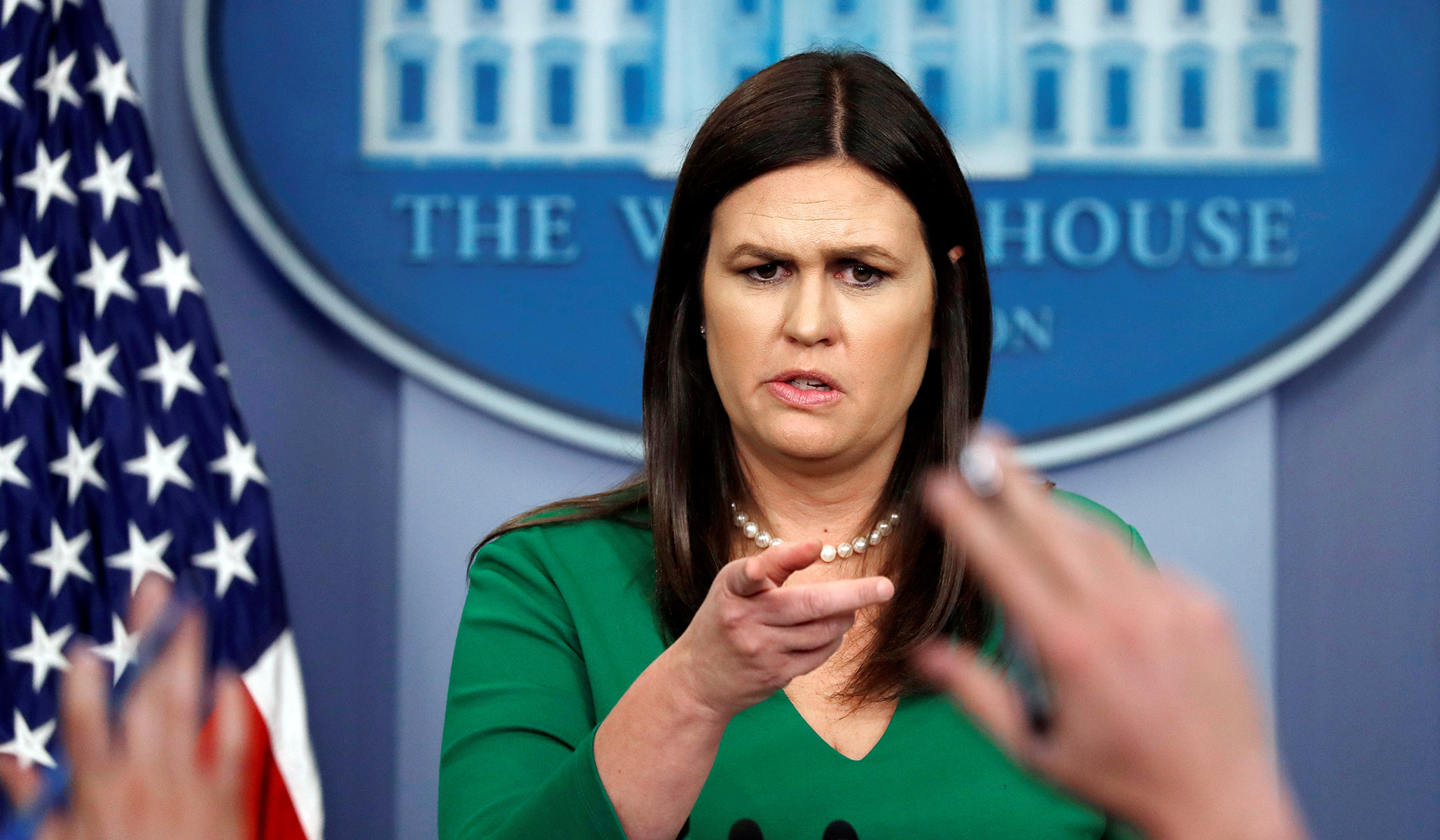 White House Press Secretary Sarah Huckabee Sanders called out members of the press for their inconsistency in covering the administration's Russia policy Monday.
Asked whether relations with Russia are eroding because of President Trump's tough talk in the wake of Saturday's Syrian chemical attack, Sanders pointed out that the press usually criticizes the president for not coming down hard enough on Russia.
"Now I guess people are concerned that we're being tough on Russia," the press secretary said at the daily briefing on Monday. "I guess I'm confused on which way you want to have it."
"We've been very tough on Russia for quite some time," Sanders continued. "I think the only people maybe that didn't understand that or see that were members of the press, who continually questioned that." The U.S. is "going to be tough on Russia until we see some changes in their behavior," she added.
President Trump lashed out at Russia and Iran on Twitter over the weekend, saying there will be a "big price to pay" after reports that Syrian president Bashar al-Assad launched a chemical-weapons attack on Saturday against a rebel-held suburb of Damascus, killing dozens of civilians.
"The chemical-weapons attack by the Syrian regime against innocent civilians is horrifying," Sanders said. "The images especially of suffering children have shocked the conscience of the entire civilized world."
In recent weeks, Trump has taken a tough stance on Russia. He expelled 60 Russian diplomats from the U.S. after the Kremlin used a poisonous nerve agent against an ex-Russian spy and his daughter in London, and levied new sanctions against Russia and Kremlin-linked oligarchs for cyberattacks and meddling in the 2016 presidential election.
Now, Sanders said, it is clear that Russia "betrayed its obligations" to end the chemical-weapons program in Syria, and President Trump is mulling his options with American allies before responding to Saturday's attack. The White House has already called for Syria to be held responsible and to open the area of the attack to the outside world for inspection.
The attack came less than two weeks after Trump announced he intends to pull U.S. troops out of Syria as soon as the Islamic State is neutralized, and Sanders criticized a question asking whether the president "green-lit" or indirectly encouraged the chemical attack by saying he would bring troops in Syria home beforehand.
"We're still there," Sanders said. "And I think that it is outrageous to say that the president of the United States green-lit something as atrocious as the actions that have taken place over the last several days."
Trump made clear how he feels about this type of "outrageous action against innocent civilians" when he responded by firing missiles at a Syrian government base in response to another Assad-linked chemical attack a year ago, Sanders said.
Send a tip to the news team at NR.