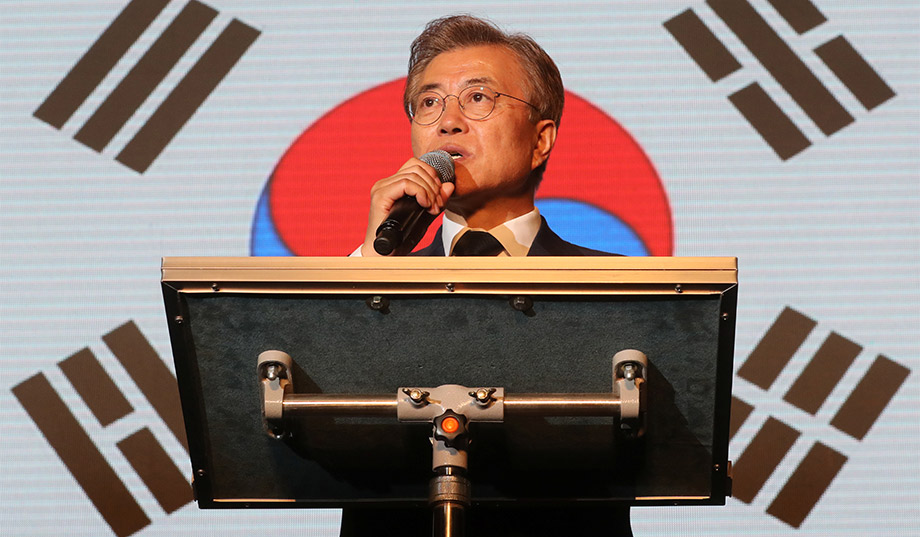 South Korean President Moon Jae-In said his country's rival to the north might be willing to end its nuclear weapons program in exchange for a guarantee of safety.
"North Korea is expressing a will for a complete denuclearization," Moon stated to reporters on Thursday.
The rogue nation is also not pushing to boot out the 28,500 U.S. troops stationed in South Korea, according to Moon.
"All they are expressing is the end of hostile policies against North Korea, followed by a guarantee of security," the South Korean president assured.
Moon's comments come ahead of a summit between himself and North Korean leader Kim Jong Un that could bring an end to the nations' 68-year state of war since the Korean War ended with a truce rather than a peace treaty.
President Trump is also planning a meeting with Kim that will be the first ever between a current U.S. president and a North Korean leader.
"First, the South-North Korean summit must make a good beginning, and the dialogue between the two Koreas likely must continue after we see the results of the North Korea-United States summit," Moon hoped.
Trump and Kim waged a war of threats and insults as North Korea expanded its nuclear weapons program over the past year. Kim Jong Un has threatened to reduce the U.S. to "ashes and darkness," and Trump has fired back, saying he will attack the nation with "fire and fury like the world has never seen."
North Korea's dictator also shot test missiles into the Sea of Japan and ordered some weapons to be pointed at South Korea.
"If I think that it's a meeting that's not going to be fruitful. I won't go. If the meeting when I'm there is not fruitful, I will respectfully leave," Trump told reporters.
CIA Director and nominee for Secretary of State Mike Pompeo met secretly with Kim Jong Un over Easter in an extraordinary move by the Trump administration. Pompeo and Kim formed a "good relationship," according to President Trump.
Mike Pompeo met with Kim Jong Un in North Korea last week. Meeting went very smoothly and a good relationship was formed. Details of Summit are being worked out now. Denuclearization will be a great thing for World, but also for North Korea!

— Donald J. Trump (@realDonaldTrump) April 18, 2018
Send a tip to the news team at NR.