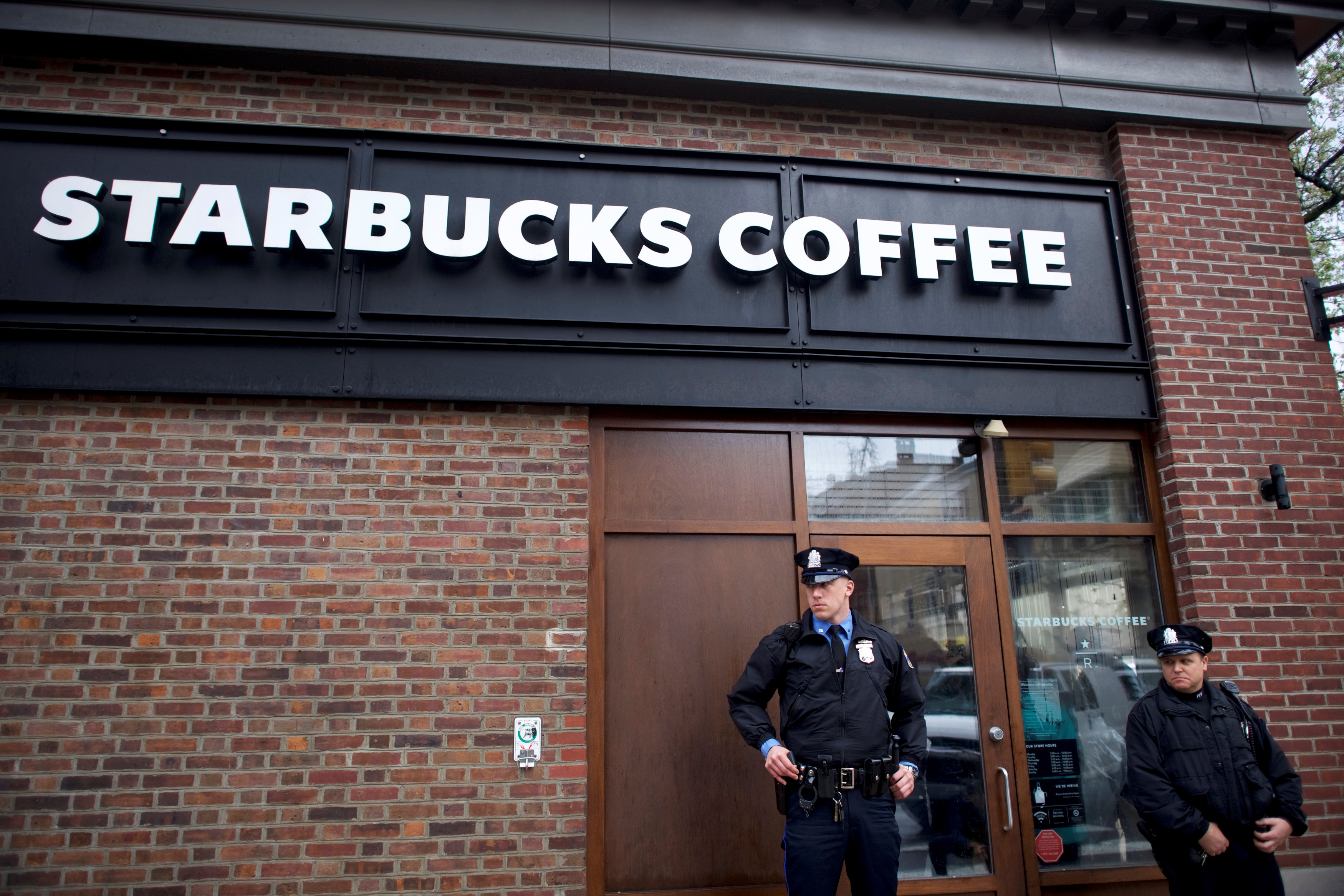 Starbucks CEO Kevin Johnson said Monday he will require store managers to undergo training to address "unconscious bias" after the arrest of two black men at a Philadelphia location sparked online outrage and protests.
Johnson condemned his employees for reporting the two unnamed men to the police after they sat at a table Saturday without ordering anything.
"The circumstances surrounding the incident and the outcome at our store on Thursday were reprehensible," Johnson said during a Monday morning appearance on ABC's Good Morning America. "They were wrong, and for that, I personally apologize to the gentlemen that visited our store."
"Clearly, there's an opportunity for us to provide clarity and in addition to that I'd say there's training, more training that we're going to do with our store managers, not only around the guidelines but training around unconscious bias," he added.
The two unnamed men reportedly explained that they were waiting for a friend to arrive before ordering, and were refused access to the bathroom before the police were called. Numerous customers can be heard coming to their defense in a viral video of the incident that has collected more than 9 million views.
Protesters gathered outside the Philadelphia location Sunday in an apparent effort to deter customers from entering.
"We don't want this Starbucks to make any money today. That's our goal," Abdul-Aliy Muhammad, one of the protest's organizers and a co-founder of the Black and Brown Workers Collective, told the Associated Press.
The protests continued Monday as crowds chanting "Starbucks coffee is anti-black" gathered inside the store.
Johnson told GMA that the company will conduct an investigation into the circumstances surrounding the incident and said he plans to invite the two men to "join me in finding a constructive way to solve this issue."
Starbucks COO Rosalind Brewer repeated Johnson's call for unconscious-bias training during a Monday morning interview with NPR.
"It would be easy for us to say that this was a one-employee situation, but I have to tell you, it's time for us to, myself included, take personal responsibility here and do the best that we can to make sure we do everything we can," Brewer said.
Unconscious-bias training has gained popularity in recent years as America's largest corporations increasingly resort to the practice to address claims of workplace microaggressions and other more subtle forms of discrimination. Despite this increase in popularity, it remains unclear exactly how effective the training is in eradicating discriminatory behaviors.
The manager who called the police no longer works at Starbucks after coming to a "mutual" decision with the company to depart, according to the Philadelphia Enquirer. The Philadelphia District Attorney's office agreed to drop a pending trespassing charge against the men after Starbucks asked them not to pursue the case.
Send a tip to the news team at NR.