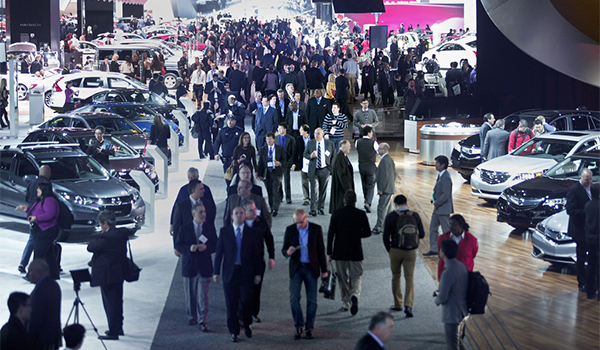 The Commerce Department announced Wednesday that it will investigate the possibility of using national-security laws to impose steep tariffs on auto imports.
The announcement came after President Trump reportedly asked Commerce Secretary Wilbur Ross to consider implementing a 25 percent tariff on auto imports, following through on a protectionist promise he's made repeatedly since taking office.
"There is evidence suggesting that, for decades, imports from abroad have eroded our domestic auto industry," Ross said in a statement announcing the probe late Wednesday.
The investigation will explore the effect of tariffs on cars, sport-utility vehicles, and vans, and will "consider whether the decline of domestic automobile and automotive parts production threatens to weaken the internal economy of the United States," according to the statement.
Trump asked his trade team to consider using a provision of the 1962 Trade Expansion Act — the same legislation used to implement steel tariffs in March — to justify the auto tariffs on national-security grounds, the Wall Street Journal reported Wednesday.
"There will be big news coming soon for our great American Autoworkers. After many decades of losing your jobs to other countries, you have waited long enough!," Trump said on Twitter ahead of the announcement.
The move comes as the Trump administration continues to pursue negotiations with China aimed at reducing its $375 billion annual trade surplus with the U.S. The negotiations have yielded little in the way of significant concessions as Beijing has offered only the narrow commitment of increasing Chinese purchasing of U.S. commodities.
NAFTA negotiations also remain in flux. Mexico and Canada have proven unwilling to accept new auto-industry regulations that would provide American manufacturers greater leverage.
American allies have pushed back on the national-security justification for the aggressive pursuit of tariffs, accusing the Trump administration of violating the very international free-trade norms the U.S. led the way in establishing.
The auto industry is also expected to oppose the recent move, given the market uncertainty that would likely result.
"The U.S. auto industry is thriving and growing," John Bozzella, chief executive of the Global Automakers Group, which represents foreign-based producers in the U.S., told the Wall Street Journal. "This path leads inevitably to fewer choices and higher prices for cars and trucks in America."
Send a tip to the news team at NR.