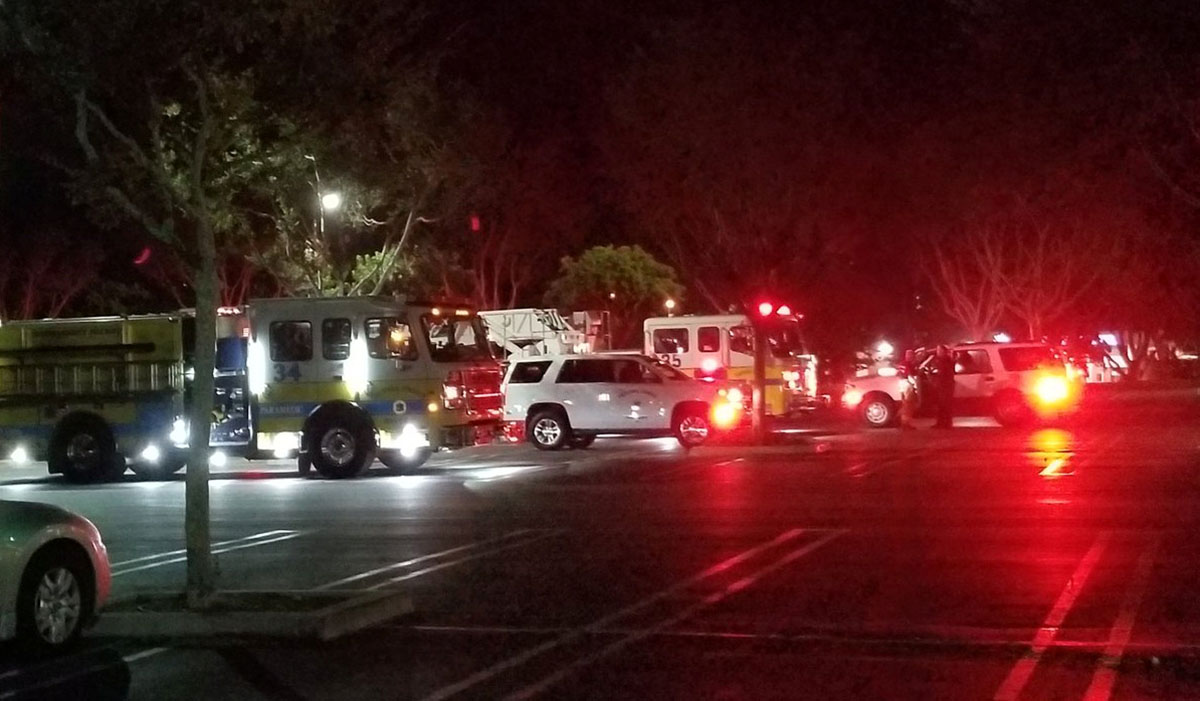 Updated 11:30am:
Thirteen people are dead after a gunman opened fire in a bar in Thousand Oaks, California late Wednesday night.
At about 11:30pm Wednesday, a male shooter, 28-year-old Ian David Long, shot the bouncer outside the Borderline Bar and Grill and entered. Tall, wearing all black clothing and a bandana-like mask covering the bottom half of his face, he shot a young female cashier before firing at least 30 rounds from a .45 caliber Glock with extended magazines into the crowd, killing 12 and injuring 21.
The shooter also threw smoke bombs and afterwards shot himself, taking his own life.
Long was a Marine Corps veteran and was on active duty from August, 2008 to March, 2013. Authorities have not determined a motive for the shooting. He had several previous minor encounters with law enforcement, including being the victim of a battery in 2015. Police were also called to his house in April for a subject disturbing.
Ron Helus, a Ventura County sheriff sergeant with 29 years experience, was shot and killed after being one of the first officers to respond to the shooting. He leaves behind a wife and son.
The bar, popular with students from Pepperdine College and California Lutheran University, was hosting a "college country night" and allows under-21s in on Wednesday nights. About one hundred people were inside at the time of the shooting.
Ventura County Sheriff's Office, SWAT teams, the Bureau of Alcohol, Tobacco, Firearms and Explosives, and the FBI responded to the scene.
"It's a horrific scene in there, there is blood everywhere and the suspect is part of that, and I didn't want to get that close and disturb the scene and possibly disturb the investigation," said Ventura County Sheriff Geoff Dean.
"Right now as far as we know there was only one handgun, but that could certainly change as we do a more thorough search of the building," the sheriff said.
Dean also praised his sheriff's sergeant Helus, calling him "hero."
"Ron was a hardworking dedicated sheriff's sergeant. He was totally committed, he gave his all and tonight, as I told his wife, he died a hero; he went into save lives, to save other people," he said.
Thousand Oaks mayor Andy Fox reminded that his city is "consistently ranked one of the highest with respect to the lowest crime rate per capita, we're proud of that."
"The reality is that these types of incidents can happen really at any place, at any time, even in communities that are considered extremely safe," Fox said.
President Trump wrote on Twitter that he has been "fully briefed on the terrible shooting in California."
"Great bravery shown by police," he said. "God bless all of the victims and families of the victims. Thank you to Law Enforcement."
Send a tip to the news team at NR.