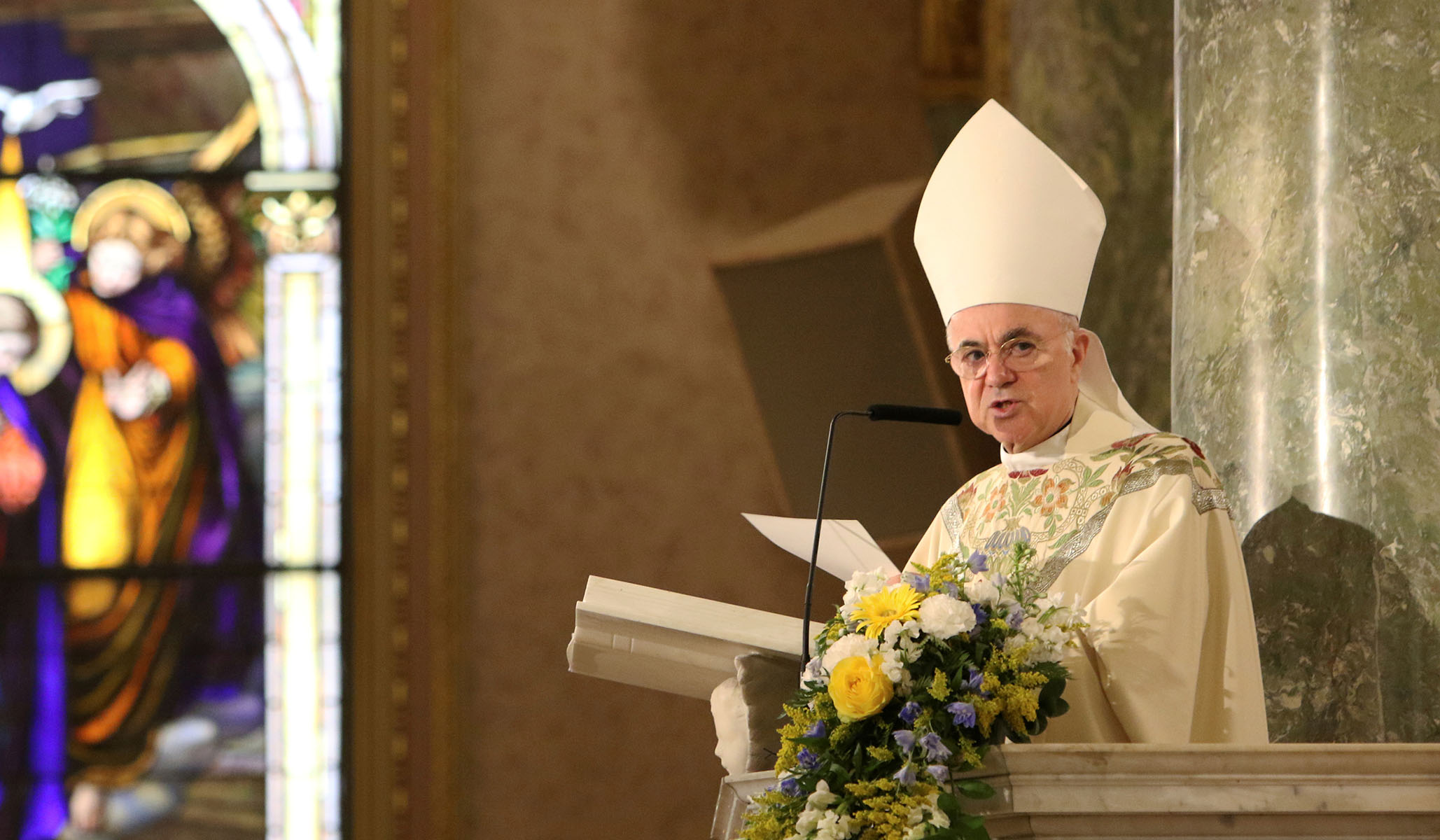 Archbishop Carlo Maria Viganò has penned a second letter condemning the Vatican's silence on his charge that for years high-ranking members of the Church covered up alleged sexual abuse by Cardinal Theodore McCarrick.
"How can one avoid concluding that the reason they do not provide the documentation is that they know it confirms my testimony?" the former nuncio to the U.S. asked in the new letter, released yesterday. "Neither the pope, nor any of the cardinals in Rome have denied the facts I asserted in my testimony. If they deny my testimony, they have only to say so, and provide documentation to support that denial."
McCarrick was demoted from his position as a cardinal in July over a credible charge, investigated by the Church in the U.S., that he groped a teenage altar boy at New York City's Saint Patrick's Cathedral before Mass in the 1970s. Rumors had swirled for years that the former archbishop of Washington, D.C. sexually abused adult seminarians, inviting them to his beach house and preying on them. Church insiders were aware of the archbishop's habits for over a decade, and as the investigation continued, several priests and former seminarians came forward with claims that they were targeted by McCarrick.
Viganò has alleged that Pope Benedict imposed disciplinary measures on McCarrick, only for those measures to be lifted later by Pope Francis, who made McCarrick a close adviser.
Francis responded to Viganò's charge by telling reporters, "I will not say a single word," and challenging them to figure out the truth for themselves.
"He has compared his silence to that of Jesus in Nazareth and before Pilate, and compared me to the great accuser, Satan, who sows scandal and division in the Church – though without ever uttering my name," Viganò wrote of Francis. "The pope's unwillingness to respond to my charges and his deafness to the appeals by the faithful for accountability are hardly consistent with his calls for transparency and bridge building."
"The pope's cover-up of McCarrick was clearly not an isolated mistake," Viganò continued, before describing other instances of alleged abuse by prominent members of the clergy.
Elsewhere, the new letter pleads with Cardinal Marc Ouellet, the prefect of the Congregation for Bishops, to back his claims, urging him to "bear witness to the truth."
"You were the one who told me of Pope Benedict's sanctions on McCarrick," Viganò wrote to Ouellet. "You have at your complete disposal key documents incriminating McCarrick and many in the curia for their cover-ups."
Lastly, the letter urges Cardinal Daniel DiNardo of the Galveston-Houston archdiocese and other U.S. bishops who met with Francis about the abuse crisis in the Church on September 13 to reveal whether the Pope shut down the possibility of a Vatican investigation into McCarrick and anyone who covered up his crimes.
Send a tip to the news team at NR.