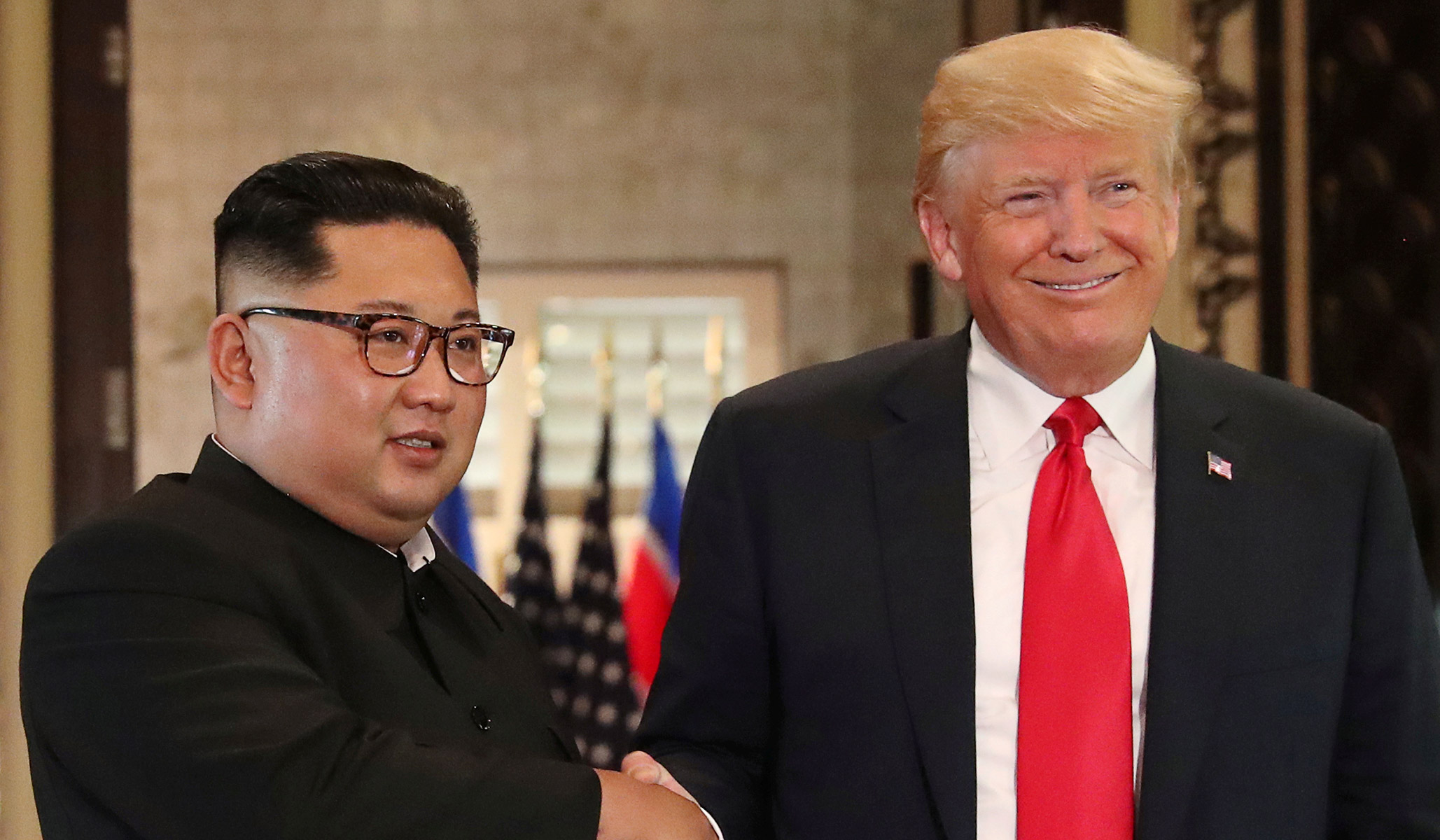 Speaking after his historic summit meeting with Kim Jong-un Tuesday, President Trump said that he was suspending joint military exercises with South Korea in exchange for a denuclearization pledge from North Korea.
"We will be stopping the war games, which will save us a tremendous amount of money, unless and until we see the future negotiation is not going along like it should," Trump told reporters. "But we'll be saving a tremendous amount of money, plus I think it's very provocative."
The concession surprised the Pentagon as well as South Korean officials, according to the New York Times, and hinges on Trump's ability to ensure Kim keeps his pledge to denuclearize, which echoes similar promises the North has reneged on in the past.
"We're very proud of what took place today," Trump said. "I think our whole relationship with North Korea and the Korean Peninsula is going to be a very much different situation than it has [been] in the past."
While the suspension of joint military exercises with South Korea represents a significant concession, Trump elected to maintain stringent economic sanctions on the Kim regime until further progress is realized.
In a joint statement signed by the two leaders, Trump "committed to provide security guarantees" to North Korea and Kim "reaffirmed his firm and unwavering commitment to complete denuclearization of the Korean Peninsula."
The statement also referenced "follow-on negotiations" to be led by Secretary of State Mike Pompeo, which are set to begin "at the earliest possible date, to implement the outcomes" of Tuesday's meeting.
Trump also mused about drawing down the U.S. troop presence in the Korean Peninsula during the Tuesday press conference before ruling it out as an immediate possibility.
"I have to be honest, and I used to say this during my campaign, as you know probably better than most — I want to get our soldiers out. I want to bring our soldiers back home," he said. "We have right now 32,000 soldiers in South Korea, and I'd like to be able to bring them back home. But that's not part of the equation right now. At some point I hope it will be, but not right now."
NOW WATCH: 'Trump Says U.S. Will End Korean War Games'
Send a tip to the news team at NR.