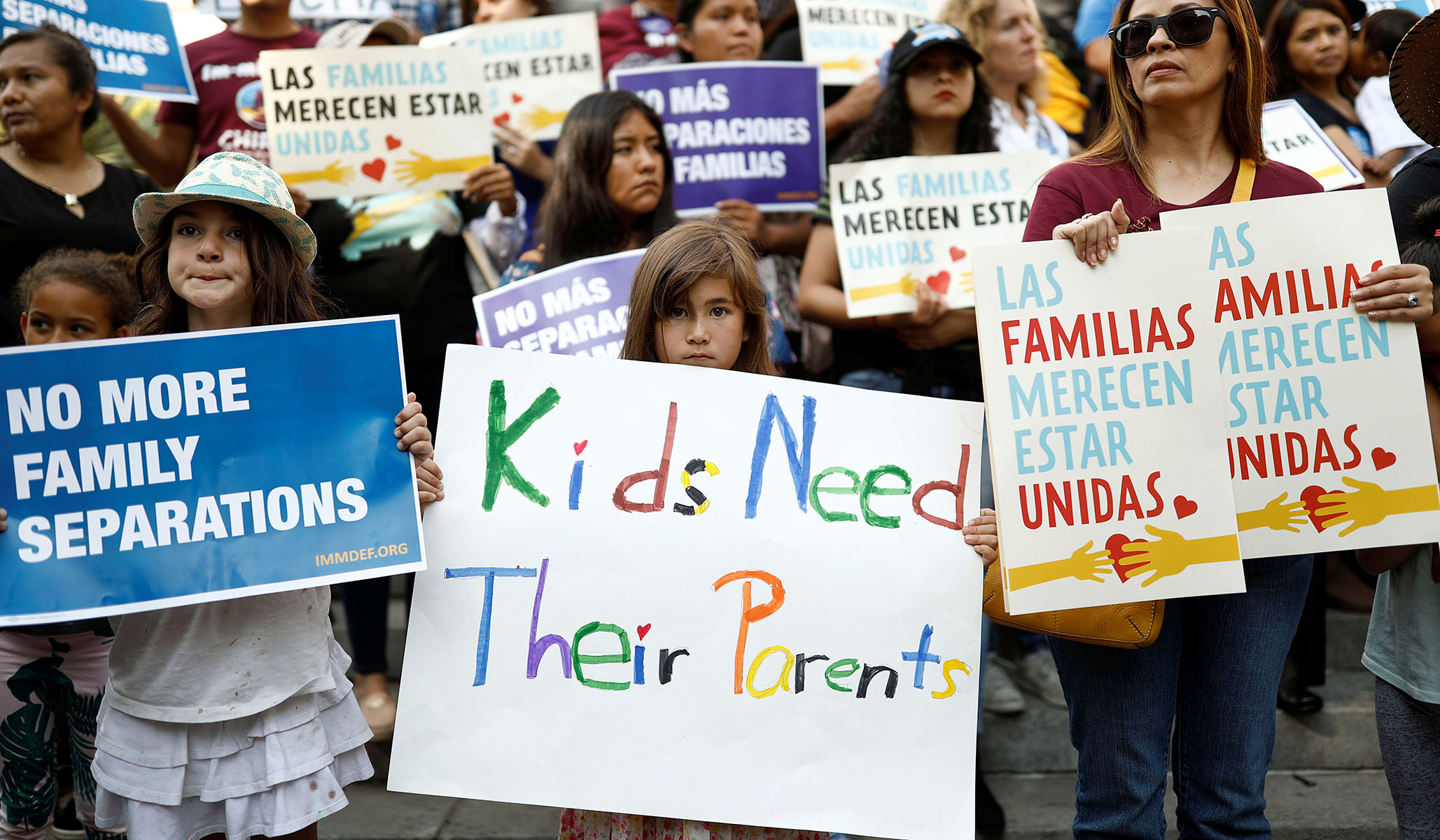 The White House is blaming Democrats for the Trump Justice Department's policy of separating children from their parents at the southern border pending immigration hearings.
"I hate the children being taken away. The Democrats have to change their law. That's their law," Trump told a gaggle of reporters on the White House lawn Friday morning.
"Now, I want the laws to be beautiful, humane, but strong. I don't want bad people coming in," the president said. "We can solve that problem in one meeting. Tell the Democrats and your friends to call me."
The president added on Twitter Friday that "Democrats are forcing the breakup of families at the Border with their horrible and cruel legislative agenda."
The Democrats are forcing the breakup of families at the Border with their horrible and cruel legislative agenda. Any Immigration Bill MUST HAVE full funding for the Wall, end Catch & Release, Visa Lottery and Chain, and go to Merit Based Immigration. Go for it! WIN!

— Donald J. Trump (@realDonaldTrump) June 15, 2018
The separations, however, are a result of the Trump Justice Department's "zero tolerance" policy, which seeks to deter illegal immigrants from making the journey to the border in the first place.
The president's blame seems to be based on Democrats' rejection of a bill by House Republicans that would prevent families from being separated the border. Democrats and immigration-rights activists have accused the bill of "prolonging detention and hastening deportation."
The GOP proposal would provide a pathway to citizenship for Dreamers but would also allot $25 billion for border security. It is not yet clear whether the bill can pass the House, let alone the Senate.
However, Trump said Friday he "certainly would not" sign the more moderate one of two immigration bills proposed by House GOP members. Later Friday on Twitter, the president listed his requirements for an immigration bill: border-wall funding, and a merit-based immigration system that ends the visa lottery and so-called chain migration.
"We don't want kids to be separated from their parents," House speaker Paul Ryan said on Thursday.
Attorney General Jeff Sessions said the policy is a result of the administration not sending children to jail with their parents.
"Noncitizens who cross our borders unlawfully, between our ports of entry, with children are not an exception," Sessions said. "They are the ones who broke the law, they are the ones who endangered their own children on their trek. The United States, on the other hand, goes to extraordinary lengths to protect them while the parents go through a short detention period."
"Illegal-alien families is [sic] the product of the same legal loopholes that Democrats refuse to close. And these laws are the same that have been on the books for over a decade," White House Press Secretary Sarah Sanders said on Thursday.
Send a tip to the news team at NR.