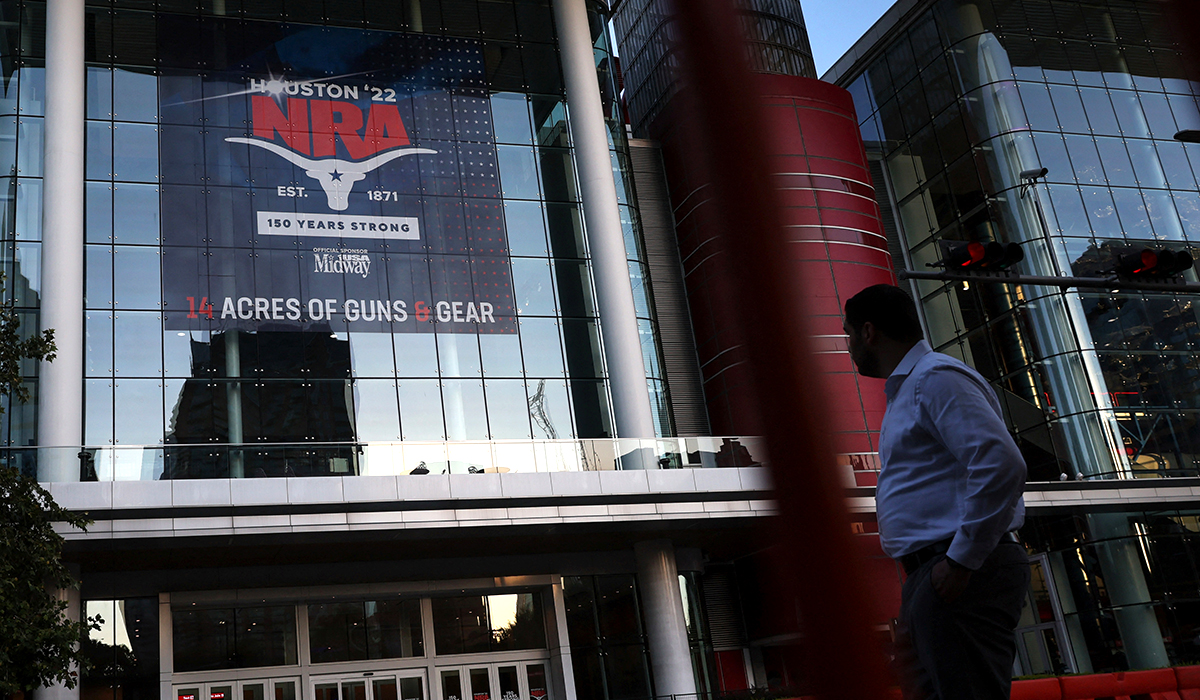 The National Rifle Association usually announces the total attendance at its three-day convention at the conclusion, and it seems like this year's attendance will be short of the usual number of around 80,000. The aisles of the exhibition hall don't seem as crowded as in past years. Houston First, the government corporation that oversees the convention center, said before the event began that it was expecting around 55,000 people.
After two years of annual meetings canceled because of the Covid-19 pandemic, no doubt the NRA is just happy to see this year's event occurring at all. But the lower attendance does seem like a sign that the organization is not back to full strength. The last time the NRA held its convention in Houston in 2013, it set an attendance record at 86,228. Houston still is the fourth-most populous city in the U.S., and the city's metropolitan area houses more than 7.1 million people. So why did the region's gun owners not turn out in the usual numbers?
Inflation and gas prices may have made some gun owners less interested in making the trip. Some of the usual attendees may have had other plans for the Memorial Day weekend. And perhaps some potential attendees just didn't feel like going to a gun event so soon after the mass shooting in Uvalde.
But beyond those reasons, there's no getting around the fact that the image of the NRA has taken some tough hits in recent years — and it's not just the controversy over the group's perspective on how to respond to mass shootings. Since the last annual meeting in Indianapolis in 2019, the organization has faced a cavalcade of credible allegations of self-dealing and egregious wastes of donor money — with some allegations coming from former leaders of the organization like Oliver North. LaPierre reportedly made suit purchases from the Zegna store in Beverly Hills between 2004 and 2017 that totaled $274,695.03, and sent the bills to the NRA's former PR firm, Ackerman McQueen.
The NRA has admitted some benefits paid to top executives were excessive; in 2020, executive vice president Wayne LaPierre received $1.7 million in compensation, the filing said, including a $455,000 bonus. He was paid $1.9 million the year before. Legal fights with Ackerman McQueen and the state attorney general of New York generated gargantuan legal fees; from 2018 to 2020, the NRA paid its top lawyer, William A. Brewer III and his firm, more than $54 million. Whether or not the NRA itself is falling apart, its headquarters building in Fairfax started falling apart during the pandemic.
One other potential reason for smaller turnout this year is that there is a good chance there are fewer active NRA members than there were a few years ago.
The NRA usually only gives a broad figure of its membership numbers, currently saying it has five million members. But an internal document obtained by The Reload detailed that "membership appears to have fluctuated between roughly four and five million from 2012 to August 2021, breaching five million members only once, in 2018. As of August 2021, the group recorded north of 4.5 million members."
Despite all this bad news, the 76-member NRA board of directors is not acting like a group that is eager to see changes. This weekend, an effort to replace LaPierre with former congressman and Texas GOP chairman Allen West is not expected to succeed, and likely won't even come close. Most of the board members seem quite content with the way LaPierre is running the organization. This weekend, Janet Nyce, co-chair of the NRA Women's Leadership Forum, said that critics of LaPierre should leave the organization.
The Washington Post noted that smaller, newer Second Amendment–focused organizations — which often present the NRA as an establishment sellout – are growing quickly. "The National Association for Gun Rights, has grown to 75 staff members and a $15 million budget, he said, up from about $6 million in 2019. Gun Owners of America grew from less than a dozen staff members in Springfield, Va., in 2018 to now having field directors in 25 states. The organization's income surged to about $5.9 million in 2019, more than double what it raised two years earlier, according to tax filings." Those groups are still a long ways away from rivaling the size, reach, and revenue of the NRA, but their growing membership and donor base indicates some gun owners are looking for other options in activist groups.
There's one last factor to keep in mind. Gun manufacturers and companies that make sights, holsters, gun safes, targets, and every other imaginable piece of firearms-related paraphernalia spend money to set up and display their wares in the exhibition hall. (No one actually purchases guns at the NRA convention; everyone is window-shopping but will likely make purchases from federally-licensed firearms dealer back home. All models in the exhibition hall have their firing pin removed.) With gun sales off-the-charts for the past two years, some companies may not feel as much of a need to attend the event. The gun industry is as affected by supply-chain problems as any other industry, and with a surge in gun sales particularly after the riots of mid-2020, Ruger and other manufacturers had difficulty keeping their distributors supplied with inventory. If you're having trouble keeping your distributors in stock, what's the point of trying to attract more potential buyers?
This year the exhibition hall is missing at least one big-name gun manufacturer; Sig Sauer did not set up a display, and the company did not attend the SHOT Show, the firearms industry's trade show, in Las Vegas earlier this year.