A few minor quibbles with the NBC News/Wall Street Journal poll showing terrible numbers for Republicans. (Don't get me wrong, I think the news for the GOP is largely bad.) For starters, the most prominent numbers come from surveying adults, not registered voters or likely voters.
And then you get deep into the numbers . . .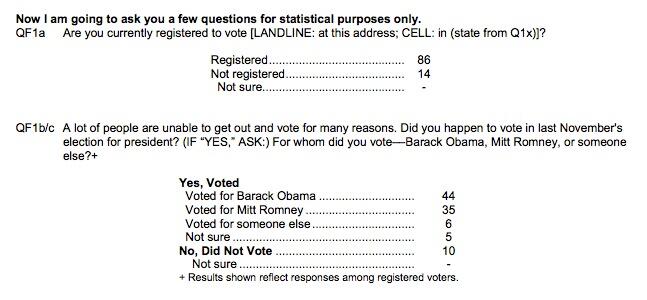 So for starters, 14 percent of this sample isn't registered to vote. I'd love to see the crosstabs of how this sub-sample feels about what's going on in Washington.
You'll recall President Obama won the popular vote in 2012, 51.1 percent to 47.2 percent — a four-point split in a high-turnout presidential year. This one splits . . . 44–35.
Libertarian candidate Gary Johnson received 1 percent and everyone else amounted to about a half a percentage point. So the "someone else" category is much, much higher than we would expect.
Finally . . . who are these 5 percent of people who aren't sure who they voted for president last November? Guys, it wasn't that long ago.