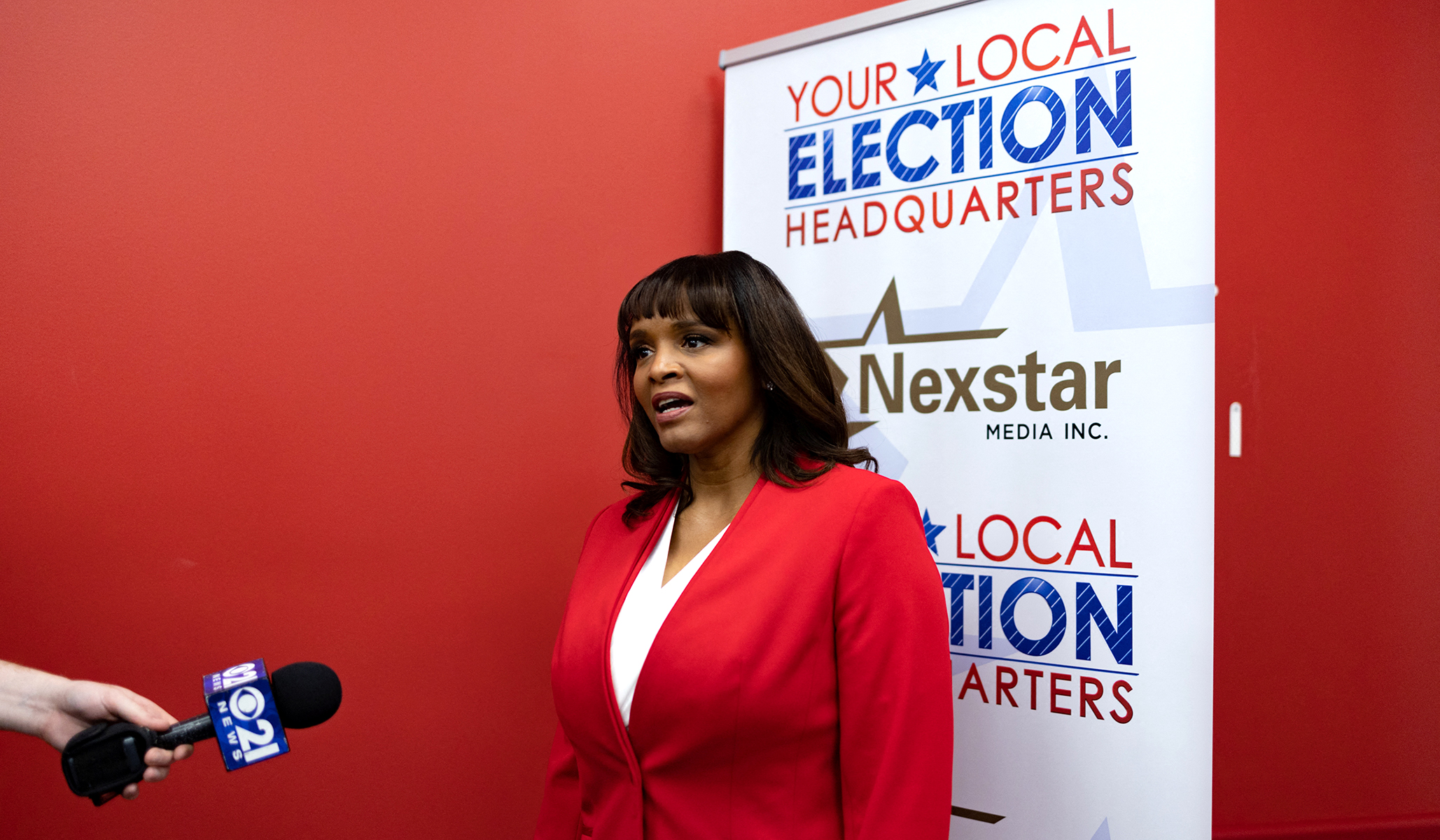 On the menu today: We are days away from the Pennsylvania Senate primary, and that state's Republicans have a big choice to make between Dr. Mehmet Oz, Dave McCormick, and surprise late-surging Kathy Barnette. Let's sort through what we know about Barnette, and where she still has some legitimate questions to answer.
Get to Know Kathy Barnette . . . If You Can
Maybe Kathy Barnette is the answer to Pennsylvania Republicans' prayers, but the Barnette campaign's refusal to answer some very basic questions from Salena Zito of the Washington Examiner was not reassuring:
The questions to the campaign, which said it doubted whether she would have time for an interview because she was booked for interviews continuously until Election Day, were pretty straightforward and simple:

The name of her hometown
Where was she an adjunct professor and when?
When was she in officer candidate school?
What financial institutions did she work at and when?
When did she move from Virginia to Pennsylvania? (She says in her book bio from 2018 that she lived in Virginia, so what year did she move to Pennsylvania?)
And a confirmation that the college she graduated from was Troy State University.

The reply from the campaign manager noted, "Kathy keeps her early life as private as possible as I am sure you can understand why" — a reference one could surmise was to her life story, which she told compellingly in an ad this past week about being the child of rape.

She could be hiding nothing. She could be hiding everything. We don't know because there are no answers. While people hold a strong distaste for the press, many level-headed conservatives who really want to win this seat in November want to know as much as they can about each candidate.
Nor was it reassuring that "Barnette's campaign manager, Bob Gillies, ended a phone call with the Washington Free Beacon on Wednesday when asked whether she will release her DD [Defense Department] form and did not respond to subsequent text messages requesting it."
But Barnette did release photos of several pages of her military records on Wednesday, and a U.S. Army spokesman told Kristina Wong of Breitbart on Thursday that:
Kathy J. Barnette served in the Alabama Army National Guard from September 1993 to March 1998. Her primary military occupational specialty was 63S, Heavy-Wheeled Vehicle Mechanic, and she attained the rank of specialist. Her last unit with the ARNG was the 778th Maintenance Company, Alabama Army National Guard.

Kathy J. Barnette also served in the Army Reserve as a Human Resource Specialist (71L/42A) from 1998 to 2000.
The documents Barnette released photos of are an NGB-22, which is an official discharge document recording the member's service in the National Guard. The DD 214 form is a similar document for the U.S. Army.
Barnette has a LinkedIn page, but it only lists two jobs: self-employed author and contributing writer, and a political commentator with two links to her appearances on Fox News. Her campaign biography lists her as "an adjunct professor of corporate finance," but doesn't say where. It also says she "worked in the financial industry for A.G. Edwards and Sons and Bank of America Capital Asset Management," which gives us a general sense of the time period, as A. G. Edwards was purchased by Wachovia Corporation in 2007 and absorbed into Wachovia's operations. In Barnette's book, she wrote, "I remember being the first black person to work at Bank of America Capital Asset Management out of the St. Louis office a couple of years after I graduated college. I remember feeling the weight of the black community riding on my shoulders, thinking that if I messed up, they would probably never hire another black person again."
A separate website, Voterly.com, fills in a few of the blanks, listing Barnette as an associate analyst at A. G. Edwards and Sons, Inc. from 1997 to 1999, a financial-equity analyst of the retail sector at Bank of America Capital Management from 2000 to 2001, a financial-planning project manager at J. C. Penney from 2002 to 2008, an adjunct professor of corporate finance and economics at Judson University from 2009 to 2016, and a radio-show host on WFYL 1180 in Philadelphia from 2014 and 2016.
The P.O. box for Barnette's campaign is in Huntingdon Valley, Pa., and if you search under her maiden name, you can find a home address in Huntingdon Valley listed for her that I will not put in this newsletter. (If I can find this, why can't the Barnette campaign provide this? A candidate who runs on her biography as opposed to a record in elected office must fill in some of the blanks about that biography!)
We can set aside fears that Barnette is making up her inspiring life story out of whole cloth. But there are still little details that don't quite add up.
The author biography on the Amazon page for Nothing to Lose, Everything to Gain: Being Black and Conservative in America, published in 2020, states that, "Kathy Barnette is a conservative, Black, mother, and wife. She is a veteran, a former adjunct Professor of Corporate Finance, a conference speaker, and a Conservative political commentator. She served her country proudly for ten years in the Armed Forces Reserves, where she was accepted into Officer Candidacy School. Her corporate career includes working with two major financial institutions and in corporate America. Kathy sat on the Board of a pregnancy crisis center for five years. She lives in Virginia." So, when did Barnette live in Virginia, and when did she move to Pennsylvania?
Yesterday, Barnette did an interview with Philadelphia-area radio host Chris Stigall on his podcast, and he asked her some straightforward questions: When did she first vote in Pennsylvania, and has she voted regularly in the state?
Barnette's answer: "I voted every single year! Well, I voted from the year I got here. I think it was, let me see . . . I can't remember, but the one that really — the one that really pops out in my mind is 2016 for the primary for President Trump, as well as for the general election for President Trump. But yes, I voted."
Matt Wolking notes that in Barnette's book, she wrote that she didn't vote for Trump in the primaries.
"Staff from Barnette's campaign removed reporters from a Q&A event she hosted in Southampton, Bucks County on Thursday night. But eventually reporters were allowed back in for a few minutes." Attention then turned to her claim that she had voted in Pennsylvania:
Despite her staunch support for Mr. Trump, she didn't vote in Pennsylvania in 2016, according to state voter records. Ms. Barnette registered to vote in Pennsylvania in August 2015, but didn't vote until 2018, according to voter rolls. She voted in both elections in 2018, 2020 and 2021 primary in the state.

When asked whether she voted in Pennsylvania in 2016 at Thursday's event, Ms. Barnette claimed she did. When the reporter followed up and asked why the voter roll said otherwise, Ms. Barnette doubled-down and said she voted here."
Thursday night, Barnette said that, "The long knives are coming out at this point, and I had the best day of my life today." Yes, when a once-little-known candidate leaps ahead into what is effectively a three-way tie in a hard-fought Senate primary, the other campaigns and their supporters are going to come after that rising candidate.
It is unsurprising that Barnette feels attacked, because she genuinely is being attacked. President Trump insists she's unelectable because "she has many things in her past which have not been properly explained or vetted," much like his tax returns. Sean Hannity brought Mehmet Oz onto his show to rip into her at length. But it is worth noting that Barnette has her own allies rushing to her aid, including the Club for Growth and the Susan B. Anthony List.
One more thought on the Pennsylvania Republican Senate primary: If you're reading this newsletter, there's a good chance you think of yourself as conservative, and there's a good chance you've thought of yourself as conservative for a long while. I want you to think back to all the big issues you've cared about in your political life. The pandemic and the restrictions, lockdowns, and closures that seemed excessive. Battles over tax rates and efforts to repeal Obamacare. The Iran Deal. The Paris accords. The 2016 campaign, and the prospect of a President Hillary Clinton. Cap and trade, the Obama stimulus, and the Tea Party years. The Bush tax cuts, education reform, school choice, and the Global War on Terror. Bill Clinton's impeachment, the Contract with America, the Clinton tax hikes, and HillaryCare. Or maybe your memories of big political fights go all the way back to the Reagan years.
As you look back on all those issues you have cared about . . . do you remember Mehmet Oz ever being there when you needed him? Ever? Do you remember him ever jumping into the fray on a controversial issue and standing up to defend the conservative side? Because I remember him saying he was "really worried" about efforts to restrict abortion, criticizing laws designed to restrict abortion, criticizing heartbeat laws by insisting that "the heart's not beating," and lamenting that the CDC "is NOT funded to study gun violence in this country. It's time we treat shootings as a public health problem." He also criticized fracking, and GLAAD praised him for "allowing the audience to hear probably the healthiest medical opinion of transgender identity ever broadcast."
Mehmet Oz has been a Republican for about 20 minutes and is not conservative by any stretch of the imagination. And now he gets to be the Pennsylvania GOP's Senate nominee, just for showing up?
The Pennsylvania Senate primary election is Tuesday. Choose carefully, Republicans.
ADDENDUM: Michael Graham reports that New Hampshire Democrats issued statements criticizing Governor Chris Sununu for his statement during his interview on the Three Martini Lunch podcast: "I'm the first governor in 40 years to sign an abortion ban. Republican governors before me never signed that." (Broadly speaking, Sununu wants abortion legal in the first two trimesters and illegal in the third.) I suppose if Graham was using MSM rules, he should write, "New Hampshire Democrats POUNCED."