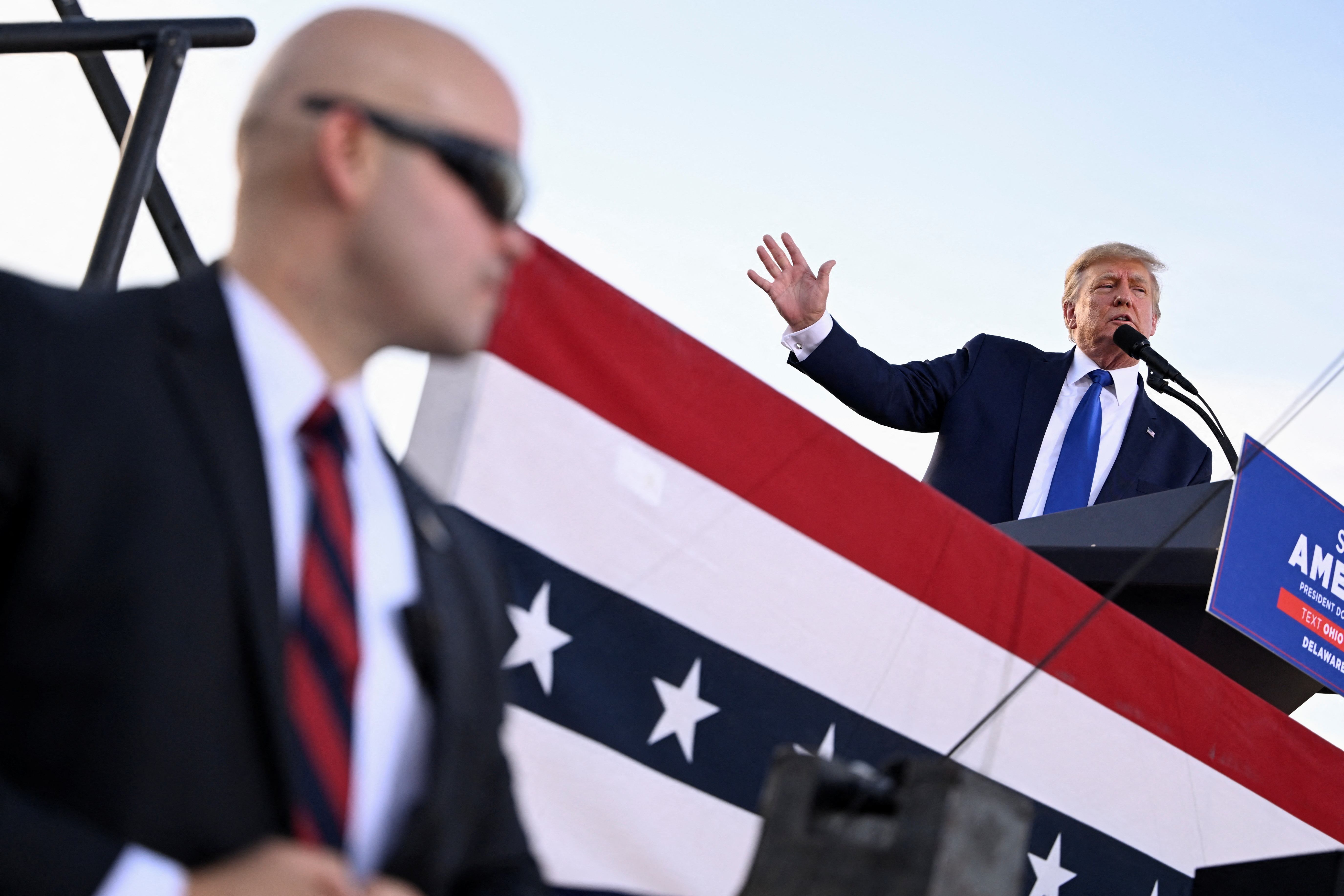 On the menu today: About a month ago, when Donald Trump was asked about his endorsement of Mehmet Oz in Pennsylvania's Republican Senate primary, the former president answered, "I'm a gambler." They're still counting the votes in Pennsylvania, and Oz is going to either win by a razor-thin margin or lose by a razor-thin margin. In his GOP primary endorsements, Trump is indeed a gambler . . . and now, apparently, he feels burned by some of his choices.
Trump Gambled . . . and Lost
With the Georgia primaries next week and the Pennsylvania Republican Senate primary destined to get resolved, er . . . someday, you're going to hear a lot of arguments about whether Donald Trump's endorsement is still a sure-fire way to win a GOP primary. Trump and his fanbase will insist he still has the Midas touch and still effectively runs the Republican Party, and Trump-skeptical conservatives will spotlight every case in which Trump's endorsees crash and burn, contending that the GOP is ready to move beyond Trump.
The more honest assessment is that it is a mixed bag, with some high-profile cases of failure — David Perdue looks like burnt toast in next week's Georgia Republican gubernatorial primary — and some cases in which it's hard to dispute that Trump's endorsement was a decisive factor. For instance, in Ohio, J. D. Vance was neck-and-neck in a crowded field and then went on to win the primary by nine percentage points. Right now, it appears that the power of Trump's endorsement is highly dependent upon outside factors, such as the quality of the candidate he endorses and the quality of the candidates they're running against.
The first point worth noting is that Trump endorses almost all incumbent congressional Republicans — and incumbents win almost all their primaries and general elections. In most years, at least 90 percent of incumbent members of the House are reelected, and in a few years, that figure has surpassed 98 percent. In the Senate, there are fewer races — about 33 each cycle — but 79 to 98 percent of incumbents in the Senate are reelected each year, according to OpenSecrets.
This is a good point to keep in mind the next time you hear about some political action committee — you know, the ones with a name like "American-Americans for a Better America PAC" — and they make a boast along the lines of, "23 out of the 25 candidates we supported won last year!" Okay, let's start with how many of those 25 candidates were even in competitive races. And then, just what did the PAC do in those races? I've long suspected that some PACs run a few commercials in cheap timeslots right near the end of a race — long after most voters have decided, and, increasingly, after they have cast ballots — so they can say they "helped" heavy favorite candidates win and to build up that shiny win-loss endorsement record.
Even in races where there is no incumbent, sometimes Trump endorses a candidate who was likely to win anyway. As noted a month ago, the GOP Senate primary in Georgia features Herschel Walker against state agriculture commissioner Gary Black, former state representative Josh Clark, U.S. Air Force captain and entrepreneur Kelvin King, and former U.S. Navy SEAL and director of Intelligence Programs on the National Security Council Latham Saddler.
No offense to the other gentlemen, but it is difficult to win a Senate primary when you're not well-known, not wealthy, and running against arguably the greatest college-football player of all time, who led the University of Georgia Bulldogs to the national championship in 1980 and won the Heisman Trophy in 1982. (There are more than 340,000 University of Georgia alumni, and the football team's fan base is one of the biggest and most passionate in the country.)
Did Trump's endorsement help Walker? Sure. Would Trump endorsing one of the other candidates have stopped Walker? It probably would have roughly the same impact on Herschel Walker as University of Tennessee linebacker Bill Bates.
Politico tosses out the easy-win incumbent endorsements and calculates that in competitive races, Trump-endorsed candidates have seven wins and four losses this cycle — a 64 percent success rate. That count doesn't include the endorsement of Oz yet, or Doug Mastriano in the GOP gubernatorial primary, because Trump endorsed Mastriano three days before the election, when polling indicated Mastriano was well ahead.
It was only a month ago that Trump chose to endorse Oz over David McCormick, which turned some heads because McCormick's wife is Dina Powell, who was Trump's "senior advisor to the president for entrepreneurship, economic growth and the empowerment of women" and then Trump's deputy national-security adviser. Back in 2017, Trump offered McCormick the job of U.S. deputy secretary of defense.
Even if Trump deemed McCormick, CEO of one of the world's largest hedge funds, as too "establishment," plenty of Trump fans looked at Oprah's doctor and saw a celebrity dilettante without an ounce of genuine populism or conservatism, and had plenty of questions about his medical advice and ties to the Turkish government. And Kathy Barnette fans would undoubtedly insist that she represented the authentic populist spirit of Trump's movement, not a pair of rich guys who have spent much of their lives outside the state.
(Reportedly, former first lady Melania Trump is a big fan of Dr. Oz. In April, at a rally in North Carolina, Trump explained his endorsement: "Dr. Oz in Pennsylvania, Dr. Oz. Great guy, a good man. He's a good man, Harvard educated, tremendous, tremendous career, and they liked him for a long time. That's like a poll. When you're in television for 18 years, that's like a poll, that means people like you. But he's a great guy.")
The Oz endorsement suggests that Trump's endorsements are not particularly driven by ideology or past political stances, and, much to the irritation of former congressman, longtime Trump supporter, and gubernatorial candidate Lou Barletta, not based on past loyalty to Trump. After Trump endorsed Mastriano, Barletta fumed to a Pennsylvania newspaper that, "Everyone knows, you know, I was one of the first to endorse him, along with [former congressman] Tom [Marino]. Co-chaired his campaign. Was on his transition team. Gave up a safe congressional seat because the president asked."
Marino was even more blunt: "I'm incredibly disappointed and disgusted with Trump, and actually hurt. . . . He didn't even have the decency to call Lou and tell him he was endorsing someone else. . . . Where in the hell is the loyalty?"
A few days ago at Hot Air, Allahpundit scoffed, "What makes the clip amazing is that Marino ever expected loyalty from Trump. In a monarchy like the Republican Party, you owe loyalty to the king, but the king owes you nothing." Indeed, Trump withdrawing his endorsement of Mo Brooks in Alabama should have been an indicator that the president's endorsements are not about his view of the best candidate most aligned with his agenda, but an effort to prognosticate the winner.
But a certain segment of loyal Trump supporters never bought into the idea that the Make America Great Again movement was based upon personal relationships and fickle, capricious impulses.
The Washington Post quoted an unnamed associate of the former president who said that Trump, when questioned about his endorsement of Oz, answered, "I'm a gambler." Indeed, he is, and when you gamble, sooner or later, you lose — at least a few times. The old advice to not gamble anything you can't afford to lose is wise. If you're a former president who prides himself on being a kingmaker in your party's primaries, someday, you will get burned by that appetite for risk and desire to show the world you can single-handedly push a longshot over the top.
"Someday" arrived quickly. Now, CNN quotes unnamed Trump advisers who say that the former president is "agitated" about the outcome in Pennsylvania and feels burned by Oz's underperformance: "If Oz loses, it puts him in an awkward spot because he absolutely trashed David McCormick at his rally and pissed off quite a few allies who never thought he should have endorsed Oz," one adviser said. Another was quoted as saying that an Oz loss would make Trump "a lot more selective [in issuing future endorsements] for sure."
Also note that Trump stuck his neck out for Madison Cawthorn in the final days before the North Carolina primary, when it was clear that Cawthorn was in trouble. Not only did Cawthorn lose, the perpetually immature congressman is now ranting that, "It's time for the rise of the new right, it's time for Dark MAGA to truly take command. We have an enemy to defeat, but we will never be able to defeat them until we defeat the cowardly and weak members of our own party. Their days are numbered. We are coming."
Once again, the former president confronts problems that are the result of his own actions. Trump relentlessly pushed former senator David Perdue to run a primary challenge against Georgia governor Brian Kemp. Perdue was highly reluctant, but eventually, the former president persuaded him — and Perdue made his campaign explicitly about how Kemp was "not protecting our elections" and "fighting Trump."
Fast forward to today, and Kemp is ahead in the RealClearPolitics average of polling, 55.8 percent to Perdue's 31 percent. The gubernatorial race is unlikely to go to a runoff, Perdue isn't even campaigning much, he's no longer running television ads, and Trump isn't planning to make any more personal appearances in Georgia on his behalf. Trump's effort to knock off Kemp in the primary is likely to end in a spectacular failure; Trump would have been in better shape if he had never bothered to push a primary challenge against Kemp.
(Today, the editors of National Review endorsed Kemp for reelection and Jennifer Strahan's primary challenge to freshman congresswoman Marjorie Taylor Greene in Georgia's 14th congressional district. The editors call Greene, whom Trump has endorsed, "a disgrace to her office and a disservice to her constituents in Georgia's 14th district." Also note that Trump endorsed Greene.)
In a strange way, the performance of GOP candidates whom Trump endorsed is not a particularly effective measure of "Trumpism" in today's Republican Party because the president's endorsement selections are so capricious, fickle, and erratic. In the Senate, Trump endorsed so-called "establishment" Republican incumbents such as Chuck Grassley of Iowa and Marco Rubio of Florida, even though both have or had outspoken Trump-supporting challengers. He endorsed Oz, seemingly because he was entranced by the doctor's celebrity status. And based on his selections in races such as Pennsylvania's Senate primary, just how much time and energy do you think Trump put into sorting through the options in down-ticket races such as Texas land commissioner, Ohio state treasurer, Georgia insurance and safety fire commissioner, or the Tarrant County, Texas, commissioners court judge?
Trump's true endorsement criteria appear to be, "Is this candidate sufficiently loyal to me?" and "Is this candidate the one most likely to win?"
ADDENDUM: Speaking of the upcoming Georgia primaries, note that not only is the early vote the highest ever, the early vote among minorities is the highest ever. All under an election law that President Biden insisted was worse than Jim Crow.