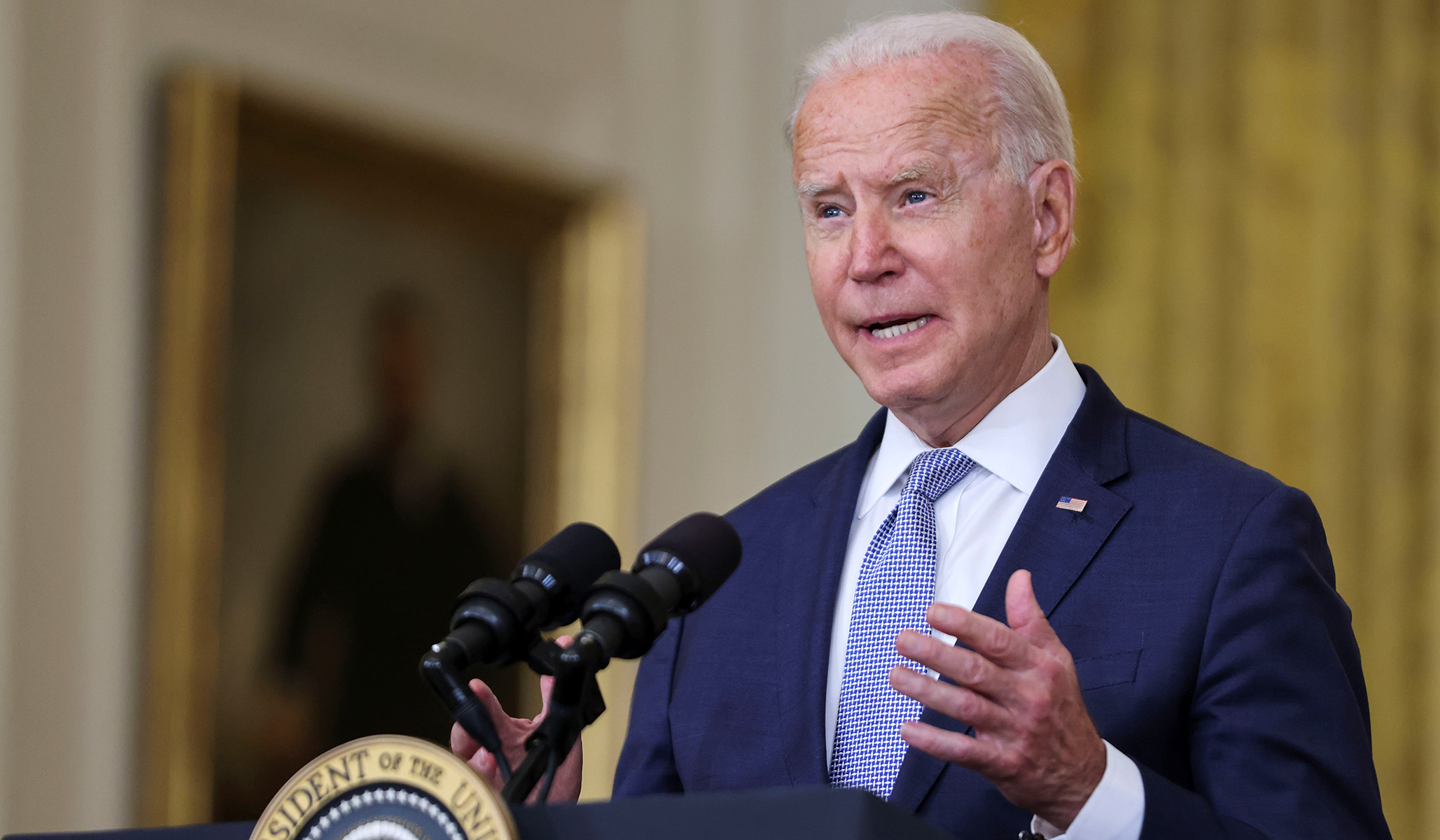 On the menu today: Three vivid and outrageous examples of America's ongoing crisis of government competence.
America's Crisis of Competence, Part One
Chris Cillizza of CNN wrote Monday, "Seven months into his first term, however, Biden is faced with nothing short of a crisis of that competence, beset on a number of fronts with developments that it appears all of his experience and know-how didn't prevent."
The New York Times confirms what many of us suspected, that President Biden was informed of how the Taliban were likely to quickly reconquer Afghanistan, and he simply chose to lie to the American public: "Classified assessments by American spy agencies over the summer painted an increasingly grim picture of the prospect of a Taliban takeover of Afghanistan and warned of the rapid collapse of the Afghan military, even as President Biden and his advisers said publicly that was unlikely to happen as quickly, according to current and former American government officials."
In his July 8 press conference, Biden specifically denied that the U.S. intelligence community was warning that the Afghan government would collapse:
Q: Mr. President, thank you very much. Your own intelligence community has assessed that the Afghan government will likely collapse.

THE PRESIDENT: That is not true.

Q: Is it — can you please clarify what they have told you about whether that will happen or not?

THE PRESIDENT: That is not true. They did not — they didn't — did not reach that conclusion.
Everyone in the Pentagon and White House is now laying out how they warned the president, and that he refused to heed their warnings:
The president's top generals, including Chairman of the Joint Chiefs of Staff Army Gen. Mark Milley, urged Mr. Biden to keep a force of about 2,500 troops, the size he inherited, while seeking a peace agreement between warring Afghan factions, to help maintain stability. Defense Secretary Lloyd Austin, who previously served as a military commander in the region, said a full withdrawal wouldn't provide any insurance against instability.

In a series of meetings leading up to his decision, military and intelligence officials told Mr. Biden that security was deteriorating in Afghanistan, and they expressed concerns both about the capabilities of the Afghan military and the Taliban's likely ability to take over major Afghan cities.
What's the point of having a well-funded, top-tier intelligence community and experienced military advisers if the president simply ignores their warnings, disregards their information, and trusts his gut that everything will turn out fine?
Biden could not even be convinced to delay his preferred policy to when it would do the least damage. Jon Sopel of the BBC observes that "in Afghanistan there is a fighting season which starts in spring — and then in winter, when the country freezes over, there is a time when the Taliban go home to their tribal homelands. Did no-one think that it might have been better to have ordered the withdrawal for the dead of winter when Taliban forces weren't there, poised to fill the vacuum?"
America's Crisis of Competence, Part Two
President Joe Biden, July 4: "Two hundred and forty-five years ago, we declared our independence from a distant king. Today, we're closer than ever to declaring our independence from a deadly virus. . . . It no longer controls our lives. It no longer paralyzes our nation."
The only way the pandemic stops is with herd immunity, and the emergence of the much more contagious Delta variant means the threshold for herd immunity climbed much higher.
Unfortunately, Delta is really contagious; almost 99 percent of all cases in the United States are now the Delta variant. When you see the figure, "only 50.9 percent of Americans are fully vaccinated," keep in mind that there are roughly 48 million American children below the age of twelve who can't get vaccinated yet. More than 70 percent of Americans over twelve have at least one dose, more than 72 percent of American adults over 18 have at least one dose, and almost 91 percent of senior citizens have at least one dose.
If America were fighting classic, pre-Delta COVID-19, we would be in much better shape. Unfortunately, our cases are up 52 percent in the past two weeks and our hospitalizations are up 62 percent. Thankfully, the number of deaths has increased at a much slower pace — but the seven-day average of daily new deaths crept up from 468 two weeks ago to 633 yesterday. This country had 10,445 deaths from COVID-19 in June, 9,691 deaths in July, and 17 days into August, we're at 9,668 deaths.
There are several ways the U.S. government could get the vaccination rates higher and improve the public's overall resistance to the virus. They could give full and final approval to the original vaccines, approve and distribute boosters, and they could approve vaccinations for children under the age of twelve. Unfortunately, on all three fronts, the effort is slowed by government agencies dragging their feet.
On July 16, Pfizer announced that the FDA intended to make full approval of the company's vaccine a priority. Pfizer started the rolling application with regular updates to data back in May. The general sense is that full approval will come sometime in September. It is not hard to find public experts such as Dr. Ashish K. Jha, the dean of the Brown University School of Public Health, who said he had "not sensed a sense of urgency from the F.D.A. on full approval."
As noted yesterday, the U.S. government is expected to endorse booster shots for everyone who is fully vaccinated in the coming days. That booster shot will be a third dose of the vaccines people have already received. Pharmaceutical companies are working on updated and reformulated versions specifically designed to target the Delta variant, but by the time the clinical trials are completed, the Delta wave will probably have long since burned through the American population.
When it comes to vaccinating kids, there are some signs that doctors are getting a little frustrated with the FDA. The American Association of Pediatrics wrote to the agency on August 5, hinting that its criteria were excessively cautious considering the threat of COVID-19 to children:
I urge the Food and Drug Administration (FDA) to continue working aggressively towards authorizing safe and effective COVID-19 vaccines for children under age 12 as soon as possible.

Last week saw the largest week-over-week percentage increase in pediatric COVID-19 cases since the start of the pandemic. The data show 71,726 COVID cases in children reported last week, almost double the 38,654 reported in the previous week. Simply stated, the Delta variant has created a new and pressing risk to children and adolescents across this country, as it has also done for unvaccinated adults.

We understand that the FDA has recently worked with Pfizer and Moderna to double the number of children ages 5-11 years included in clinical trials of their COVID-19 vaccines. While we appreciate this prudent step to gather more safety data, we urge FDA to carefully consider the impact of this decision on the timeline for authorizing a vaccine for this age group. In our view, the rise of the Delta variant changes the risk-benefit analysis for authorizing vaccines in children. The FDA should strongly consider authorizing these vaccines for children ages 5-11 years based on data from the initial enrolled cohort, which are already available, while continuing to follow safety data from the expanded cohort in the post-market setting. This approach would not slow down the time to authorization of these critically needed vaccines in the 5–11-year age group.

In addition, as FDA continues to evaluate clinical trial requirements for children under 5 years, we similarly urge FDA to carefully consider the impact of its regulatory decisions on further delays in the availability of vaccines for this age group.
The current expectation is that the FDA will approve vaccines for children by "midwinter." That will be roughly two years after the pandemic first appeared in the United States.
Public schools are already temporarily closing because of outbreaks in parts of Alabama, California, Georgia, Hawaii, Kentucky, Mississippi, Nevada, New Mexico, Oklahoma, South Carolina, Tennessee. Texas, and Virginia.
America's Crisis of Competence, Part Three
Joe Biden is technically still the president of the United States, but it's fair to wonder what he does in that role all day. After not being seen at all for four days, other than in a photo his staff tweeted out, Biden read a 20-minute speech off a teleprompter Monday afternoon and took no questions. He immediately returned to Camp David. He had no events on his schedule Tuesday.
Yesterday, national-security adviser Jake Sullivan said that President Biden had not spoken with any foreign leaders since the fall of Kabul. Late Tuesday night, the White House announced that Biden had spoken to Prime Minister Boris Johnson of the United Kingdom. According to the White House website, that was Biden's first interaction with a foreign leader since August 9, when he spoke with Prime Minister Yoshihide Suga of Japan "to commend him on Japan's successful hosting of the summer Olympic Games in Tokyo."
Biden is supposed to sit down for an interview with George Stephanopoulos on Wednesday, and in the one public appearance on his schedule today, he is set to give "remarks on the COVID-19 response and the vaccination program."
What is Biden doing when we can't see him?
ADDENDUM: Yesterday at the White House:
Q: If that mission is not complete by August 31st and there are Americans and Afghan allies who remain there, will U.S. troops stay until everyone is out, or will they leave?

NATIONAL SECURITY ADVISOR JAKE SULLIVAN: So, I'm not going to comment on hypotheticals.
As Allahpundit put it, "The correct answer is 'We'll get every American out, no matter what it takes. Full stop.'"