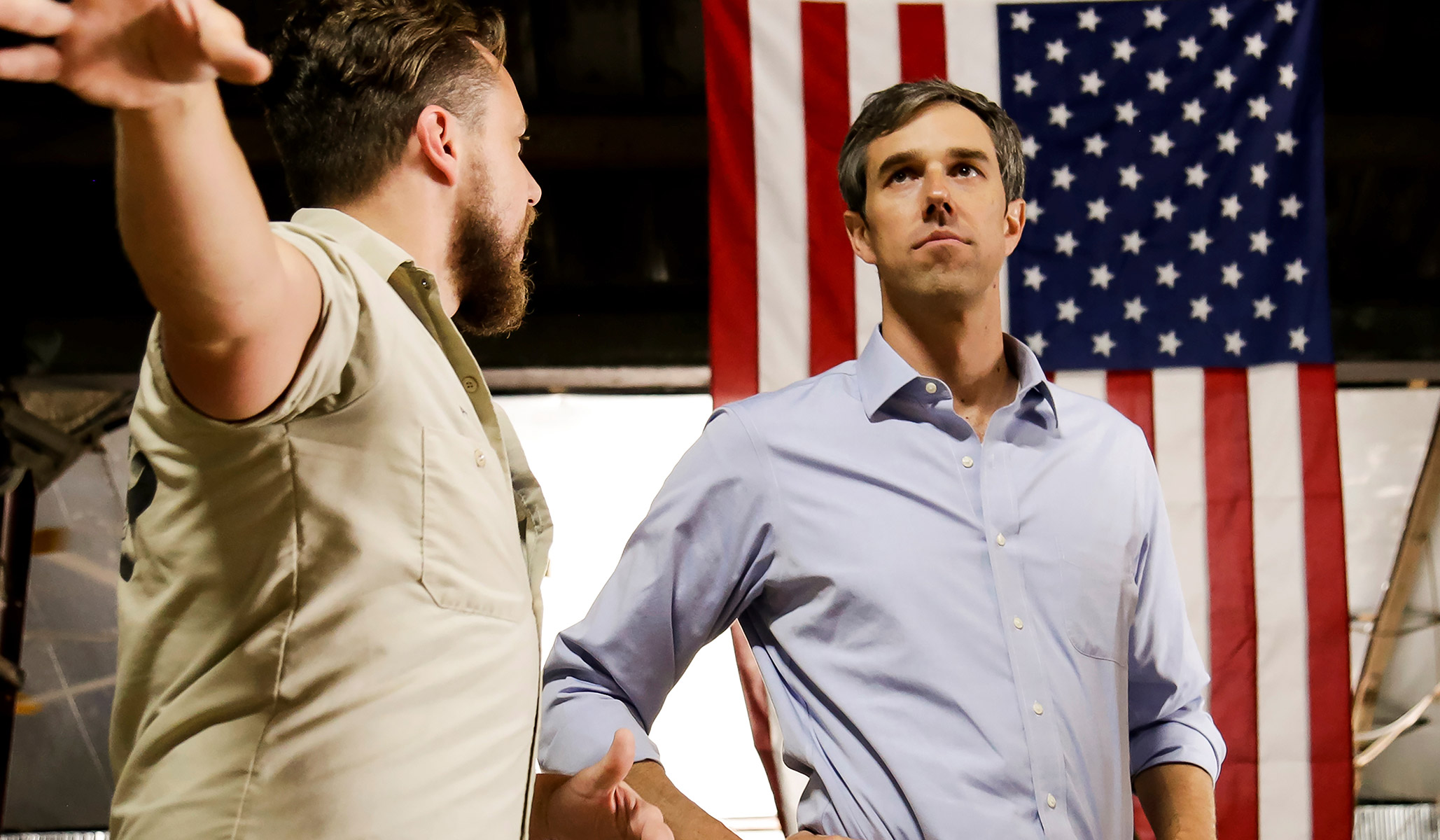 Beto O'Rourke, Senate candidate, fundraising phenom, and the latest Great Hope of the Texas Democratic Party: 641,052 votes in yesterday's primary.
Ted Cruz: Incumbent senator, Mr. Conservative, and guy everybody in the media seems to think is vulnerable in the face of all available evidence: 1,315,455 votes in yesterday's primary.
Over in the Texas Observer, Christopher Hooks notes that this is a rattle in the engine for the Democratic nominee's campaign, not that it is likely to stop national journalists from writing those glowing O'Rourke profiles:
O'Rourke's low number says more about the party than it does O'Rourke, but it's still not a particularly great sign. A lot of weird things happen in the Democratic Primary, because the party is far from cohesive. A few years ago, a LaRouche acolyte made it into a Senate runoff, and it's not unheard of for the party's contender to get crushed in the first round for unclear reasons. The fact that Hernandez and Madrigal won in many of the same places seems to point to the benefit of running with a Hispanic last name in the Democratic Primary. It's possible voters really took to Hernandez's and Kimbrough's message, of course, but it seems likely more evidence that lots of Democrats enter the primary booth with limited knowledge of who is on the ballot and select names — ask Grady Yarbrough and Jim Hogan. And it's hard to blame them, because the "frontrunners" that usually are on the ballot aren't exactly titans.

That said, O'Rourke's soft spot so far has been name recognition. If you've seen 30 news stories a day about O'Rourke for the last six months and seen some of his packed rallies, that might seem strange, but there's room to question whether all the hype about the "punk rock Democrat" is translating to the masses — one poll in January reported that 93 percent of Texas voters have an opinion about Ted Cruz, while only 39 percent had one of O'Rourke. In places where his name recognition is likely highest, O'Rourke did well — 90 percent in El Paso, his home county, and 87 percent in progressive Austin. But in Dallas and Harris, the party's redoubts, he won only 58 percent, and in Bexar, only 63.
Yesterday, our Mairead McArdle quoted the communications director for the Texas Democratic party, Tariq Thowfeek, before the votes were in: "Texas is the nation's bellwether right now. It's a good gauge of the incredible progressive energy we have across the country in a state that is ranked at the bottom of the barrel in voter turnout."
The good news for Democrats is that more than a million Texans voted in their primary yesterday! The bad news for Democrats is that more than 1.5 million Texans voted in the Republican primary.
Here's my theory on the relentless O'Rourke profiles: Everybody loves visiting Texas. The food is great, the people are friendly, and it's warmer while the rest of the country is enduring miserable winters. Maybe political journalists in Washington and New York just like going to Texas to write profile pieces and eat tacos and drink Shiner Bock and write it all off as a business expense, as they hang around with O'Rourke, who seems like a nice enough guy and, in a less heavily Republican state, a potential contender.
Of course, you can't come back and turn in a 4,000-word profile that concludes "he'll do better than Wendy Davis, but he's not going to beat Cruz," so you almost have to come away starry-eyed and convinced that O'Rourke is the Next Big Thing in Democratic politics.
Meanwhile, meet Laura Moser, who qualified for the Democratic primary runoff in Texas's seventh congressional district:
On Thursday afternoon, the DCCC posted four bullet points of research to its website attacking Moser as "a Washington insider who begrudgingly moved to Houston to run for Congress," who wrote in 2014 that she'd "sooner have [her] teeth pulled without anesthesia" than live in Paris, Texas, where her grandparents once lived, and whose campaign was paying tens of thousands of dollars to her husband's consulting company.

"Voters in Houston have organized for over a year to hold Representative Culberson accountable and win this Clinton district. Unfortunately, Laura Moser's outright disgust for life in Texas disqualifies her as a general election candidate, and would rob voters of their opportunity to flip Texas' 7th in November," said Meredith Kelly, the DCCC communications director, in a statement following the post.
You can picture the ads already, can't you? "Laura Moser 2018: Send her to Washington . . . because she hates living in this district."
By the way, the incumbent Republican in the seventh congressional district, John Culberson, usually wins with 55 to 63 percent of the vote. Maybe by Texas standards, this is a "swing district," but this is not exactly classic purple territory.
Keep an Eye on Deval Patrick
There are candidates that the Democrats will get excited about in 2020 — California senator Kamala Harris, New Jersey senator Cory Booker, New York senator Kirsten Gillibrand — and candidates they probably should get more excited about in 2020. Former Massachusetts governor Deval Patrick belongs in that latter category.
Patrick told KCUR "it's a huge decision."

"I am trying to think through 2020, and that's a decision I'm trying to think through from a personal and family point of view and also whether what I believe is going to be on offer by somebody," Patrick said. "And if it's on offer by somebody then maybe what I can do is help that person. But we'll see."
I wouldn't say that I like Deval Patrick. But in a political world that seems to reward grandiose speeches and congressional-hearing theatrics and unrealistic promises, he's a Democrat who's actually done some things, including a few things conservatives might like. He expanded the number of charter schools in Massachusetts. He's pro free-trade. He's one of the few governors who can say he managed state government during a genuine crisis, the Boston Marathon bombing.
And he's an African American. Democrats had a rude surprise on Election Day 2016 when African-American turnout wasn't as high as they expected or needed.
One of my favorite anecdotes about Patrick is when he stood up for Ben LaGuer, an inmate that he thought was wrongfully convicted of rape and paid $5,000 of his own money for a DNA test. LaGuer had become something of a celebrity cause, with his conviction protested by the Boston Globe editorial board, Harvard professors, and Elie Weisel. But when the test showed LaGuer's DNA matched the DNA found at the crime scene, he dropped the convict like a hot potato. You might say that's just common sense, but let's face it, not every lawyer with political ambitions would abandon the narrative of a young African-American man getting railroaded by an all-white jury. There are still Massachusetts liberals who contend that the DNA test has to be wrong.
Of course, as governor, Patrick also raised taxes, had the typical waste in state government, spent $11.3 million to renovate his office, is relentlessly pro-abortion and gun-control, opposes the death penalty, and spent millions on an Obamacare exchange website that didn't work. I mean, he is a Democrat, after all.
Noah Rothman thinks the fact that Patrick now works for Bain Capital, the investment firm founded by his Republican predecessor, Mitt Romney, will be difficult to explain in a Democratic primary. Come on, we've all seen Democrats turn on a dime before. Military service was paramount when John Kerry was the Democratic presidential nominee but not so important when McCain ran against Barack Obama, Bill Clinton's philandering was a private matter but Trump's reflects a societal moral degradation, and so on.
The White House Revolving Door
Yeesh: "More than one in three top White House officials left by the end of Mr. Trump's first year and fewer than half of the 12 positions closest to the president are still occupied by the same people as when he came into office, according to a Brookings Institution study.
Mr. Cohn's departure will bring the turnover number to 43 percent, according to updated figures compiled by Kathryn Dunn Tenpas of the Brookings Institution."
I'm sorry to see Gary Cohn go, because he seemed . . . you know, sane.
ADDENDA: If we conservatives didn't like Huma Abedin getting special permission to work for Hillary Clinton at the State Department and an outside private employer simultaneously . . . why would we be okay with an arrangement allowing the EPA's deputy associate administrator for public affairs to do work for private companies on the side?