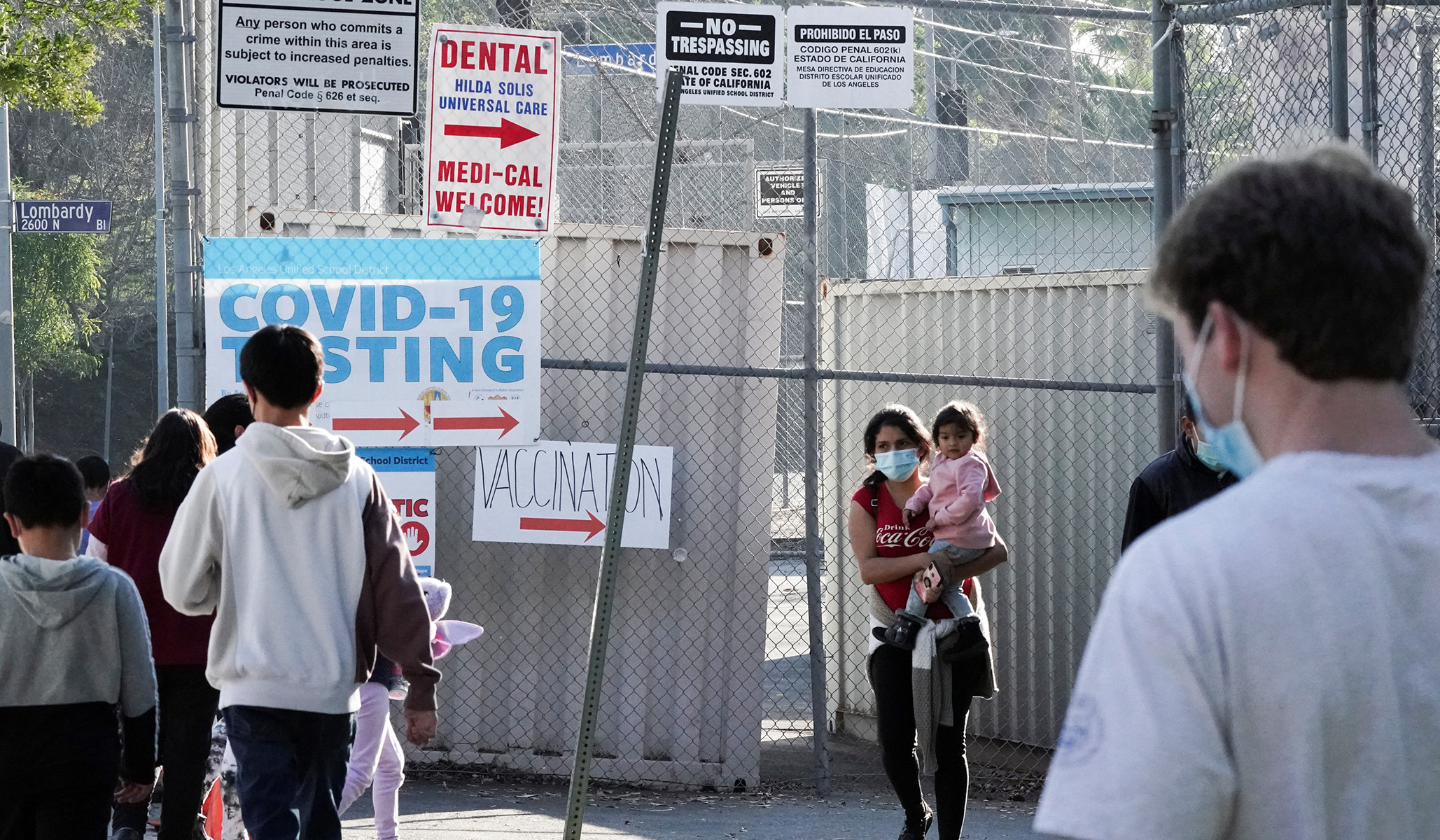 On the menu today: While Omicron isn't living up to the apocalyptic predictions of some particularly fearful public-health experts, complications, headaches, and inconveniences are piling up, particularly in hospitals and schools; New York governor Kathy Hochul thinks the solution is to fire hospital workers who don't have boosters; CDC director Rochelle Walensky bombs on the Sunday shows; and up in New York City, the city health department is running public-service announcements telling people to test themselves for Covid-19 "immediately if you have symptoms, and before and after travel and gatherings." Hey, did anyone bother to tell the city health department about the shortage of tests?
A New Strain of Labor Shortage
Back on December 30, Tatiana Prowell, an oncologist at Johns Hopkins, offered a spectacularly dire warning about what Omicron would do to American life:
Life in the US in Jan-Feb 2022 is going to be almost unrecognizable to most Americans. Even the people who have managed to pretend Covid-19 wasn't happening are about to get a major wakeup call. When we call 911 & no one comes, when we literally cannot enter the ER for crowds. . . .

When we go to grocery stores & find shelves empty, to pharmacies & find them closed because every single employee is out sick themselves or tending to a loved one. Please get what you need to look after your household. Fill prescriptions, get over the counter meds & staples. . . .

As much as I hate it (and I really do, I'm a mom of 3 kids who had virtual school from Mar '20 til Sept '21), the idea that schools will manage to stay open in any meaningful way in Jan is a joke. Staffing issues alone will close them. Prepare for major disruption in Jan '22. MAJOR. Start thinking now about how you can help your family, friends, neighbors—w/ supplies, w/ skills, w/ knowledge — & vice versa because we are deep trouble if we don't go all in as a community of helpers for what is coming.

This won't last forever. I promise. But Jan & Feb 2022 are going to be very dangerous & difficult. All the things you can ordinarily count on, you won't be able to count on."
Today is January 10. 911 services are still working, and the overwhelming majority of businesses around the country are still open and working. (Also, those businesses are probably hiring.) It is not doomsday or the early scenes of an apocalyptic movie happening outside your window. This morning, 78.2 percent of the country's hospital beds are being used, and 80.9 percent of the country's ICU beds are being used. Those figures are actually down a bit from a few days ago.
But if we aren't living through the near-apocalyptic vision of Dr. Prowell — at least not yet — we are seeing a lot of complications, headaches, and inconveniences related to Omicron piling up, as the Associated Press detailed:
Ambulances in Kansas speed toward hospitals then suddenly change direction because hospitals are full. Employee shortages in New York City cause delays in trash and subway services and diminish the ranks of firefighters and emergency workers. Airport officials shut down security checkpoints at the biggest terminal in Phoenix and schools across the nation struggle to find teachers for their classrooms.

The current explosion of omicron-fueled coronavirus infections in the U.S. is causing a breakdown in basic functions and services — the latest illustration of how COVID-19 keeps upending life more than two years into the pandemic.

Medical facilities have been hit by a "double whammy," he said. The number of COVID-19 patients at the University of Kansas Hospital rose from 40 on Dec. 1 to 139 on Friday. At the same time, more than 900 employees have been sickened with COVID-19 or are awaiting test results — 7 percent of the hospital's 13,500-person workforce.
It's a similar story in a Wall Street Journal report about various U.S. hospitals, in which the number of beds available is shrinking because so many hospital workers have caught Omicron themselves. Those hospital workers are not in life-threatening condition, but they are either too sick to come in to work or cannot safely work around patients until the infection passes:
Staff shortages prompted the Mass General Brigham hospital system in Boston to keep 83 beds empty on Friday. The University Hospitals system in Ohio has closed as many as 16 percent of its intensive-care beds recently, while Parkland Health & Hospital System in Dallas has shut 30 of 900 beds.

"It's definitely a brutal situation," said Dr. Joseph Chang, chief medical officer at Parkland, which had more than 500 out of 14,00 employees out sick one recent day. . . .

Members of the Association of American Medical Colleges, a trade group for medical schools and teaching hospitals, report that 5 percent to 7 percent of employees are out sick with Covid-19, said Janis Orlowski, the association's chief health care officer.

"Those are big numbers when you're talking about staffing a hospital," Dr. Orlowski said.
Amidst this labor shortage, New York governor Kathy Hochul wants to fire any health-care worker who hasn't gotten a booster. Hochul announced on Friday that "all covered health care workers previously required to receive a COVID-19 vaccination under the Department's August 26th Emergency regulation must also now receive a COVID-19 booster dose within two weeks of becoming eligible, absent a valid medical exemption. Consistent with the August 26th Emergency Regulation, there is no test-out option."
This new edict probably won't see the wave of firings and dismissals that the vaccine requirement did, but it still seems spectacularly counterproductive for the state to be telling hospitals to fire employees during a surge of patients and a shortage of workers. Yes, it would be preferable if all health-care workers were boosted, and the percentage of workers who are vaccinated but not boosted is probably small. But as many of the vaccinated and boosted are learning, vaccinations and boosters don't stop you from getting infected. As Dan McLaughlin observed on Friday, "The entire conceptual framework of unvaccinated people being a risk to the vaccinated is obsolete with the Omicron variant, which spreads with as much ease between vaccinated people as unvaccinated."
On the Wall Street Journal op-ed page, Dr. Luc Montagnier, a winner of the 2008 Nobel Prize in Physiology or Medicine for discovering the human immunodeficiency virus, and Jed Rubenfeld, a constitutional scholar, argue that the circumstances used to justify vaccine mandates don't exist anymore:
As of Jan. 1, Omicron represented more than 95 percent of U.S. Covid cases, according to estimates from the Centers for Disease Control and Prevention. Because some of Omicron's 50 mutations are known to evade antibody protection, because more than 30 of those mutations are to the spike protein used as an immunogen by the existing vaccines, and because there have been mass Omicron outbreaks in heavily vaccinated populations, scientists are highly uncertain the existing vaccines can stop it from spreading. As the CDC put it on Dec. 20, "we don't yet know . . . how well available vaccines and medications work against it."
Prowell predicted that, "The idea that schools will manage to stay open in any meaningful way in January is a joke," and . . . that prediction is turning out to be a little too close to reality for comfort. Not every school in every community is struggling to stay open, but a lot of schools are wondering how many teachers and students can stay home sick before the whole endeavor isn't worthwhile.
The Washington Post lays out the numbers:
At least 5,225 schools were disrupted for at least part of this past week because of the pandemic, easily a record for the current school year, according to the data firm Burbio. Public schools in Atlanta and Detroit went completely virtual this week, while others, including in the D.C. suburbs of Montgomery County, Md., and Philadelphia, are making decisions on a school-by-school or class-by-class basis. Chicago Public Schools has shut down altogether because of failed union talks over coronavirus safety measures. And day cares around the country are closing for weeks at a time because of coronavirus outbreaks, worsening a long-simmering child-care crisis.
In a better, more reasonable country, school administrators could say, "We've got X percent of teachers out sick, and we've got Y percent of students out sick, and it's almost impossible to get any real education done in these circumstances. We're going to end up with two weeks of substitute teachers playing educational videos in front of half-empty classrooms. We're going to switch to virtual learning and online classes for the next two weeks, and everybody will come back, full-time, on January 24" or whatever circumstances fit. But parents would revolt, with good reason, because the last time we were told that schools would "close for two weeks in response to the continued spread of novel coronavirus, or COVID-19," schools remained closed for at least a year. School administrators who dragged their feet in reopening — because the teachers' unions apparently hate having their members show up for work anymore — wasted their trust and goodwill.
Speaking of squandered trust and goodwill, managing the Omicron variant is difficult enough without an administration and public-health leaders who keep saying the wrong things. This morning, Axios quoted a bunch of doctors and public-health experts who contend that the federal health agencies, particularly the CDC, may be squandering their credibility with usually receptive Americans. Dr. Leana Wen, CNN talking head and the former president of Planned Parenthood, offered the harshest assessment: "The CDC is facing a real crisis of trust. The primary problem is the policy and how insular [director Rochelle] Walensky has been in setting it. She and the others are great communicators, but no one can communicate a bad policy."
I'm not so sure Walensky counts as a "great communicator." This weekend on Fox News Sunday, Bret Baier tossed her a softball, giving her multiple opportunities to rebuke and correct Supreme Court justice Sonia Sotomayor's otherworldly contention that, "We have over 100,000 children, which we've never had before, in serious condition and many on ventilators." But it was like pulling teeth; Walensky clearly had no interest in speaking any critical word of Sotomayor, even though the justice was talking nonsense and wildly exaggerating the virus's risk to children.
Walensky also said that it would take several weeks to determine "how many of the 836,000 deaths in the U.S. linked to Covid are from Covid or how many are with Covid." That's an important distinction! How is it that the CDC doesn't have, at minimum, a ballpark figure for that?
ADDENDA: In case you missed it yesterday, the Washington Post's editorial board wants to institute mandatory national vaccine passports, which you would be required to show to go to school, use public transportation, or attend indoor events. Also, it wants to rebuild trust in public-health institutions. Strangely, it doesn't even seem to recognize that the lack of trust in public-health institutions makes enacting mandatory national vaccine passports impossible.
(It is also unconstitutional, as Charlie Cooke reminds us. But I am struck by the absurdity of the thought process that concludes, "We have to enact a 'papers, please' regime that will fundamentally alter American life and force Americans to regularly provide health information wherever they go, and THEN we need to restore public faith in the people enacting this policy.")
Up in New York City, they're still running public-service announcements urging people to go get tested for Covid-19 "immediately if you have symptoms, and before and after travel and gatherings." I guess these commercials were taped back when people could find Covid tests on store shelves, huh?
If you had an easy time getting a booster, good for you. I went looking for an appointment for my older son Saturday morning on the Vaccine Administration Management System and found that every site in a 50-mile radius was booked up until Monday. Occasionally, a particular site would say appointments were available, but then when I clicked through, it would say that no appointments were available until Monday. We ended up just driving around to pharmacies, and the second one we went to, in a Safeway supermarket, said they could fit us in. This weekend, a lot of people seemed to think the point of the story is that Jim is a Nervous Nellie or Jim is exaggerating the difficulty of finding a booster shot. No, the point is that two years into a pandemic, we're still being told to use glitchy websites that do not accurately say which places actually can give people vaccines on a particular day.