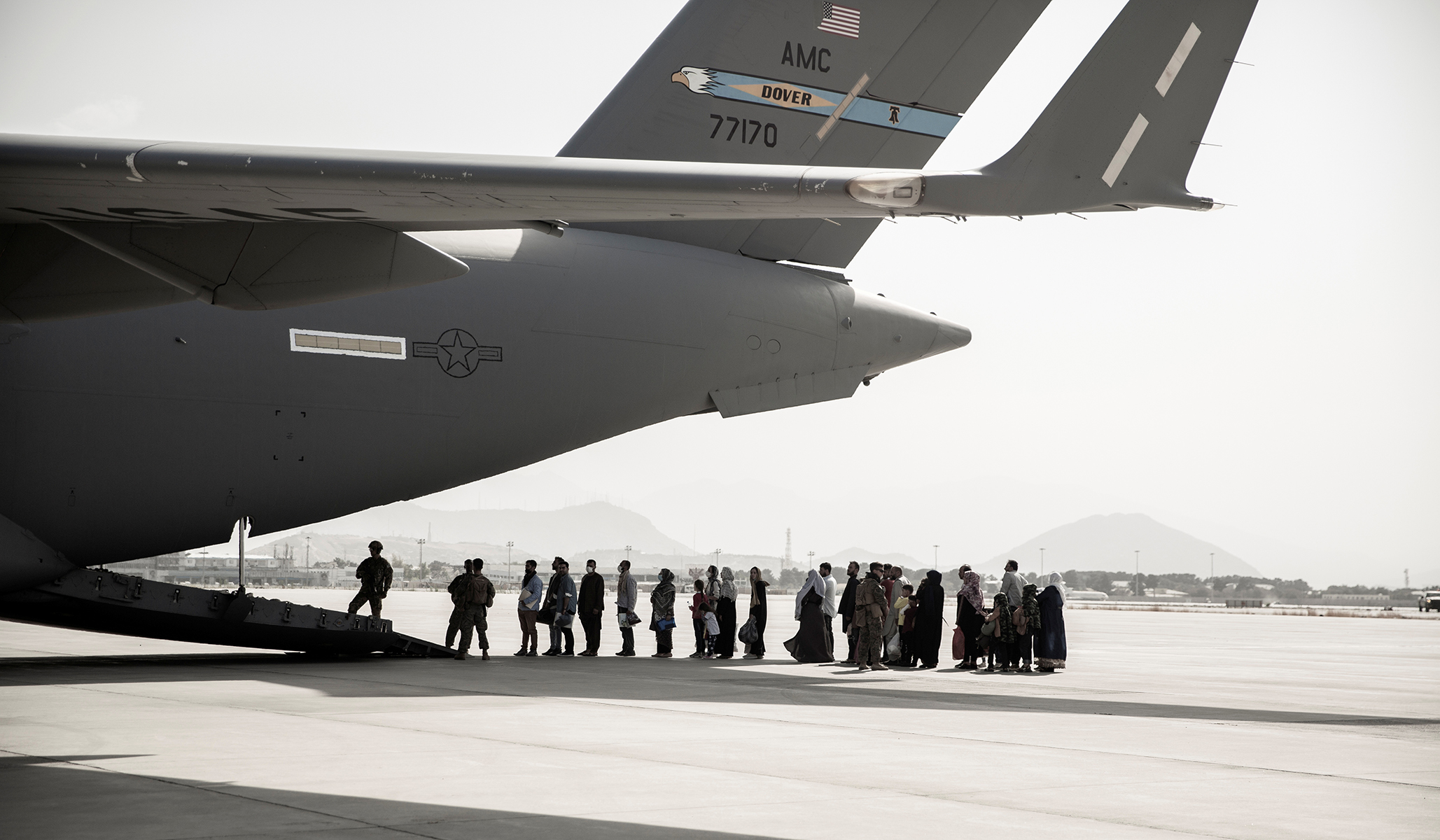 On the menu today: Mark Thursday, September 2, down as the day that vast swaths of the U.S. national media turned their attention away from the ongoing crisis in Afghanistan, and the Americans stranded there, and returned to familiar and safe news stories. The international news organizations still covering the country paint a picture that gets uglier and uglier. Meanwhile, Vermont offers a good example of why a rise in COVID-19 cases is not necessarily a public-health crisis.
America's Biggest Media Institutions Turn Away from Afghanistan
Today is the day that the U.S. media begins its pivot away from Afghanistan. The front page of the New York Times features Hurricane Ida's rains hitting New York City, and the Supreme Court's declining to block Texas's new abortion law. Those are the same two top stories at the Washington Post, CNN, the Wall Street Journal, and USA Today.
The lead story at MSNBC is, "What Jim Jordan's phone call to Trump on Jan. 6 reveals about the GOP." A top item on Memeorandum this morning was the Times story, "Joe Rogan, A Podcasting Giant Who Has Been Dismissive of Vaccination, Has Covid." After the Texas law, the second story on NPR's home page is "These Students Grew Up Around Gun Violence. They Decided It Was Time To Talk About It." The Los Angeles Times home page focuses on the South Lake Tahoe wildfire and the California gubernatorial-recall election; you have to go way down the page to find any news about Afghanistan. Nor are the more Washington- and politics-focused publications still focused on Afghanistan. As I write this, the top item on Axios is, "Private companies are changing who gets to go to space" and the top story on Politico is, "How Covid data gaps allowed Delta to proliferate."
The hurricane's damage to the New York City area, the Texas abortion law, the continuing effect of the pandemic, and the California wildfires and recall election are big stories, no doubt. But you can almost hear the sigh of relief in big-city newsrooms as the news cycle returns to "normal." We've had about two weeks of brutal coverage for the Biden administration, from which any fair-minded observer could only conclude the withdrawal was a debacle and that Biden's statements rarely matched the facts on the ground. For any Democrat, this was an intensely uncomfortable experience. But the people with the loudest voices in the national media clearly have concluded that the past two weeks have been enough. Keeping our attention on Afghanistan, and watching the Taliban's brutal rule of death, might make our national shame intolerable. So it's time to go back to familiar stories about how bad Jim Jordan is and Joe Rogan is Texas pro-lifers and gun owners are. The mostly urban and blue-state audience for these news organizations like hearing how much more sophisticated and morally superior they are to Republicans.
Because think about what we would have to look at if we kept our attention on Afghanistan . . .
What Is Actually Happening in Afghanistan
The U.S. estimates it left behind the majority of Afghan interpreters and others who applied for visas to flee Afghanistan, a senior State Department official said on Wednesday." An estimated 100,000 Afghans were eligible for relocation; on Friday, Pentagon press secretary John Kirby said the U.S. had evacuated 7,000 Special Immigrant Visa applicants to the U.S., suggesting that roughly 93,000 Afghans who should have been evacuated are now stranded in the country and hiding from the Taliban, or attempting to get to the border.
Even in the final days of Washington's chaotic airlift in Afghanistan, Javed Habibi was getting phone calls from the U.S. government promising that the green card holder from Richmond, Virginia, his wife and their four daughters would not be left behind.

He was told to stay home and not worry, that they would be evacuated.

Late Monday, however, his heart sank as he heard that the final U.S. flights had left Kabul's airport, followed by the blistering staccato sound of Taliban gunfire, celebrating what they saw as their victory over America.

"They lied to us," Habibi said of the U.S. government. He is among hundreds of American citizens and green card holders stranded in the Afghan capital.
The AP also offers an update on the efforts to get the remaining members of the Afghanistan national girls' soccer team out of the country: "There have been at least five failed attempts to rescue the girls in recent days, as they were moved around for their safety, McCreary and Muhtaj said. They were 'footsteps from freedom' when the suicide bombing occurred, Muhtaj said. Complicating the rescue effort is the size of the group — 133 people, including the 26 youth team members as well as adults and other children, including infants. Many don't have passports or other necessary documentation to board flights from Kabul."
"Asel and many of her international team-mates are in hiding. Asel isn't her real name. In Kabul members of the Taliban have already come looking for Afghanistan's women's cricket team. "Every woman playing cricket or other sports is not safe right now," she says. "The situation is very bad in Kabul."
"The UN has warned that its food stocks in Afghanistan could run out by the end of the month, as the country braces for a looming economic meltdown and humanitarian crisis in the wake of the Taliban's seizure of power. Ramiz Alakbarov, the UN's deputy special representative for Afghanistan, said most children younger than five faced severe malnutrition, while a third of the population was already going hungry. The international body warned that millions of Afghans were in danger of starvation."
The EU has "learnt the hard way" from the Afghanistan crisis about the need to build up its own defense capabilities and develop the "attributes of hard power", Brussels' commissioner in charge of defense industry issues has said. … [Thierry] Breton insisted the EU is not talking about replacing NATO, but rather complementing it in areas where the alliance is less active, adding that the US decision to pull out of Afghanistan had been 'pretty difficult' for some European states that were not consulted.
Thousands of people destined for Canada remain in hiding from the Taliban in Kabul, waiting and hoping for a way out of Afghanistan.

"We left homes, you know, we left our province, our cities, and we're just now stuck in Kabul, and the only hope that we have is that the Government of Canada will eventually do something for us," an interpreter who worked for the Canadian Armed Forces told CTV National News.

Foreign Affairs Minister Marc Garneau confirmed Tuesday that about 1,250 Canadian citizens, permanent residents and their family members were left behind in Afghanistan.

"Stay put, because the situation at this point is uncertain," he said. "We're trying very hard to get the Taliban to agree to allow people to leave safely."
That's odd. President Biden assured us the Taliban were "cooperating, letting American citizens get out, American personnel get out, embassies get out, etcetera."
These are news stories with life-and-death consequences, whose outcome is not yet determined, but apparently they just aren't as interesting as Joe Rogan's getting COVID-19.
Apparently, in America's newsrooms, Afghanistan "was four days ago, five days ago!"
Vermont's COVID-19 Cases Increase 23-Fold in Two Months
We shouldn't get that worried about a sudden increase in cases of COVID-19 in a state, as opposed to a sudden increase in COVID-related hospitalizations or deaths.
Take Vermont, a small, largely rural state with just 643,503 people according to the most recent census — fewer people than the combined total of six sellout crowds at Michigan Stadium. By every measurement, this is a state that just doesn't have a lot of people in it. The state capital of Montpelier is the least-populous state capital in the country; the state's most-populous city, Burlington, has fewer people than any other state's most-populous city.
Having an exceptionally small population makes it a lot easier for a state to get a high percentage of its residents vaccinated. Vermont has fully vaccinated almost 68 percent of its total population — which, remember, includes kids eleven and younger who can't get vaccinated. 76.2 percent of all Vermonters have received at least one dose of a COVID vaccine, a figure that rises to an astounding 86.2 percent when you exclude those eleven and under.
And yet, in the past two months, the number of COVID-19 infections in Vermont has increased 23-fold. On July 6, Vermont had just 114 active cases of COVID-19 across the whole state. As of August 31, that number had risen to 2,668.
And even so, because so many Vermonters are vaccinated, the state is doing okay. During the same period between early July and the end of August that saw COVID cases in the state rise 23-fold, COVID-related deaths in the state increased by . . . 18. Only 29 people in Vermont are currently hospitalized with COVID-19, and only eight are in the ICU.
In that same period, the number of cases in the U.S. as a whole nearly doubled. On July 6, the U.S. had 4.7 million active cases of COVID-19. As of August 31, that number had risen to 8.4 million. Back on July 6, the seven-day moving average of new hospitalizations for COVID-19 nationwide was a manageable 2,094. It has increased six-fold since, to 12,240.
If your sense of how the pandemic was proceeding was based entirely on case numbers and the rate of increase, you would think that Vermont was doing much, much worse than the country as a whole — when in fact the opposite is true. The next time you see a chart showing the number of cases increasing, or a color-coded map showing cases increasing by state or county . . . keep in mind that a COVID-19 case is not necessarily worth worrying about; hospitalizations and deaths are what matter most.
ADDENDUM: Don Bentley offers a powerful piece on the Fifth Stanza of the U.S. Army Ranger Creed, and describes past missions to recover the remains of fallen comrades:
Why risk the living for the dead? The answer is as simple as it is profound. Because the dead were Americans, and we don't leave Americans behind.

Ever.

Except in Afghanistan, we just did.