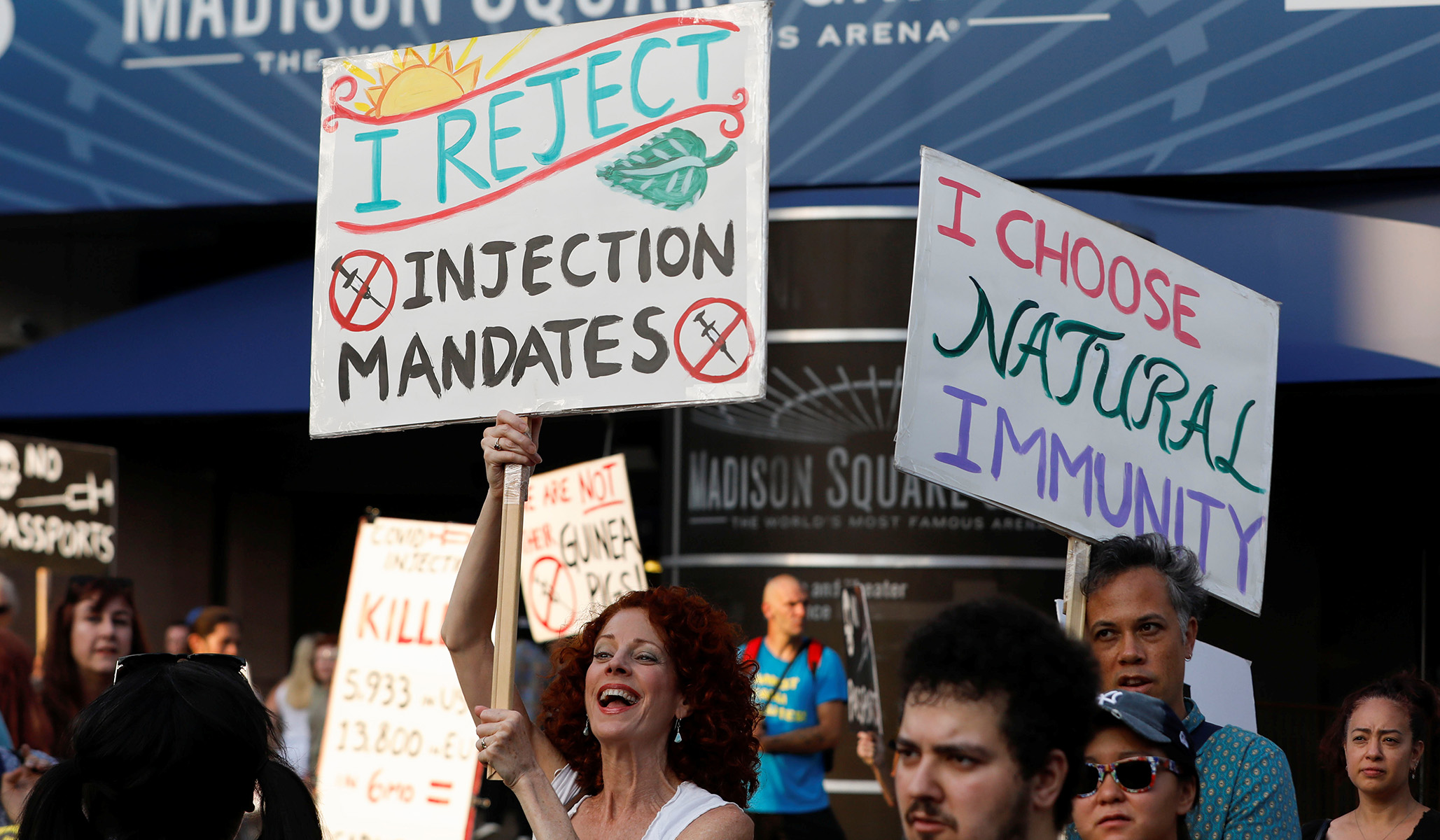 On the menu today: The percentage of Americans who are vaccinated is probably higher than you think, and the group of Americans who are at risk to succumbing to COVID-19 remain those who are at least in their mid 40s, if not senior citizens, and those who have health risks due to high blood pressure and diabetes. We would be much better off focusing all of our efforts on getting shots into those remaining high-risk Americans instead of pressuring companies to fire healthy 20-somethings who are vaccine-hesitant.
America's Vaccination Standings
As of this morning, 93.2 percent of American's senior citizens have at least one shot, 76.5 percent of American adults have at least one shot, 74.6 percent of all eligible Americans — those twelve and up — have at least one shot, and 63.8 percent of all Americans have one shot.
Some people prefer to measure our vaccination efforts by the percentage of demographic groups that are fully vaccinated, which is usually about ten percentage points lower. But as of July, one dose of Pfizer or Moderna is at least 80 percent effective against symptomatic infection, and close to 100 percent effective against hospitalization and death. Those who get the Johnson & Johnson vaccine are considered fully vaccinated two weeks after the shot. If we could get everyone in America who is eligible to take just one dose, we would be in really great shape against this virus.
The problem with the lament that, "Just 54 percent of Americans are fully vaccinated!" is that it includes 50 million American children who cannot get vaccinated, and it lumps people who have one shot and are waiting to get their second shot into the "unvaccinated" pile. People who have gotten one shot are obviously not vaccine-hesitant or anti-vaxxers, and in some rare cases, people will have a severe reaction to the first shot and choose not to get a second one, for medically sound reasons.
The good news is that a higher percentage of the public has at least some protection against the virus than the doomsday rhetoric about the vaccine hesitant would suggest.
According to the latest data posted on Worldometers, the number of active COVID cases in the U.S. surpassed 9,700,000 on Sunday, which is higher than the previous high of just over 9 million back on January 24. But cases are no longer the useful measurement of this pandemic. Fully vaccinated people can catch the virus, and the vast majority of cases will be mildly symptomatic.
No, the really bad news is that 2,085 Americans succumbed to COVID-19 on Tuesday, 2,934 on Wednesday, 2,017 on Thursday, and 1,938 on Friday. The death toll is creeping up, thousands per day, even with large swaths of the American public already having their shots.
Deaths from COVID-19 remain overwhelmingly concentrated in senior citizens — 77 percent, as of September 15, with another 19 percent among those ages 45 to 64; just 3.3 percent of COVID-19 deaths in the U.S. since the start of the pandemic are under age 45. CDC data indicate that 47 percent of those who died had influenza and pneumonia listed as comorbidities on their death certificates, 19.3 percent had hypertension (high blood pressure), 15.8 percent had diabetes, 12.5 percent had Alzheimer's and other dementias, and 9.7 percent had sepsis.
The bad news about 93.2 percent of American senior citizens' having received at least one shot is that there are still about 3.6 million out of the nation's 54 million or so senior citizens unvaccinated.
In August, the New York Times noted that while most seniors are vaccinated, the country still has plenty of pockets of unvaccinated seniors who rank among those most likely to succumb to COVID-19. Older people still account for most COVID-19 deaths, and in many counties, especially in the South and Mountain West, seniors without full vaccination make up more than 10 percent of the total population:
"We have swaths of populations in counties who are healthy Americans, over 60, who are not vaccinated," said Claire Hannan, executive director of the Association of Immunization Managers. "These people are at extreme risk, and they don't realize it."
If the primary objective of our COVID-19 policies is to avert preventable deaths, we would be better off on a vaccination campaign that focused on those still unvaccinated who are over age 45, and particularly on those with high blood pressure or diabetes. Pressuring companies to fire healthy 20-somethings who are vaccine-hesitant is not really going to get us where we want to go.
Despite the oft-repeated fear that unvaccinated Americans are potential incubators for a mutation that is resistant to vaccines, the same risk exists in unvaccinated people all around the world. As much as vaccinated Americans like to fume about unvaccinated Floridians or Alabamans, the next dangerous variant is more likely to emerge in a country with exceptionally low vaccination rates, such as Indonesia, Pakistan, or Nigeria. This week's United Nations General Assembly will take up that issue for getting more doses to third world countries, but don't hold your breath while waiting for a sudden burst of international cooperation.
On the home front, getting America's remaining senior citizens vaccinated would go a long way toward preventing deaths through the autumn and winter.
While there is intense interest in vaccinations for children ages eleven and under, and Pfizer announced this morning that the latest rounds of testing on children ages five to eleven found that its vaccine is "safe, well tolerated and showed robust neutralizing antibody responses." Moderna is expected to release similar results later this fall.
But most children have mild responses to SARS-CoV-2. Among 49 states reporting data, "Children ranged from 1.6 percent to 4 percent of their total cumulated COVID-19 hospitalizations, and 0.1 percent to 1.9 percent of all child COVID-19 cases resulted in hospitalization." A massive vaccine drive among America's children will put a lot of parents' minds at ease, but will not really impact the hospitalization-capacity issues, and will not have much impact on the death numbers of this pandemic.
Speaking of parents who overestimate the risk of COVID-19, Michael Brendan Dougherty offers advice that will fall on deaf ears, but should be heeded by every school board from Bangor to Bakersfield:
If my kid coughs on you, you'll live. I promise. I know because I try to avoid masking them whenever I can. And you would know them by the trail of the living behind them. . . .

There is evidence everywhere — if only the authorities would consult it — that children are not efficient transmitters of COVID-19. A study of 150 schools in the U.K. showed that we do not have to quarantine students who come into contact with other COVID-positive students. We can just test them, and so long as they stay negative, they don't spread the coronavirus to their classmates. I expect that even the testing regimen will begin to go away in Europe.

Young unvaccinated children are in far less danger from COVID than vaccinated adults are. The adult world is starting to allow itself more and more events without anti-COVID interventions, so of course we should allow the same for children. Then again, at the Met Gala and in many restaurants around the world, masks are becoming a de facto class signifier. Servers are expected to wear them because masks signal their commitment to keep the clientele safe. But the patrons don't have to wear them, presumably because they are paying. If the images of masked servants make us step back in disgust, so should images of masked children standing aside unmasked adults.
Our public policies on risk-mitigation are set, in large part, by the people who have the lowest tolerance for risk.
ADDENDUM: I had a chance to discuss the state of the National Rifle Association, the sinking of President Joe Biden's ATF Director nomination, and the political mood of the country with Stephen Gutowski of The Reload. Give it a listen.