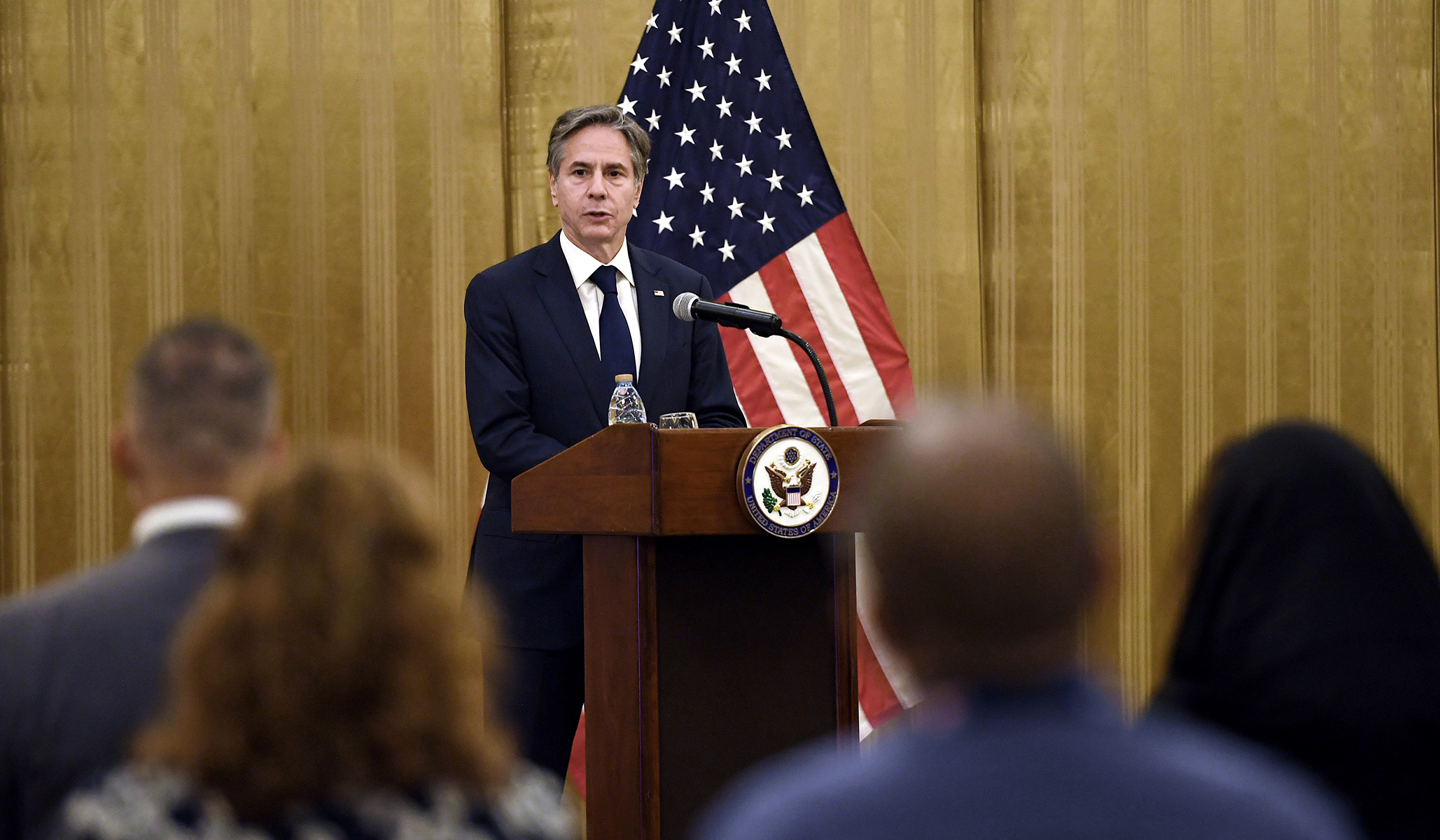 I was prepared to begin every Morning Jolt by noting that, "At least one hundred American citizens, an unknown but considerable number of U.S. green-card holders, and more than 100,000 Afghan allies who qualified for Special Immigrant Visas remain trapped in Afghanistan, despite the president's promise that, 'If there's American citizens left, we're gonna stay to get them all out,'" and to put those words in every Morning Jolt until those people came home. But there's a little good news for at least a handful of Americans left in Afghanistan this morning. Elsewhere, Secretary of State Blinken now says that the Taliban won't let Americans leave Mazar-e-Sharif; my reader fumes that the Biden administration has thrown Americans and Afghan allies into a faceless and unaccountable bureaucracy; and it's fair to wonder if Chuck Schumer has been test-driving a particularly implausible bit of political spin.
Antony Blinken: On Second Thought, Maybe This Is a Bit Like a Hostage Crisis
Yaroslav Trofimov and Dion Nissenbaum, reporting from on the ground in Kabul for the Wall Street Journal, bring news of at least one small step in the right direction: "Afghanistan's Taliban authorities are allowing some 200 Americans and other foreign citizens to leave the country on a flight to Qatar scheduled for Thursday, the first such departure by air since U.S. forces withdrew last month, Qatari and American officials said."
But they warn that, "The flight planned for Thursday doesn't address the issue of tens of thousands of Afghans at risk who haven't been able to leave the country during the U.S.-led airlift." And that Qatar Airways Boeing 777 is in Kabul, ready for foreigners staying in a nearby hotel — separate from the groups of foreigners who are trying to get out on charter flights in Mazar-e-Sharif.
Trofimov and Nissenbaum report that, "For more than a week, about 100 Americans and hundreds of at-risk Afghans looking to flee the country have been waiting in the northern Afghan city of Mazar-e-Sharif on a deal to allow them to fly out on charter flights. Mazar-e-Sharif's international airport hasn't been damaged. These negotiations have been bogged down, thwarting the efforts."
Two days after declaring that he was not aware of any "hostage-like situation," Secretary of State Antony Blinken changed gears during an appearance in Germany and declared that the Taliban was not allowing charter flights of Americans, green-card holders, and Afghan allies to leave.
"As of now, the Taliban are not permitting the charter flights to depart," Blinken said. "They claim that some of the passengers do not have the required documentation. While there are limits to what we can do without personnel on the ground, without an airport with normal security procedures in place, we are working to do everything in our power to support those flights and to get them off the ground. . . . We've made clear to all parties — we've made clear to the Taliban — that these charters need to be able to depart, and we continue every day, virtually every hour, to work on that."
The fact that so few Americans have left the country in the past ten days by plane or land route indicates that this is not merely a matter of the remaining Americans in the country procrastinating. The Taliban is breaking their worthless promises and will not let them leave, and U.S. policy is only catching up, more than a week late.
On August 31, White House press secretary Jen Psaki declared that, "We have enormous leverage over the Taliban, including access to the global marketplace, and that's no small piece of leverage."
Psaki's comment always seemed like a classic example of "mirror-imaging" — erroneously assuming that what is important to officials in Washington is also important to foreign leaders. The Taliban have always believed that young girls who go to school deserve to have their faces scarred with acid. They burn down schools that teach girls. They're whipping women who dare come out into the street and protest. They're severely beating journalists who cover those protests. The Hazara ethnic minority is desperately trying to leave the country, fearing that the Taliban will carry out a full-scale genocide at the first opportunity.
Just how much do you think the men who make up the Taliban care about "access to the global marketplace"? Are members of the Taliban acting like they desperately want access to the "global marketplace"?
If "access to the global marketplace" isn't really the "enormous leverage" that the Biden administration thinks it is, what else is the administration willing to do to get stronger leverage over the Taliban? Or is it comfortable with a worsening situation where it has so little leverage?
'He's Thrown Everyone into a Faceless Unaccountable Bureaucracy'
I reached out to my reader who's trying to get his company's former employees out of Afghanistan. (For background on this reader and his efforts, see here, here, here, here, here, here, and here.)
"Time is running out," my reader began. "The weather will be closing and winter in the north will be brutal in a broken economy. Kabul was a disaster in the winter when we were there providing billions in aid and support. Can you imagine what it will be like with us completely gone and the Taliban in charge?"
Two days ago, a United Nations spokesperson warned that, "Basic services in Afghanistan are collapsing and food and other lifesaving aid is about to run out."
"I can't give [a] detailed status [report] other than to say none of my guys made it out yet," my reader reported. "It's so bad for these guys and their families. They followed the rules. They did as the State Department instructed. And now, they are left behind and State is making a horrible situation worse. There are multiple evacuation groups working loosely but in concert. To be sure, the contractors we are working with are exasperated and angry — but they are holding their tongues out of deference to the mission and the safety of the passengers. Lashing out publicly at [the] State Department, even though well-deserved, can backfire."
My reader suspects that the Taliban's claims about the need for "travel authorizations" are a paper-thin cover for their malevolent intentions.
"If there is somebody on the list they are looking for, you can bet their 'papers will not be in order' and they will not be permitted to leave," he warns. "Imagine if you are a former Afghan government official, ANA member, or someone known to have worked on U.S. military projects. You want your name on a list given to the Taliban?"
The prospects for getting out over land are challenging. "Borders are closed to the north," my reader says. "Trust me, they will magically open, once the northern countries get the U.S. government and U.N. money and benefits, as they seek to handle a crush of refugees. But that will take months to negotiate and build out. Even the Qatari border is closed to Afghans [for those attempting to fly to Qatar]. No one can fly commercial into Qatar from Afghanistan because of COVID protocols. Qatar was allowing the private evacuation flights into their air space to the U.S. military base, provided travelers were contained on the base or in transit to another destination out of the country."
My reader also laid out another glaring sign of how unprepared our government was for this crisis. "If [the] Biden administration really wanted to help, [the Departments of Defense] and State would be ordered to continue to support a refugee evacuation operation from Al Udeid Air Base in Qatar. Have you heard such an order from Biden or Austin? Me neither. DoD will tell you that is not their mission, and the air base is not equipped to handle it — and they're right. They temporarily ran it there out of hangars and 'wedding tents.' Al Udeid is a 'point of the spear' operation bristling with war fighters and weapons — not designed for humanitarian aid."
Stars and Stripes characterized the air base as "running on fumes" as it dealt with Afghanistan operations, back on August 24.
"I assure you, DoD would rather the State Department, USAID and the United Nations handle it," my reader concluded. "When Austin says the DoD will support the DOS, that really means, 'we're not doing anything unless the Commander-in-Chief orders us.' As far as Biden is concerned, this is now an administrative matter being led by the State Department. He's thrown everyone into a faceless unaccountable bureaucracy."
Chuck Schumer Test-Drives an Implausible Spin Effort
Yesterday on the Three Martini Lunch, Greg Corombos and I discussed Senate majority leader Chuck Schumer's flat-out false statement to a Syracuse television station: "I'm still focused on trying to get some of those brave Afghans out. The Americans, all of whom wanted to come out have come out, praise God."
In a pleasant surprise, quite a few mainstream-media fact-checkers broke out of their habit of fact-checking anonymously created Facebook memes and insisting that the value of the U.S.-made military equipment seized by the Taliban is only $24 billion, not $85 billion, and bothered to point out that the Senate majority leader was lying. FactCheck.org, PolitiFact, CNN's Daniel Dale, and even Glenn Kessler roused themselves to say it was wrong — and Schumer's spokesman issued a statement that he "misspoke."
I don't buy that it was an innocent slip of the tongue, though. Schumer said it casually and matter-of-fact, as if everybody knew that all of the Americans who wanted out of Afghanistan had gotten out. It is fair to wonder what Schumer was briefed on by the administration, and whether administration officials are giving him inaccurate happy talk behind closed doors. But we saw this spin coming back on August 24, when the administration kept emphasizing that it would get out everyone who "wanted" to get out, implying that a significant number of Americans wanted to stay. The easiest way to hand-wave away a catastrophic failure and a broken promise is to pretend that the Americans who are currently trapped in the country just never wanted to leave.
ADDENDUM: President Biden, August 20: "Look, let's put this thing in perspective. What interest do we have in Afghanistan at this point, with al Qaeda gone? We went to Afghanistan for the express purpose of getting rid of al Qaeda in Afghanistan as well as — as well as — getting Osama bin Laden. And we did."
The AP, today: "U.S. Defense Secretary Lloyd Austin said Thursday the al-Qaida extremist group that used Afghanistan as a staging base to attack United States 20 years ago may attempt to regenerate there following an American withdrawal that has left the Taliban in power."
He's President Mr. Magoo — he just doesn't see things!