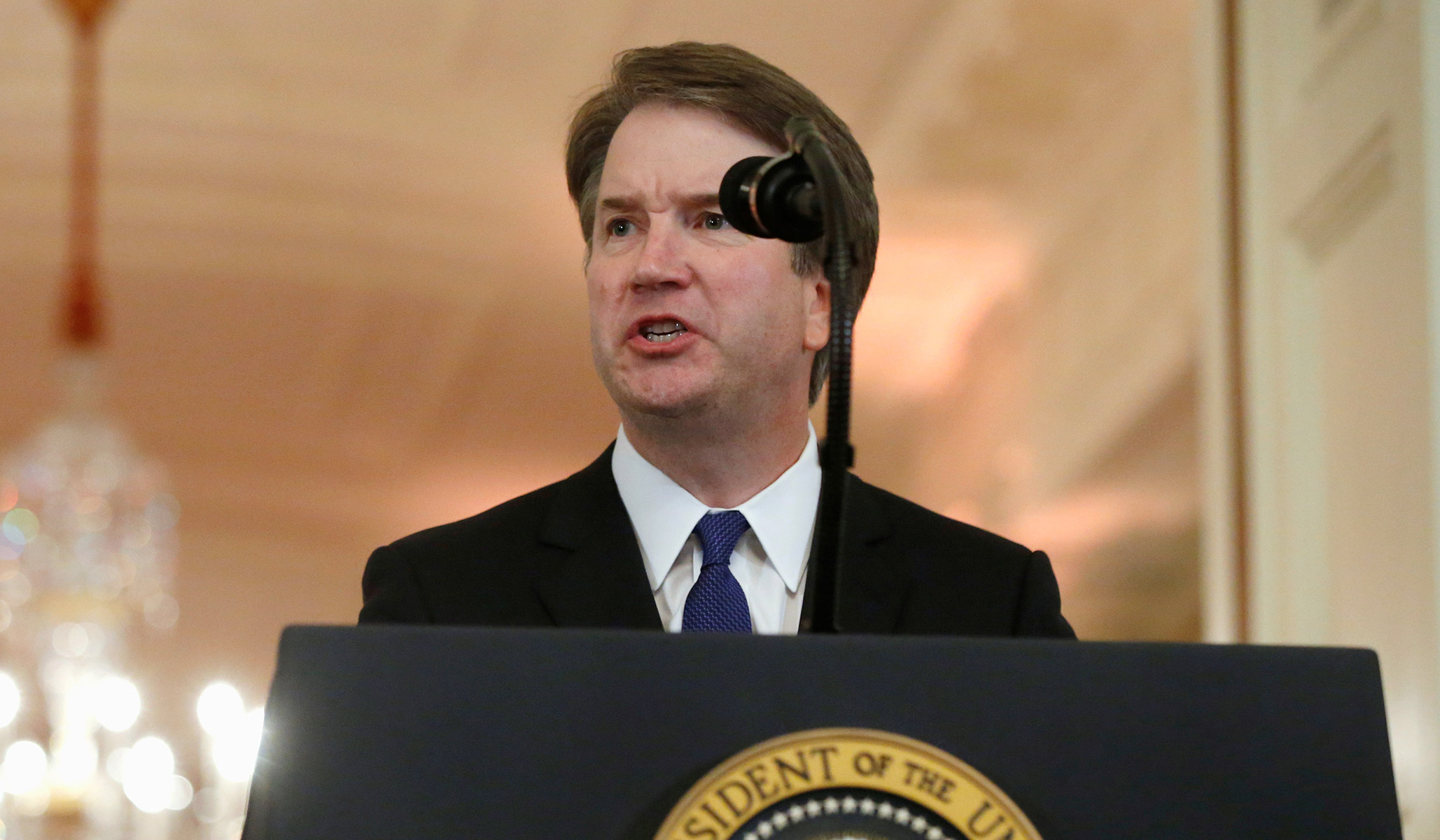 Brett Kavanaugh is a fine pick for the Supreme Court.
Yes, Amy Coney Barrett might have triggered a clarifying culture war Ragnarök. Yes, at 53, if confirmed, Kavanaugh will probably be on the Court until "only" the 2040s.
Yes, some Democrats will point to Kavanaugh's work with Ken Starr and his role in investigating the suicide of Vince Foster and attempt to demonize him with those long-ago tawdry chapters of presidential history. Yes, Kavanaugh is "establishment" in the sense that he worked on the Florida recount and in the Bush White House. Yes, twelve years on the D.C. Circuit Court mean he has a lot of rulings, and modern young progressive activists will attempt to pick out whichever ones seem surprising and paint him as some sort of cross between Torquemada and Pontius Pilate.
(Of course, that assumes modern young progressive activists know who Torquemada and Pontius Pilate are. They're probably going to pick malicious authority figures from Harry Potter and The Hunger Games, aren't they?)
But just about everybody in the conservative legal and policy community was doing cartwheels over the selection.
Douglas Johnson, senior policy adviser to National Right to Life: "Judge Kavanaugh's record, viewed as a whole, indicates a willingness to enforce the rights truly based on the text and history of the Constitution, while otherwise leaving policymaking in the hands of elected legislators. Kavanaugh is exceptionally well qualified to sit on the U.S. Supreme Court — and like Neil Gorsuch, he will be subjected to a smear campaign by those on the Left who are addicted to the imposition of social policy by judicial decree."
Susan B. Anthony List president Marjorie Dannenfelser: "President Trump has made another outstanding choice in nominating Judge Brett Kavanaugh to replace Supreme Court Justice Anthony Kennedy, keeping his promise to nominate only originalist judges to the Court. Judge Kavanaugh is an experienced, principled jurist with a strong record of protecting life and constitutional rights, as evidenced by his opinions in Garza v. Hargan and Priests for Life v. HHS."
Chris W. Cox, executive director, NRA-ILA: "President Trump has made another outstanding choice in nominating Brett Kavanaugh for the U.S. Supreme Court. He has an impressive record that demonstrates his strong support for the Second Amendment. . . . We urge the Senate to swiftly confirm Judge Kavanaugh to the U.S. Supreme Court, just as it confirmed him to the U.S. Court of Appeals for the District of Columbia Circuit."
Stephen Law, president of One Nation (one of Karl Rove's groups): "Judge Brett Kavanaugh is a constitutional conservative in the same tradition of Justice Kennedy and Justice Gorsuch. We applaud President Trump for the careful consideration he has given to this nomination, and are disappointed by those senators who pre-determined their opposition to the President's nominee before knowing who it was."
Judicial Crisis Network just launched ConfirmKavanaugh.com, which will soon offer probably more than you ever wanted to know about the life and work of Brett Kavanaugh.
The editors of National Review are cheery this morning: "Brett Kavanaugh, President Donald Trump's new nominee for the Supreme Court, is a whip-smart legal conservative. As a judge in the highest-profile appeals court in the nation, he has shown an exemplary dedication to the rule of law. He has defended the separation of powers against threats coming from multiple directions. He has repeatedly cautioned his colleagues on the bench not to attempt to play a legislative role. He has also insisted on enforcing constitutional structures of accountability on government agencies. He has vindicated the right to free speech (against certain campaign-finance regulations), to bear arms (against the D.C. government's attempts to implement sweeping bans), and to religious liberty (against a version of the Obama administration's 'contraceptive mandate'). And he has followed Supreme Court precedents even when gently suggesting they should be rethought."
Before the selection, I thought David French offered the most even-tempered cautionary note, laying out the two decisions by Kavanaugh that troubled him. Last night he concluded that while he'll proudly defend Kavanaugh, he has a slight sigh of regret: "Over time, I think he'll prove to be a solid (and perhaps even excellent) pick. And, over the next several weeks, we'll see an avalanche of progressive attacks, many of them labeling even his best and most rigorous opinions 'extremist' or 'dangerous.' Kavanaugh will be an easy pick to defend. But it's simply a fact that tonight my inbox is lighting up with responses — many of them from Trump supporters — expressing a sense of regret."
Mike Allen, who writes that other morning newsletter: "He delivered what he promised, as he promised, on the one thing most Rs care most about."
The Early Line on the Confirmation Fight
Patrick Morrisey, the Republican nominee for U.S. Senate in West Virginia: "This evening, Senator [Joe] Manchin snubbed President Trump's invitation to the White House, lining up with Chuck Schumer and Washington liberals. I hope Senator Manchin will drop the act and put aside the interests of the Washington Democrat establishment, and do the right thing for the people of West Virginia. The men and women of West Virginia urge Senator Manchin to stand up for the Constitution, and our West Virginia conservative values, and support the nomination of Judge Kavanaugh to the U.S. Supreme Court."
Manchin voted for Neil Gorsuch.
Representative Kevin Cramer, the GOP nominee for Senate in North Dakota: "[Kavanaugh's] temperament, academic background and past judicial experience more than qualify him to serve on the highest court in the land. I believe these characteristics and values match perfectly with the expectations of the majority of North Dakotans and for these reasons, I support his nomination and strongly encourage our North Dakota Senators to unite in support of this outstanding nominee. This is a winning pick for North Dakota and deserves our two votes."
His opponent, Democrat Heidi Heitkamp, also voted for Neil Gorsuch. It's a similar story for Indiana senator Joe Donnelly.
"I am sure Senator Donnelly will eventually say that he will vote for him, because it is an election year," said Indiana GOP Senate candidate Mike Braun. "But I can immediately say without hesitation that I would support this nomination and I hope the Senate moves quickly to confirm the President's choice."
Orrin Hatch, the longest-serving member of the Senate Judiciary Committee: "Judge Kavanaugh understands the proper role of the judiciary and will faithfully honor the Constitution. That's why I will lift heaven and Earth to see that he is confirmed."
Unsurprisingly, Democratic senators and progressive activists insist that Brett Kavanaugh is history's greatest monster.
Twenty minutes after the nomination, California senator Kamala Harris announced she would vote "No," declaring that Kavanaugh "represents a direct and fundamental threat to the rights and health care of hundreds of millions of Americans." Her fellow Californian Dianne Feinstein insisted, "Brett Kavanaugh's views are far outside the mainstream when it comes to health care, executive power, privacy and gun safety."
The Women's March was furious about the nomination of "XX" to the court.
What Do Voters in States with High-Stakes Senate Races Think?
The Susan B. Anthony List commissioned a poll of registered voters in Florida, Indiana, Missouri, North Dakota, and West Virginia, and asked voters, "As you may know, Justice Kennedy recently retired from the Supreme Court. The President will appoint a replacement and the U.S. Senate will vote on that person. Do you think Senator [Nelson, Donnelly, McCaskill, Heitkamp, or Manchin: depending on the state] should vote to confirm President Trump's appointment to the Supreme Court?" (Note this poll is conducted before Kavanaugh was named.)
In Florida and Indiana, 56 percent of registered voters answered Yes. In Missouri, 57 percent of respondents said Yes, in West Virginia it was 59 percent, and in North Dakota it was all the way up to 68 percent.
ADDENDUM: Before the selection, Caleb Howe queried a bunch of conservative pundits about their predictions and preferences . . . sounds like most of us were hoping for Barrett!