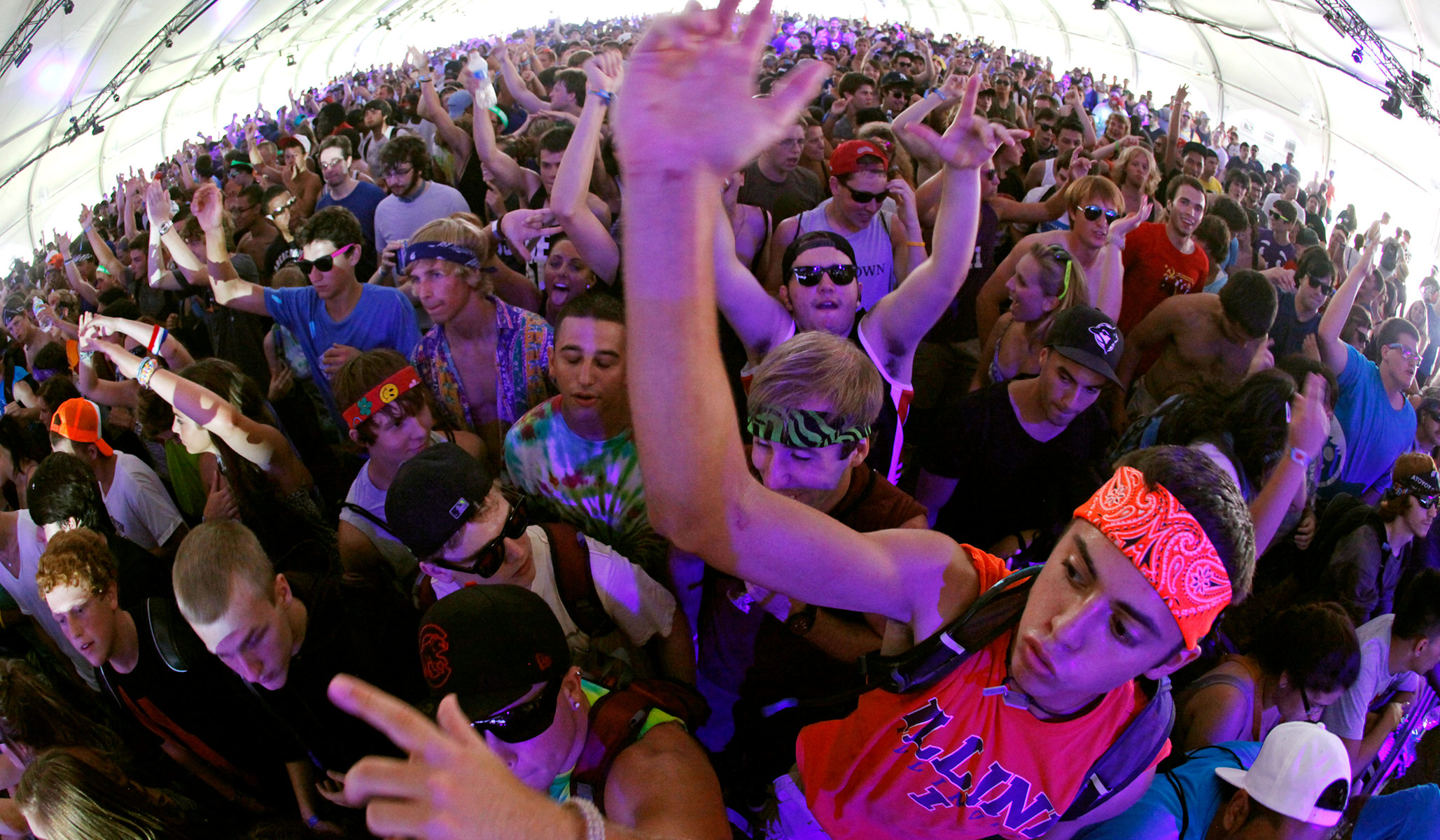 On the menu today: An alleged super-spreader event that . . . doesn't appear to have spread the virus all that much; why American political pundits get obsessed with small, under-discussed European countries; a glaring omission in Hunter Biden's memoir; and the country's big plans for Friday.
Wait, Wasn't Lollapalooza Supposed to Have Destroyed Chicago by Now?
The Lollapalooza music festival was held in Chicago from July 29 to August 1. The Chicago Sun-Times denounced the event as "unsafe" and "certain" to become "a super-spreader" — even though everyone who attended was required to show proof of vaccination or a negative COVID-19 test taken within the past three days. Upwards of 385,000 people attended at least one day of the four-day festival.
Here's the odd thing, though. This event, which was supposed to be a super-spreader, ended a week ago. The virus can incubate in a person for anywhere from two to 14 days. Eight days later, you would think we would be hearing about at least some calamitous consequences — large numbers of attendees testing positive for the virus, and perhaps even some attendees requiring hospitalization. City officials encouraged concertgoers to get themselves tested after attending. Keep in mind, the audience for these concerts is generally young people — and vaccinated young people are the demographic least likely to have a severe, or even symptomatic, reaction to infection.
According to the city of Chicago's data, in the four days before the festival began — July 24 to July 28 — Chicago had 984 new cases. During the four days of the festival, Chicago reported 1,039 new cases — about a 5 percent increase from the previous four-day span. And in the first four days after the festival ended — August 2 to August 5 — Chicago reported 1,251 new cases of COVID-19, about a 20 percent increase from the span during the festival. (I would compare it to later periods of time, but August 5 looks like the last day of full data on the city's website.) Someone could argue, "Egads! Increasing from 984 cases to 1,251 cases is a 27 percent jump!" And indeed it is . . . out of a city of 2.7 million people.
Among the demographic most likely to attend a music festival — those between the ages of 18 and 29 — there was a slight, irregular increase in the number of cases. Three days before the festival, 79 Chicagoans between 18 and 29 tested positive for COVID-19; the day after that, it was 73, and the day after that, it was 94. The day the festival ended, 50 Chicagoans between the ages of 18 and 29 tested positive for the virus. The day after that, it was 119; the day after that it was 113, and the day after that it was 84. Again — a slight increase, not a spike. And we don't know whether any of these individuals attended the festival, interacted with anyone who did, or lived nearby.
But there was no surge in hospitalizations in Chicago in the days after the concert began, and no surge in deaths. On August 3, Chicago Department of Public Health commissioner Dr. Allison Arwady said that any discernible rise in the city's figures was not because of the festival, and that it tracked with pre-festival rate of increase. Perhaps she was just trying to defend the city's decision to allow the concert to go forward. But so far, no one can point to concrete data of a surge of sick Chicagoans caused by the festival.
Looking at cases in the city is a crude measuring stick; many of the 100,000 or so daily attendees of Lollapalooza didn't reside in Chicago. The statewide figures are somewhat grimmer. According to data on Worldometers, Illinois had 6,259 new cases in the four days before the festival, 6,269 new cases in the four days during the festival, and 8,094 new cases in the four days after the festival. An increase of about 1,800 cases looks bad at first glance, but in a state with 12.6 million people, it's not easily noticed.
And while cases are rising, the state is nowhere near the point where local officials need to worry about hospital capacity. As of August 5, Illinois had 246 COVID patients occupying ICU beds — out of 3,176 ICU beds statewide. The state has about 1,200 COVID patients in hospital beds and about 7,700 open hospital beds statewide. Illinois is now averaging nearly 2,400 new cases diagnosed each day. And deaths did jump in the past week, from 39 to 64.
The upshot is that gatherings of vaccinated people and those with a recent negative COVID test are relatively safe — whether it's a four-day music festival with hundreds of thousands of people or a grand party for a former president with several hundred people.
It is likely that many people feel as if they ought to denounce large gatherings of any kind — a bit of rhetorical muscle memory from 2020 — but they don't feel there's any particular danger to themselves attending a large gathering. We may find no clearer example of this than the pop star Demi Lovato.
On August 2, Lovato posted pictures of the Lollapalooza crowd on her Instagram and fumed, "C'MON Y'ALL!!! THERE IS STILL A PANDEMIC HAPPENING!!!" Last night, six days later, Lovato joined the band All Time Low on stage in Anaheim, Calif., before an audience of 9,000 people, at a concert festival that did not require proof of vaccination or a recent negative COVID test.
Lost in a Crowd, and Hungary Like the Wolf
You may have noticed that with Tucker Carlson broadcasting his show from Budapest last week, a lot of people in politics who never wrote or talked much about Hungary before suddenly drew sweeping conclusions from Carlson's stunt — either as a sign that conservatives are embracing autocracy and authoritarianism, or that "right-of-center thought leaders who want to figure out how to resist effectively will be coming to Budapest to observe, to talk, and to learn." As Michael Brendan Dougherty put it, "I don't think most people commenting on Hungary know what they're talking about, and almost every foreign commentator is happy to be used by partisan actors in Hungary itself."
Regardless of what you think of the rest of Jonah's column on Friday, he's right that it's worth remembering that both the Left and the Right have these factions who choose to believe that some relatively under-discussed small country in Europe has got it all figured out. The American Left used to love Sweden and then moved on to other Nordic countries, and the American Right is now in love with Hungary. I'm sure you could find some other past examples of conservative odes to the simple traditional life in some European small towns.
Look at how Stanley Tucci offered this perfect romantic vision of rural Italian farmers, cheesemakers, vintners, and chefs on his CNN series, and compare that to Rod Dreher's 2002 "Crunchy Cons." It is tempting to believe that there's some place out there that has got it all figured out, where life is simple and enjoyable, the bonds of family and community are strong, the connection to the land and nature is palpable, and all the problems that we seem to have here in America just aren't factors in daily life. If we just do what they do, people think, we can live as happily as they do.
The thing is though, America has its rough equivalents of those bucolic little bergs; small towns where meth isn't a bad problem and crime is low. But every societal facet represents a trade-off. These romantic little corners of Europe usually have little or no economic dynamism, and limited job opportunities. Their seemingly happy families have the same familiar story of young people who want something more than what their fathers and mothers did for a living, and who look to the big city for excitement and something new. This isn't a unique feature of American capitalism or materialism; this is human nature.
But even if some corner of Hungary or Sweden or Denmark or Italy had built itself into a little slice of heaven, what worked for them, then and there, is not likely to work for the entire United States with our extraordinary political, economic, social, and cultural diversity from coast to coast. This exercise is something of a fool's errand, looking at some other place through rose-colored glasses, often that of a tourist and not as a resident, and believing that good outcomes are easily replicated from country to country and culture to culture.
If You Don't Want the Scrutiny, Don't Write the Memoir
Boy, did this set off a stir yesterday. All I'm going to say is that if Hunter Biden wants to convince the world that he is a new man, more responsible and accountable and well along the road to redemption, his public contention that he is the father of four children and not five undermines his argument a great deal. One of his children was brought into this world in circumstances that embarrass him, and he wants to pretend that child doesn't exist and for the rest of us to play along.
ADDENDUM: Today is August 9, meaning that sometime in the next 22 days, President Trump will be reinstated to the presidency! Or at least that was what the former president was telling people back in June. My Pillow Guy Mike Lindell was saying it would happen on August 13, so get ready, America, we've got a big week ahead.
I mean, it's not like these guys are crazy or would lie, right?