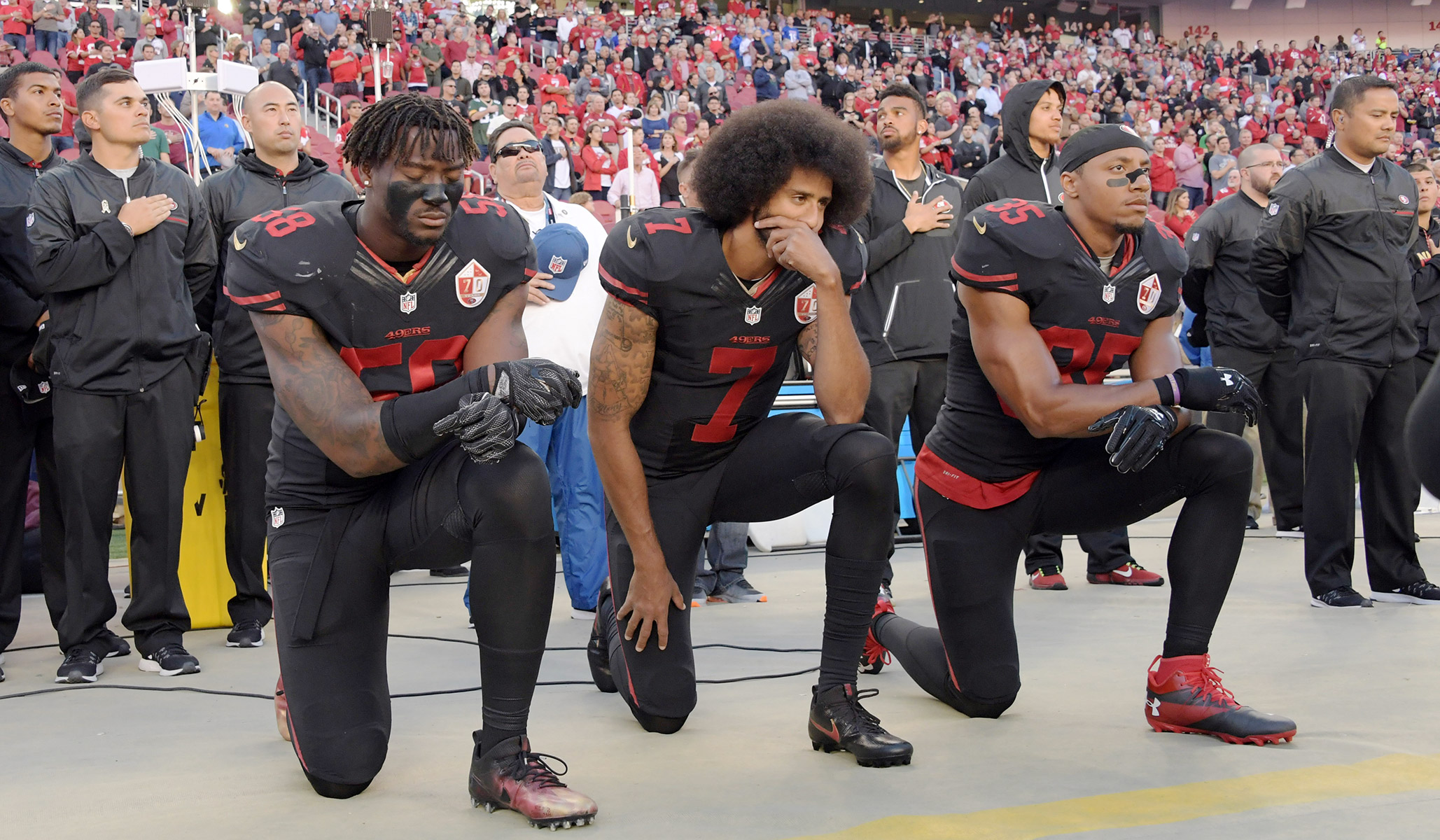 Making the click-through worthwhile: Nike figures out how to monetize the woke Social Justice Warrior crowd, Brett Kavanaugh gets his big day in front of the television cameras, and Donald Trump offers a strange thought on the criteria for indicting members of Congress.
Nike Was the Name of the Greek Goddess Who Personified Sports-Marketing Victory
If you ever wondered what it would take to get the woke Social Justice Warrior crowd to loudly support a multinational corporation with nearly $35 billion in revenue in 2017; that pays its assembly line workers about 2.5 percent of production costs; that faces accusations that its factories bar independent inspections of working conditions; whose workers frequently faint from heat and exhaustion, and suffer wage theft, forced overtime, restrictions on their use of toilets, exposure to toxic solvents, and padlocked exit doors . . . well, apparently Colin Kaepernick is all that it takes.
Apparently the "it" in "just do it" is not urination, at least for those stuck on the assembly line making the sneakers, hats, and apparel. But very few people will be thinking of that sort of scandal when they hear the word "Nike" these days, thanks to this news:
Colin Kaepernick, the former N.F.L. quarterback who inspired a player protest movement but who has been out of a job for more than a year, has signed a new, multiyear deal with Nike that makes him a face of the 30th anniversary of the sports apparel company's "Just Do It" campaign, Nike confirmed on Monday.

. . . Nike will produce new Kaepernick apparel, including a shoe and a T-shirt, and if the merchandise sells well, the value of the deal will rival those of other top N.F.L. players, according to people close to the negotiations who spoke on condition of anonymity because Nike had not formally announced it. Nike will also donate money to Kaepernick's "Know Your Rights" campaign.
That "Know Your Rights" campaign for America's youth features statements such as, "You have a right to be free," "You have a right to be healthy," "You have a right to be safe." Those are all noble sentiments that deserve to be honored, but you'll have a harder time standing for those values when you wear a Fidel Castro shirt and publicly defend the Cuban dictator.
If only the poor folks stuck on the assembly line making that Kaepernick apparel for Nike had someone who was standing up for their rights!
You almost have to admire the audacity of Nike; for decades they've cemented their position as The Man by marketing an image of fighting The Man. Don't let anyone tell you that they're a group of daring, iconoclast rebels. They're a massive publicly traded corporation, the world's largest manufacturer of athletic shoes, sporting equipment, and apparel, and their chairman is worth about $22 billion. They're getting sued for "pay discrimination and limited opportunities for women to win promotions" and failing to address sexual-harassment complaints. They've settled class-action racial-discrimination lawsuits for millions of dollars. They operate a political-action committee that gives to both parties (although more to Democrats) and are quite active in Oregon state politics.
They are the kind of big, powerful corporation with a long history of documented exploitation of overseas labor that is usually the villain in leftist narratives. Staunch progressives who proudly wear the Nike swoosh are like impassioned environmentalists wearing Exxon Valdez t-shirts.
And now, for the cost of a few million — remember Nike had nearly $10 billion in revenue last quarter — the company bought the loyalty of the woke Social Justice Warrior crowd. Sure, some folks on the right will announce they're boycotting, but nobody collects and analyzes marketing research data like Nike. They've no doubt run the numbers on this and concluded that the controversy was worth it. In fact, the controversy is the whole point of the marketing campaign. (It sure as heck isn't Kaepernick's performance on the field!) The aim is to get every Kaepernick-hater in the country publicly raging about it — the president, conservative-talk radio, sports-talk radio — so that everyone who agrees with Kaepernick feels almost obligated to go out and buy the Kaepernick sneakers, shirt, hat, etcetera.
And one day into the campaign, they've largely accomplished their mission. Former CIA director John Brennan is singing Kaepernick's praises on Twitter. (I guess we shouldn't be shocked that a guy who voted for the Communist Party's candidate for president in 1976 would find much to admire in a Fidel Castro fan.)
Oh, and the "Just do it" slogan was apparently partially inspired by the last words of a convicted murderer before a firing squad.
It's Confirmation-Hearing Day for Brett Kavanaugh!
The nomination of Brett Kavanaugh to the Supreme Court now feels like a slow-motion chase . . . and one where we know how it's all going to end. Kavanaugh will probably have the support of all or just about all of the Republican senators, and a handful of red-state Democratic senators will vote to confirm as well.
As of August 30, 47 Senate Republicans have already either expressed explicit support for Kavanaugh's nomination or praised him in a manner that suggests they're likely to confirm him. On the other side, 41 Senate Democrats who have either already said they're voting "no" or struck notes of supreme skepticism (no pun intended). That leaves just eleven senators publicly undecided, and we're waiting for Arizona governor Doug Ducey to name the replacement for John McCain.
In one of the weekends funnier, and more brutally honest statements, Minnesota Democrat Amy Klobuchar says she regrets her party's decision to eliminate the filibuster for judicial nominees back in 2013.
"I would've liked to see 60 votes, no matter what the judge is. I don't think we should've made that change, when we look back at it. But it happened because we were so frustrated, because President Obama wasn't able to get his nominees." Yes, it's a shame the way Republicans made you take that action, senator.
Mitch McConnell, back in 2013: "I say to my friends on the other side of the aisle, you will regret this, and you may regret it a lot sooner than you think." Cocaine Mitch warned you!
Portions of Kavanaugh's opening statement are already out:
"A good judge must be an umpire — a neutral and impartial arbiter who favors no litigant or policy. . . .  I don't decide cases based on personal or policy preferences. I am not a pro-plaintiff or pro-defendant judge. I am not a pro-prosecution or pro-defense judge. I am a pro-law judge," he says in the remarks.
One line that is likely to get some attention, and or response from Democrats on the panel:
"I have served with 17 other judges, each of them a colleague and a friend, on a court now led by our superb chief judge, Merrick Garland."
Check with Ed Whelan and the gang at Bench Memos throughout the day for the inside scoop. Ed's already assembled a great collection of Kavanaugh's writings on various legal topics, decisions, and figures.
'Two Easy Wins Now in Doubt Because There Is Not Enough Time.'
President Trump on Twitter yesterday afternoon: "Two long running, Obama era, investigations of two very popular Republican Congressmen were brought to a well publicized charge, just ahead of the Mid-Terms, by the Jeff Sessions Justice Department. Two easy wins now in doubt because there is not enough time. Good job Jeff……"
You can read the indictment of Chris Collins on charges of conspiracy to commit securities fraud, securities fraud, and wire fraud here.
You can read the indictment of Duncan Hunter Jr. on charges of conspiracy, wire fraud, falsification of records related to campaign finance, and prohibited use of campaign contributions here.
Despite the claims of the defendants and the president, neither indictment appears political, as each indictment lists the crimes in detail. Each congressman will have his day in court to deny the charges and provide exculpatory evidence.
Rarely do you see a president explicitly argue that members of Congress suspected of crimes should not be indicted because of how it would hurt his political interests. If, after the midterms, Trump stops merely berating Attorney General Jeff Sessions on Twitter and actually fires him, we can expect this tweet to come up in the confirmation hearing of any replacement.
Democrats — and perhaps some Republicans — will ask, justifiably, "Can any Trump nominee for attorney general be trusted if the president explicitly believes and says that politicians should not be indicted if it hurts his own political interests?"
ADDENDUM: Scott Mason and the good guys over at Turn On the Jets were kind enough to invite me on for another New York Jets–focused podcast this weekend, this time to guest judge an edition of their debate show "What's Your Point?" with Dalbin Osorio and Paulie Bruzzese. Thursday's Morning Jolt will feature my "big" NFL preview. Look for it on their site sometime soon.