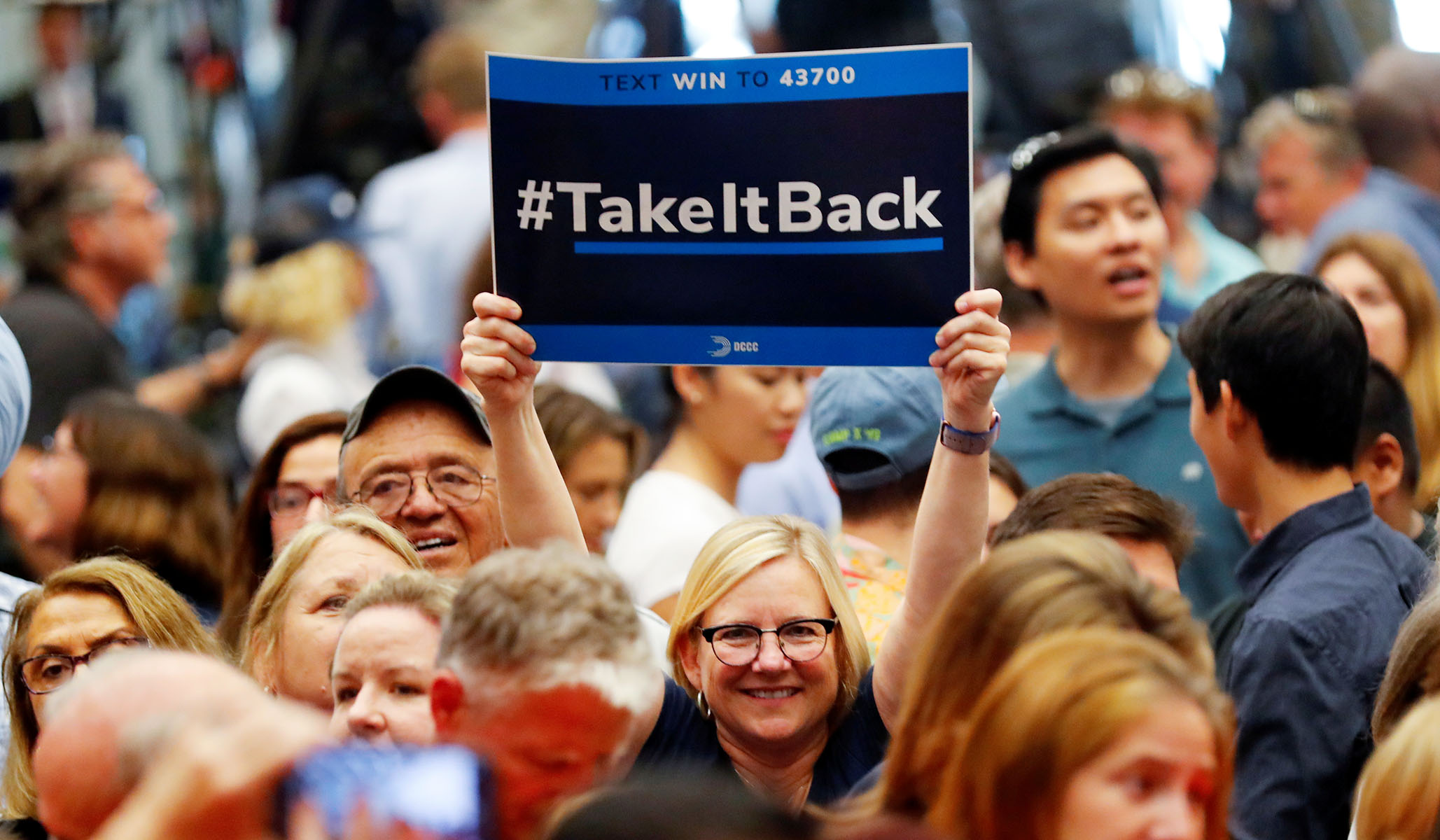 Making the click-through worthwhile: Why you shouldn't quite buy the hype about the Democrats winning control of the Senate this November, NBC finds a convenient scapegoat for #MeToo concerns, and a bit of intrigue about a disputed recount in Massachusetts.
Why the Democrats' Senate Chances Are Overhyped
The past week brought another round of buzz that Democrats could win control of the Senate. The Washington Post declares this morning, "Republicans have grown increasingly worried about losing control of the Senate." Roll Call's Stuart Rothenberg pronounces "the Senate is now in play." Even Fox News concurs, "for Republican leaders seeking to maintain control of the Senate, some races are becoming a little too close for comfort."
But Josh Kraushaar's column at National Journal is called "Against the Grain," and it's apt because he regularly enjoys puncturing the balloon of the political conventional wisdom.
He's not quite so convinced about the latest Democratic optimism.
If Republicans can defeat two of the six vulnerable Democratic senators up for reelection, they've locked down their majority for another cycle. Strategists from both parties agree that Republicans have pulled ahead in North Dakota, where Sen. Heidi Heitkamp is facing a spirited challenge from Rep. Kevin Cramer. Public polls show Missouri's and Florida's contests as pure toss-ups, while Indiana remains highly competitive. Democrats have the momentum in West Virginia and Montana, but the conservative nature of those electorates give Republicans an outside chance.

If North Dakota already leans in their direction, Republicans would need just one more of these red-state races to clinch a majority—regardless of what happens with the several seats they have to defend. Even if Republicans fall short, Democrats would still need to win a GOP-held seat on deeply conservative turf, either in Tennessee or in Texas.
Take another look at those vulnerable Democratic seats. While Florida should be a close race, incumbent Bill Nelson hasn't led a public poll since June. Missouri's looking very similar, with several surveys showing ties or small leads for Republican Josh Hawley; incumbent Claire McCaskill hasn't led a public survey since May. We haven't had a public poll of North Dakota since June, but that one had Republican Kevin Cramer up by four. And note, this is with the political wind at Democrats's back, at least nationally.
(There's mixed evidence of whether undecided voters tend to break to the challenger. A Washington Post analysis pooh-poohed that conventional wisdom in 2014, but then later that year Republican Senate candidates across the map overperformed their final polling averages,sometimes by double digits.)
If Republicans win in Florida, Missouri, and North Dakota, it means the drama ends early on Election Night, at least for control of the Senate.
Democrats can assure themselves that Indiana's Joe Donnelly, West Virginia's Joe Manchin, and Montana's Jon Tester are in stronger shape than expected. But there's another shoe that hasn't dropped yet. All of these incumbents have to vote for or against Brett Kavanaugh to be the next justice on the Supreme Court. A "yes" vote probably frustrates the Democratic grassroots in their states; a "no" vote outrages and energizes the grassroots Republicans.
Now let's go through the vulnerable Republican seats. A new poll of Arizona's Senate race out this morning put Republican Martha McSally up by three points over Kyrsten Sinema; the previous poll put McSally up by one. Nevada's Senate race has only seen one recent survey, and that put Democrat Jacky Rosen up by one point.
Progressives are really excited about Beto O'Rourke in Texas, and he's no doubt performing much better than the typical Democrat in Texas. But he still hasn't, you know, led a poll. If O'Rourke wins, it will indeed be a huge deal. But if Cruz wins this closely, I wonder if Democrats will be kicking themselves over the national hype and attention paid to O'Rourke throughout the summer. If you're aiming to pull off a huge upset, sometimes the best option is to be under the radar for as long as possible to let the incumbent get complacent. Ask Dave Brat or Scott Brown. In fact, building strength under the radar while the incumbent puts in minimal effort is a big part of how O'Rourke won his House seat. No doubt Team Cruz will be pulling out all of the stops between now and November.
And while Tennessee Democrats have reason to cheer over Phil Bredesen's two-point lead over Republican Marsha Blackburn in the latest poll, I can remember 2006, when Harold Ford Jr. was on the cover of Newsweek, under the headline "Not Your Daddy's Democrats"one week before Election Day. Newsweek declared Ford had "Republicans running scared," yet he was the only Democrat to lose a competitive Senate race that year, as Bob Corker beat him by three points. In other words, the last time Democrats enjoyed a big blue-wave midterm election, Tennessee bucked the trend.
There's no doubt that there are some disappointments for the GOP this cycle. There's not yet any sign that Minnesota or Michigan have gotten really competitive.
NBC: Hey, We Can't Have Any Sexual-Harassment Commentary Around Here!
Right, right, because if there's any institution that's covered itself in glory since the #MeToo movement arose, it's NBC.
Norm Macdonald's appearance on "The Tonight Show Starring Jimmy Fallon" was hastily canceled Tuesday after the comedian stirred controversy with remarks about the #MeToo movement and the treatment of Louis C.K., Chris Hardwick and Roseanne in recent scandals.

"Out of sensitivity to our audience and in light of Norm Macdonald's comments in the press today, 'The Tonight Show' has decided to cancel his appearance on Tuesday's telecast," NBC said in a statement. "Tonight Show's" decision to drop Macdonald came even after he apologized for his comments later in the day.

In an interview with Hollywood Reporter, Macdonald said he was "happy the #MeToo movement has slowed down a little bit." He further opined: "It used to be, 'One hundred women can't be lying.' And then it became, 'One woman can't lie.' And that became, 'I believe all women.' And then you're like, 'What?' Like, that Chris Hardwick guy I really thought got the blunt end of the stick there."
NBC might tolerate Matt Lauer's secret-door-lock-button and predation for years, and throw roadblocks in front of Ronan Farrow, but boy, they sure as heck come down hard on Norm Macdonald.
Then again, Norm Macdonald might be used to getting a raw deal from NBC. Back in 1998, Macdonald was fired from Saturday Night Live, and the rumor was that an NBC executive who was friends with O. J. Simpson found Macdonald's relentlessly scathing O. J. jokes intolerable. (Because if there's any demographic NBC couldn't afford to offend, it's the O. J. Simpson fanbase!)
Ironically, in 2017, Macdonald said he saw Simpson slightly differently: "I'm not completely sure he's guilty anymore. I'm almost completely sure, but I'm not completely sure."
Recount Intrigue among Massachusetts Democrats? What Are the Odds?
Keep your eyes on the Massachusetts third congressional district, as the state is stepping in after problems with the regular recount process in the Democratic primary:
A recount to settle the tightly contested Democratic primary in the Third Congressional District will take place over the next week under the watchful eye of Secretary of State William Galvin, who said Monday he was taking over the election departments of Lawrence and Lowell due to understaffing in one city and the irregular certification of primary ballots in the other.

Galvin ordered the district-wide, hand recount of almost 89,000 ballots after Andover's Dan Koh, who is currently sitting in second place 122 votes behind the leader Lori Trahan, filed the requisite signatures by last Friday's deadline.

The state's chief elections officer, Galvin said the recount must be completed by Sept. 17 in order for him to have enough time to print ballots and get them to overseas and military voters ahead of the Nov. 6 general election.
This is a pretty heavily Democratic district, scoring a D+9 in the Cook Partisan Voting Index, but who knows whether the recount fight will stir up bad blood on the Democratic side. Meanwhile, Republican candidate Rick Green is unveiling a funny new ad this morning, depicting himself swimming across the Merrimack River in Lowell, Mass., while his brother waits in traffic on Rourke Bridge. Green is a former aerospace engineer with NASA and founder of 1A Auto, an auto-parts manufacturer. Plus, apparently, he's a pretty good swimmer.
ADDENDUM: Deroy Murdock with a sobering thought:
Perhaps the absence of the fear and loathing that legitimately followed 9/11 has let us shift our energies from repelling a largely exterior threat to devouring each other instead. As America's civil discourse devolves into a bloodless civil war between two sides that increasingly loathe each other, maybe this is — ironically — a luxury. Seemingly freed of the dangers posed by al-Qaeda, ISIS, and their ilk, we now have moved on to clobbering our fellow Americans.