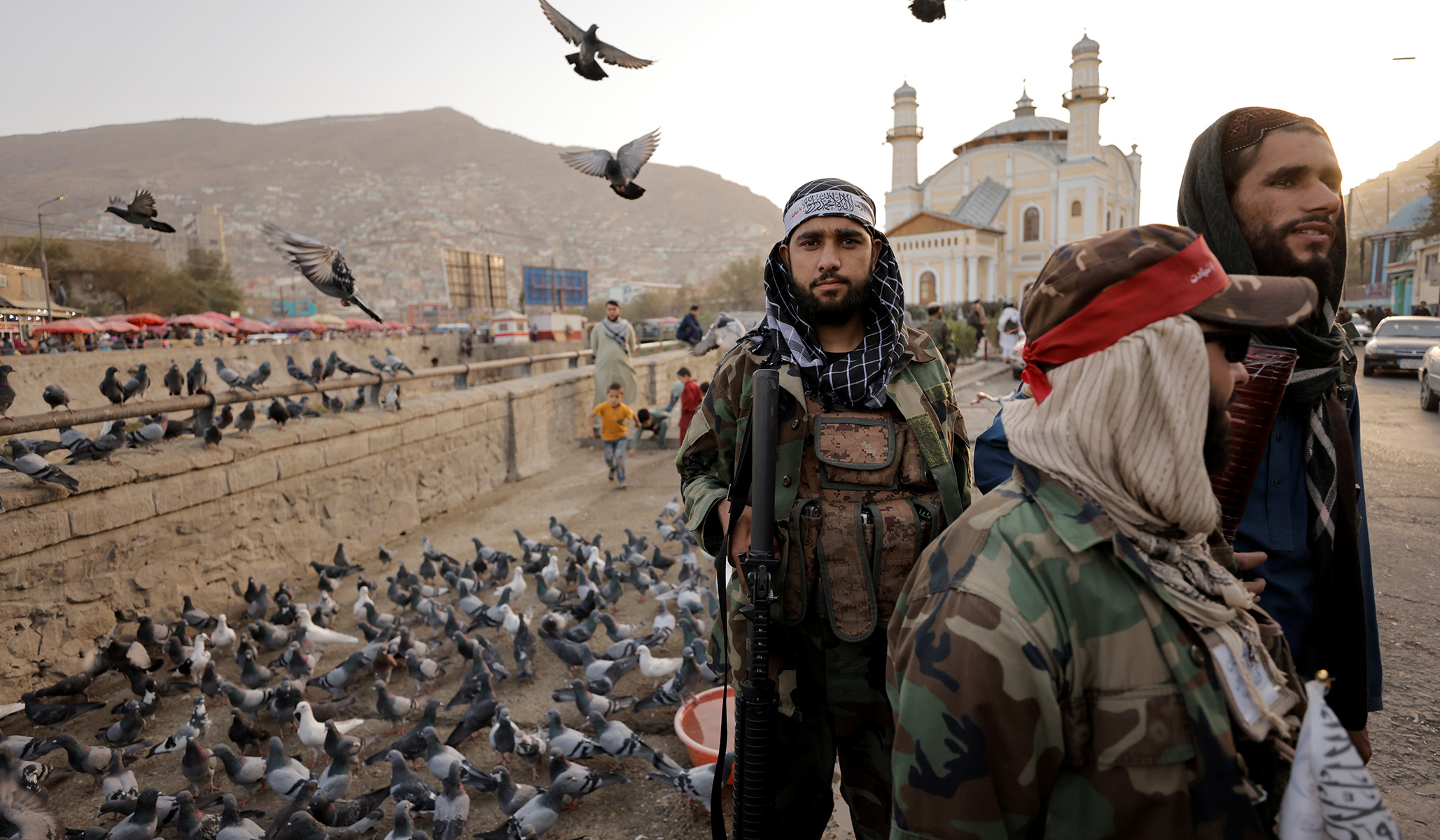 On the menu today: Just because you're hearing less about Americans still trapped in Afghanistan, jaw-dropping U.S. government incompetence and unresponsiveness, and the relentless brutality of the Taliban, doesn't mean it still isn't happening.
At Least 41 American Children Can't Get Out of Afghanistan
Large swaths of the American media world have psychologically moved on from Afghanistan. Big news organizations still have a few correspondents in the country or in the region, but the stories are relegated to the inside pages of the newspapers and way down the page on the websites.
What is going on in Afghanistan is apparently just not as interesting as, say, yet another former Trump administration staffer coming out with a book and declaring, to her shock and horror, that Donald Trump was erratic, full of rage, only listened to his family, and was obsessed with the notion he won the 2020 election. Thank goodness Stephanie Grisham is coming forward with this shocking exposé. How could Americans have possibly known this without her coming forward and blowing the whistle?
A week ago, the Sacramento Bee revealed that even more American children are still trapped in Afghanistan than was originally believed:
San Juan Unified School District officials last week said 41 students were trapped in Afghanistan — a sharp increase from the two-dozen-or-so the district had previously identified. Of the 41 kids, three were evacuated over the weekend from the war-torn country but remain overseas, district officials said.

Sacramento City Unified officials last week said eight students are stranded in Afghanistan. Initially, they'd identified just one family who The Sacramento Bee interviewed. Attendance records as the school year has progressed showed more students were missing, and staff traced their whereabouts to the country.

Principal Nate McGill of Ethel I. Baker Elementary school has been involved in getting the students out. He texts with family members and has been coordinating staff members who are trying to cobble together a plan.

But, he said, progress has been slow. Sometimes it feels nonexistent.
Why are we relying on elementary-school principals to help get American citizens out of a country run by hostile extremists? America really does expect its educators to do too much. People become teachers and principals because they want to help people, but managing an overseas hostage-rescue operation is asking far too much.
What do we have a federal government for? What is its purpose? What duties should it prioritize? Rescuing American civilians from Taliban territory really seems like a responsibility that should be at the top of the list.
Why is the federal government under President Biden contemplating creating a "Civilian Climate Corps," building 500,000 electric-vehicle-charging stations, upgrading 4 million commercial buildings, offering cash rebates for purchasing energy-efficient appliances, and hiring 87,000 new IRS agents . . . when it is failing its most basic duty of getting our citizens out of harm's way overseas?
Before our government expands into vast new responsibilities and duties, is it too much to ask that it complete the task on this duty?
Despite the claims of U.S. officials that government efforts to get Americans, green-card holders, and Afghan allies out of Afghanistan are continuing, even mild-mannered, even-tempered GOP lawmakers such as senator Patrick Toomey of Pennsylvania have concluded that the administration's policy amounted to abandoning American civilians behind enemy lines:
A group of military veterans helped a Lehigh Valley mother of four who is a U.S. citizen escape from Taliban-overrun Afghanistan last month after the U.S. government "abandoned her," U.S. Sen. Pat Toomey said in public remarks Tuesday.

Speaking at a U.S. Senate Banking Committee hearing in Washington, Toomey referred to a "Pennsylvanian American citizen, a mother of four" who "works at a middle school in the Lehigh Valley."

It was a clear reference to Mujda Tajdar, a Palmer Township mother of four whose status as a U.S. citizen trapped in Afghanistan was brought to public light in several Morning Call articles published after the Taliban overran the country.

Her husband, Whadat Tajdar, told the newspaper his wife escaped Sept. 10 on a flight from Kabul to Qatar.

"The only way she escaped Afghanistan was because a veterans group operating on the ground found her, protected her, and got her on a flight on Sept. 10," Toomey said. "It's unbelievable to me that a group of Americans — civilians — had to save this woman's life because her own government abandoned her."
Credit the Los Angeles Times for tracking down a potential U.S. Fulbright scholar now trapped in the country:
Maryam Jami wanted to dedicate her life to helping Afghan refugees, one of the largest groups of displaced people in the world after more than four decades of war.

That ambition led the 23-year-old human rights advocate to apply for a Fulbright scholarship this year to earn a master of laws in the United States, a life-changing opportunity to bring much-needed international legal expertise back to her native Afghanistan.

She was told in April that she was one of only about 100 applicants in Afghanistan named a semifinalist for the prestigious U.S.-funded program. All Jami needed to do was sit for an online interview. Six months later, with her country in disarray and her safety in jeopardy as a woman living under Taliban rule, Jami is still waiting to hear about that interview. . . .

Closing the program would be especially devastating for female hopefuls who face a new era of discrimination under the ultra-conservative Taliban. The leadership has yet to allow girls past sixth grade to return to school and has blocked access to universities for women until they can be segregated in classrooms from men.

Jami said female friends who were on the cusp of graduating from the law program at her alma mater Herat University will no longer receive their diplomas. Under orders from the Taliban, the women are barred from campus until further notice. The law program, which had spent years trying to garner more international recognition, has been converted to a sharia school.

"It's really so hard to be a woman," Jami said. "We're expected to be robots here; just do what you're told and cover yourself from head to toe."
The bland U.S. State Department statement in response to this story would be almost funny if the situation were not so horrific: "We are tracking events in Afghanistan closely and are reviewing the future of the Fulbright program. We are committed to the aspirations of Afghan students and scholars, and appreciate the continued interest of the semifinalists in study in the United States. We know that this is a challenging time for these Afghan students and their families." Your call is important to us. Please stay on the line and your call will be answered in the order it was received.
Late last month, The New Yorker profiled a 33-year-old Afghan father of five children who had worked as a translator for U.S. military forces since 2007. He applied for a Special Immigrant Visa in 2013, but kept running into bureaucratic roadblocks until eventually, he'd reapplied three more times. He is still hiding in Kabul:
In April, Biden had vowed to withdraw all U.S. forces from Afghanistan by the twentieth anniversary of September 11th. Veterans groups and other advocates — including Irap — urged the Administration to immediately launch massive evacuation efforts. Officials countered that it was impractical to bring large numbers of Afghans with pending applications to U.S. territory, and that a premature exodus could undermine the standing of Afghanistan's then beleaguered President, Ashraf Ghani.
Gee, good thing the U.S. government didn't help the Afghans who had spent years sticking their necks out to help our forces, and risked undermining the standing of President Ghani, huh? Why, if we had risked undermining the standing of President Ghani, maybe the whole Afghan government would have quickly collapsed!
The New Yorker article continues:
Later that night, he sent me a series of tweets posted by other Afghans. "An SIV holder was beaten and tortured by the Taliban," one journalist reported. A former government official announced that the "Taliban have started mass house to house and door to door search operations" across Kabul, "looking for 'foreigner collaborators.'" We'd spoken for several hours by this point, but it was the first time he told me outright that he was scared.

At the moment, there's nothing he can do but wait.
My reader nicknamed Samaritan doesn't have much to report; the endangered Afghans he knows are still hiding, still desperately trying to find some way out of the country, still dreading the knock on the door in the middle of the night. Yesterday, Amnesty International released a new investigation, concluding the Taliban had executed 13 ethnic Hazaras, including a 17-year-old girl, in Afghanistan's Daykundi province after members of the security forces of the former government surrendered:
"These cold-blooded executions are further proof that the Taliban are committing the same horrific abuses they were notorious for during their previous rule of Afghanistan," said Agnès Callamard, Amnesty International's Secretary General. "They repeatedly violate the rights of those they perceive as their adversaries, even killing those who have already surrendered. The Taliban say they are not targeting former employees of the previous government, but these killings contradict such claims."
Finally, U.S. intelligence has revealed a brutal lesson about what the Taliban's return to power meant for Americans in uniform:
The ISIS-K suicide bomber who carried out a terrorist attack at Kabul international airport in late August, killing 13 US service members and dozens of Afghans, had been released from a prison near Kabul just days earlier when the Taliban took control of the area, according to three US officials.

Two US officials, as well as Rep. Ken Calvert, a California Republican who said he had been briefed by national security officials, said the suicide bomber was released from the Parwan prison at Bagram air base. The US controlled the base until it abandoned Bagram in early July. It had turned over the prison to Afghan authorities in 2013.

The Parwan prison at Bagram, along with the Pul-e-Charkhi prison near Kabul, housed several hundred members of ISIS-K, as well as thousands of other prisoners when the Taliban took control of both facilities hours before taking over the capital with barely a shot fired in mid-August, a regional counter-terrorism source told CNN at the time. The Taliban emptied out both prisons, releasing their own members who had been imprisoned but also members of ISIS-K, which is the terror group's affiliate in Afghanistan.
If the U.S. had not chosen to abandon Bagram Air Base, the suicide bomber would not have been released. If the suicide bomber had not been released, 13 U.S. service members and dozens of Afghans would probably be alive today.
ADDENDUM: In case you missed it yesterday, Biden's special presidential envoy on climate, John Kerry, told French television that the president "literally had not been aware of what had transpired" on the recent U.S.-U.K.-Australia submarine deal, and State Department spokesman Ned Price said, more than a month after U.S. forces left Afghanistan, that the department was not in a position to say how many Americans remain in that country.